If you scroll through the internet, you will find a wide range of fusion foods made with unique concoctions. While some create a buzz with the flavours and texture, others are criticised. One such popular fusion food that impressed us all is bread pizza. An easy take on our favourite Italian dish, it is pizza made with a base of bread. Sounds delicious, right? But, if you thought experimenting with pizza bread ends with this, then let us tell you - you are absolutely mistaken. We recently dived deep into it and found several unique variations of the delicious pizza bread (or bread pizza). And trust us, each of these dishes left us totally impressed. Hence, we thought of sharing each of the pizza bread recipes with you. Take a look.


(Also Read: Pizza Puff, Bread Pizza And More: 7 Pizza Snacks You Must Try)
Here're 5 Bread Pizza Recipes For You To Try At Home:
Instant Bread Pizza:
Let's start with the classic. A quick fix for your pizza cravings, this dish needs brown bread (or white bread), pizza sauce, onion, tomato, capsicum and a generous amount of cheese. While mozzarella cheese helps you get that string on pizza, you can also replace it with cheddar cheese cube. And yes, you really don't need a microwave/oven to prepare this dish. You need to just heat a non-stick pan, place the assembled bread pizza and cover it with a lid for the cheese to melt. Click here for a detailed recipe of instant bread pizza.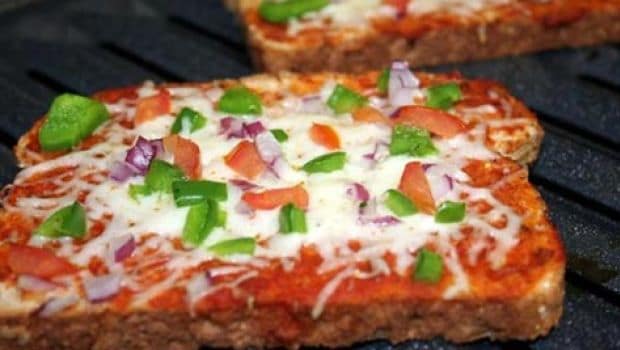 Make bread pizza for a quick snack.
Pizza Toast:
A delightful dish that went viral early this year, pizza toast is supermodel Hailey Bieber's all-time favourite. To make this dish, you need sourdough bread, cheese, toppings of your choice, butter and some other basic ingredients. And the best part is, pizza toast literally takes a few minutes to prepare. So, we suggest, you can try it as an appetiser for your next house party. Click here for the detailed recipe of pizza toast.
Pull-Apart Pizza Bread:
Another viral recipe on the internet, pull-apart pizza bread is perfect for the ones who love all things cheesy. We suggest you can make it for your friends and family over the weekend and enjoy watching them doing the 'cheese pull'. To make this dish, all you need are a bread roll, pizza sauce, pizza cheese, pizza seasoning and toppings of your choice. Click here for the recipe for pull-apart pizza bread.
Pizza Bread Roll:
A perfect combination of pizza and bread roll, this dish brings the best of both worlds to your plate. As the name suggests, instead of aloo, stuff the bread with cheese, veggies, seasonings and more. Rest, you just need to follow the usual recipe for a bread roll. Click here for the recipe for pizza bread roll.
Paneer Bread Pizza Bite:
A perfect alternative to our classic samosas and pakodas, paneer bread pizza bites spell indulgence. Fluffy base, with simple yet delicious cheesy toppings, this dish makes for a perfect snack to chomp on. Click here for the detailed recipe for paneer bread pizza bite.
This mini bread paneer bread pizza is easy to make at home.
Now that you have these delicious recipes handy, we suggest, try them at home and indulge. Which of the above recipes would you want to start with? Share it with us in the comments section below.

About Somdatta SahaExplorer- this is what Somdatta likes to call herself. Be it in terms of food, people or places, all she craves for is to know the unknown. A simple aglio olio pasta or daal-chawal and a good movie can make her day.