It's amazing how we have expanded the ambit of the Indian cuisine by embracing some popular foods of other cuisines and making them our own. Of all these foods, we welcomed the Italian pizza with open arms and now it is almost an intrinsic part of our culinary world. This cheesy, claggy comfort food finds favour with almost everyone's palate, especially kids. Whenever we want to break the monotony of usual roti and sabzi routine, pizza is what we look up to. A flatbread smattered with vegetables/meats and topped with a dense layer of cheese, makes up for this astounding, filling dish. You can find restaurants everywhere in India now, serving or delivering pizza. Pizza is one of the most ordered foods at home not just because of its drool-worthy taste, but also for the convenience of eating it. Just lift it from the box and eat it.

We love pizzas so much that we even sometimes get pizza-specific cravings. And, if your kids ever demand only pizza for their meal and you have no time to shop for pizza ingredients, all hell may break loose. Now, you could either order in a pizza, which may take a while to reach; or if the kids are just losing their patience, a better way out would be to make a pizza at home that will be prepared even before your ordered pizza arrives. Don't have pizza base, pizza spread/sauce at home? Don't fret. You can just as easily make a delicious pizza at home with simple everyday kitchen ingredients. Don't have an oven for baking a pizza? Your cooking gas will work just fine!


(Also Read: 11 Best Pizza Recipes)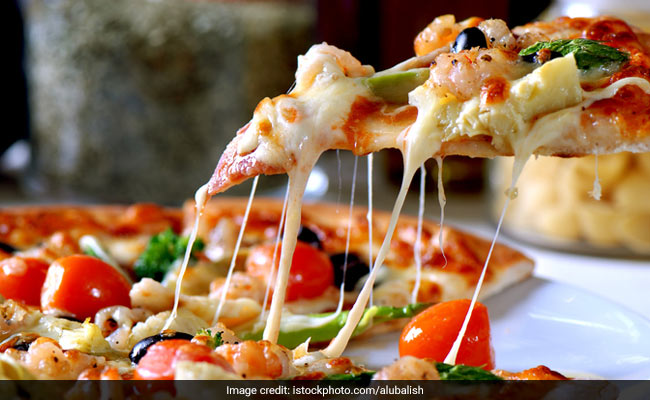 How to make pizza at home: Here are some tips on how you can make quick bread pizza at home without microwave or oven -

Pizza Sauce -

1. You can make your own pizza sauce by cooking pureed tomatoes with some onions, garlic cloves, basil leaves, salt, oregano and chilli flakes. You can add one or two tablespoons of tomato sauce to add a hint of sweetness and to enhance the zing of the sauce.

2. And, if you are really not in a mood to make that much effort, just mix equal parts of butter and tomato sauce and keep it aside to be used as pizza spread.

Bread Pizza -

3. Simply use your regular white or brown bread as pizza base. Spread the homemade pizza sauce on the bread. Sprinkle some onions, tomato and capsicum. Grate cheese over it.

4. If you don't have mozzarella cheese at home, crush a regular cheese slice into small bits and spread over the bread. Little tip: If you our out of cheese slices as well, just crush some cottage cheese (paneer) that can easily disguise itself as regular cheese.

5. In the absence of an oven or microwave, heat some butter in a non-stick pan on cooking gas. Place the bread on it and cover it so that the bread cooks with the steam built up inside.


(Also Read: Learn How To Make Dough For Pizza Base)

In a matter of few minutes, your bread pizza will be ready. You can add or subtract vegetables as per your liking. If you have any cold meat like chicken salami in your refrigerator, you can use that also as the topping for your instant homemade pizza.