My most abiding memory of
Florence
has to be tearing off a slice off the heart-shaped Calabresi pizza on the steps of the Santo Spirito church. If you have been to Firenze and not been to the basilica, you haven't soaked in the true spirit of arguably Italy's most charming town at all.The piazza, frequented mostly by locals as well as the many tourists studying in this region of Tuscany, is a hipster paradise. Walk across the Arno any evening, past Ponte Vecchio or any of the magnificent bridges connecting the old city to the "Oltarno", literally, the "alternate side" and you come into your own in this boho-chic quarter. This is where those beautiful (and free) open air concerts take place in the summer. This is where you simply hang out with plastic glasses of Spritz or Negroni bought from the cool bars in the neighbourhood. Or, with real glasses of Chianti. And sit on the steps of the church
eating pizza
from a box with a hundred other people doing the same.The last time I was in Firenze, I did exactly that. I was escaping from a boring conference in Turin, slumming it out and had checked into the fantastic (but cheaply priced) Academia Hostel right next to the Duomo (quite close to the Accademia gallery where that most famous local, Michaelangelo's David, is housed). I had supped on a simple but social aperitivo laid out for free every evening by the hostel that sees people from all over the world bond over cheap
Chianti
and pasta and the magical Italian air. And then as it happens in Italy, a friend of a friend, a proud Florentine with a flawless English accent, had come by, picked me up for a whirlwind tour of the town, where every
piazza
, every
ponte
and every nook and cranny is a Renaissance art frame.
(Knead, Roll & Stretch: How to Make Pizza Dough)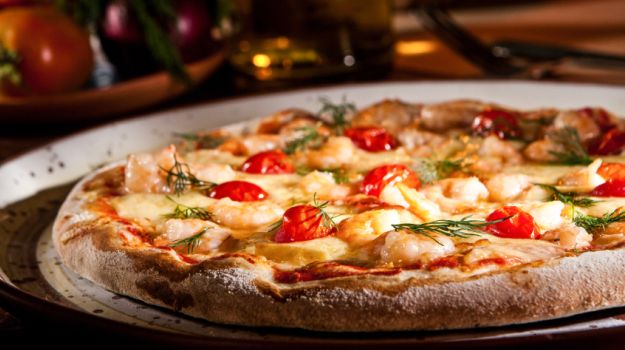 That is how I had discovered Santo Spirito. And unable to make it to the morning fruit and vegetable market had instead settled for the faintly touristy but, competent nevertheless, Gusta pizza at Via Maggio and then rounded off the simple meal with an exquisite peach gelato from Carabe at Via Ricasoli near the Duomo.Places close to the tourist heart of any city usually don't do noteworthy food. Carabe does. This is the best fruit gelato I have come across in all of Italy. This is a Sicilian gelateria, not Tuscan, but if you have to make a ritual of walking and talking
gelato
in hand, there is nowhere better to get yours from.
This summer in Firenze has been especially magnificent and long-lasting. I have dared not stay at the Academia, however. But it has been just as well. Pensione Bencista is a gorgeous 14th century villa set in the hills of Fiesole overlooking the main town. It is the perfect sanctuary to escape the summer crowds. You can sit with your coffee or Spritz, that most addictive of Italian cocktails unavailable in India because aperol, the liqueur that goes into it, is not to be found here, on a chair overlooking the quiet valley. And order in meals cooked personally by the family that runs the pensione, if you so wish.
(How to Make Ice Cream at Home: An Easy, Foolproof Recipe)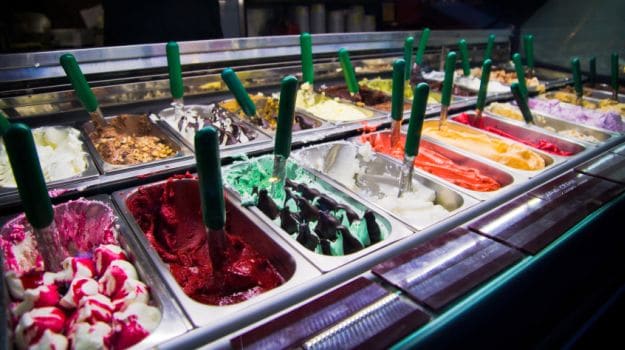 Or, you can descend to partake of Firenze's summer madness, encountering hoardes of camera-wielding Chinese tourist who now seem to be contributing substantially to Europe's economy. If your trip to Florence is incomplete without the bistecca (the Florentine steak), you could walk down to Trattoria Giovanni at Via Santo Agostino. There is a great selection of local, fresh pastas as well as local delicacies like the bistecca and this is a surprisingly well-priced café too.The bistecca, of course, is not the only special available. If you are not too squeamish (don't be), try the tripe and street dishes like lampredotto. There are a host of panini stores as well as high-end ones like the La Menagere for some high-quality coffee (this, after all, is Italy, where caffe is a religion just like football) as well as some fab cakes.One evening, we wander into the Mercato Centrale—the food court with its faux, quirky David that may leave your jaw hanging. It could be a good option to choose your meal here. Or, you could just wander around, scanning the cafes in the alleys, past art galleries, tacky leather boutiques and genuine perfume stores, and sit down to what catches your fancy. A seafood buffet it could be—clams and sardines, oysters and calamari, without it all costing the earth.
(A Coastal Favourite: South India's Love for Mussels
)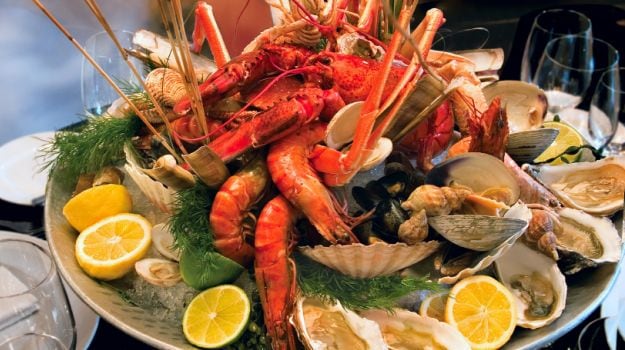 On the other hand, if it is luxury you seek, check into the Lungarno, one of the Ferragamo hotels near Ponte Vecchio (the family, in 1937, acquired Florence's biggest private medieval palace, the Palazzo Spini Feroni, where the company's headquarters and biggest store is now housed). The "bistro" here is equally celebrated. But that is another story…
(10 Best Italian Recipes)
Disclaimer:
The opinions expressed within this article are the personal opinions of the author. NDTV is not responsible for the accuracy, completeness, suitability, or validity of any information on this article. All information is provided on an as-is basis. The information, facts or opinions appearing in the article do not reflect the views of NDTV and NDTV does not assume any responsibility or liability for the same.