Mussels have a reputation for being fussy and difficult to cook. However, along the Arabian coast, they form an integral part of the local cuisines. Although the dishes and the method of preparation vary in different parts of the
coast
, it is interesting to note that they are usually paired with coconut. Mussels are now available throughout the year however, it is best to eat them in season, which is any month that ends with the letter 'r'!
Spicy Mussel Fry (Kallumakaio Olarthiyathe):
The most simple mussel preparation in the Malabar, Kallamumakai olarthiyathe, makes for a quick side dish at lunch during the mussel season. It involves marinating the mussels in a masala of turmeric, chilli powder and salt and cooking with shredded coconut, shallots, garlic, tamarind and curry leaves. In teashops around the region, Kallumakai Olarthiyathe is also served with puttu, a popular breakfast dish made of steamed ground rice with layers of shredded coconut.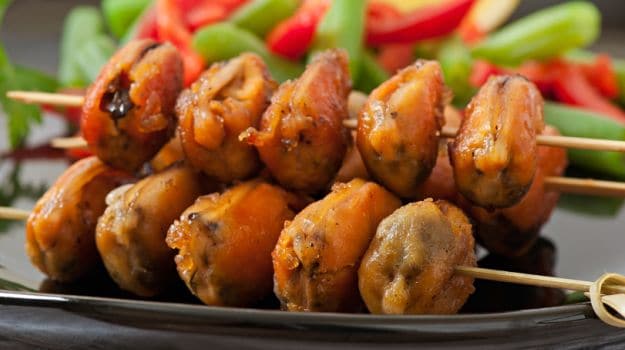 Stuffed Mussels (Arikadukka):
Although it involves a more laborious preparation process, Arikadukka is the poster boy of
Malabari
mussel dishes.
Mussels
, still inside their shells, are stuffed with a mixture of ground rice, and cardamom, and steamed. The shell is then discarded, and the stuffed mussels are fried in a chilli batter. Completely worth the effort, Arikkaduka can be found in bakeries, pushcarts and teashops in North Kerala throughout the season.
Mussel Pickle (Kallumakai achaar):
Making achaar or pickle out of the mussels is a great way to preserve them for when they aren't in season. The secret ingredient in kallumakkai achaar is the gingelly oil that is used in the pickle giving it a characteristic zing. A plate of boiled rice, yogurt and a serving of kallumakai achaar makes for a simple, unfussy yet delicious meal.
Mussel Biryani (Kallumakkai Chor):
A North Malabar specialty, Kallumakkai chor is more reminiscent of a pulao than biryani. Fragrant and light, the mussels are first lightly fried in coconut oil before being added to the biryani masala. Kallumakkai chor is usually served with coconut chutney.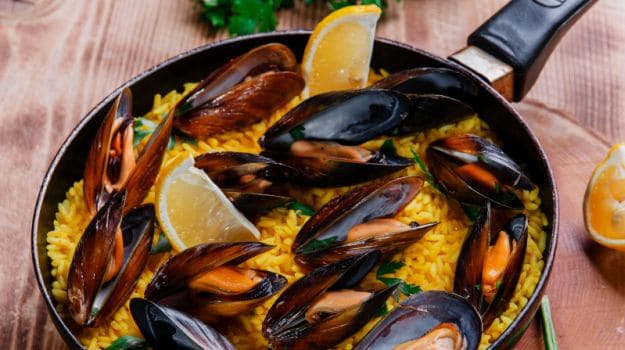 Mussel Sukka:
Sukka is a popular dish in Mangalore where seafood or chicken is sautéed in a masala consisting of shredded coconut, dried red chillies, coriander seeds and pepper. Mussel sukka is a favourite amongst the Protestant Missionary Christians in
Mangalore
.
Mussels in Coconut Gravy:
Although Mangalore fish curry is the most popular culinary export from the region, its lesser-known variation, Mangalore mussel curry, is worth a try. Coconut and mussels are a winning combination, as demonstrated by most of the recipes in this article, and Mangalore mussel curry is no exception.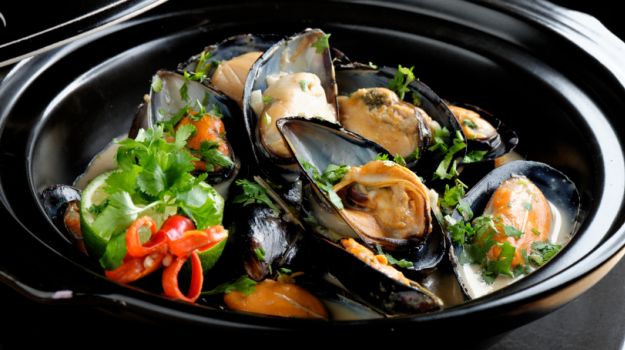 Rawa Mussel Fry (Xinanio):
Further north, mussels get the recheadeo paste treatment in the popular
Goan
snack, rawa mussel fry. After marinating in this fiery bright-red blend of spices, onions and vinegar, the mussels are coated with rawa and fried to crunchy perfection. The perfect finger food, this dish also gets points for being an easy preparation.
Thisra:
A favourite with sea-food lovers, this curry is rich, comforting and almost like a chowder. Except, as it's a Goan delicacy, the spice level is taken up a few notches. Mussels, with their shells intact, are cooked in a broth of garlic, cumin, red chilli, coriander and tamarind and tempered with creamy coconut milk producing what must be the most comforting and fortifying mussel preparation in the region.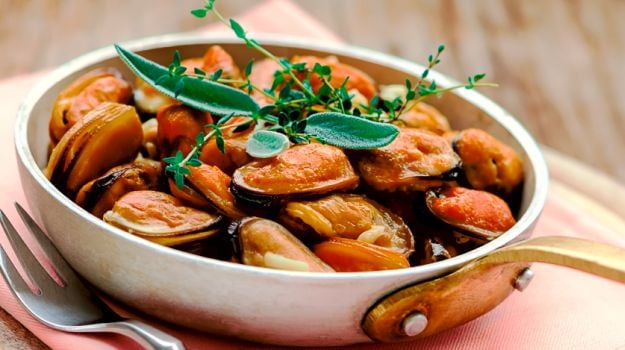 Kallumakkai Olarthiyathe
Ingredients:
300 g mussels, cleaned and debearded
1 tbsp chilli powder
Pinch of ground turmeric
½ cup grated coconut
10 shallots, sliced
3 cloves, garlic
½ inch ginger, chopped
1 tbsp tamarind paste
2 green chillies
1 tsp black pepper corns
Salt to taste
1 cup water
2 sprigs curry leaves
2 tbsp coconut oil for frying + 1 tbsp
Method:
Marinate the mussels in chilli powder, turmeric, and keep aside for 10 minutes.
1. Lightly fry the mussels in 2 tbsp oil and set aside.
2. Crush the shallots, garlic, ginger, coconut, peppercorns, tamarind paste and salt to form a coarse mixture in a mortal and pestle.
3. In a pan, add 1 cup water to the crushed mixture and cook on a medium flame for 5 minutes. Add the curry leaves and the fried mussels and cook for a few minutes until it forms a thick, saucy consistency, coating the mussels.
4. Adjust seasoning, add 1 tbsp coconut oil, and remove from fire.