Quinoa pronounced ken'wa, kinwa or kinua, is the seed of a grain crop. It is a pseudo-cereal which makes for a grain supplement. A native of South America, today it is grown across the world. Quinoa's nutrition is so good that it is very often called a
super grain because of the nutrients present in it
. It is fact referred to as a functional food -food that has health benefits beyond nutrition. Quinoa is an excellent source of various vitamins and minerals and is said to have a lot of health benefiting properties.
Nutritionally 100 gms of quinoa provides:
368Kcal of energy
14gms of protein
6gms of fat
7gms of fibre
457mg of phosphorus.
184 microgram of folate
It is cholesterol-free, gluten-free and a low GI food
It is an excellent source of various important phytochemicals and Vitamin E
It is rich in healthy fats.
(Also Read:
8 Ways To Include Quinoa in Your Diet
)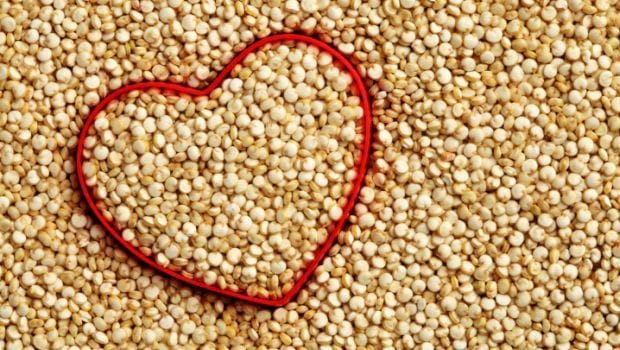 Quinoa Nutrition: It is a pseudo-cereal which makes for a grain supplement

Quinoa Nutrition: Health Benefits That Quinoa Provides:
Antioxidant Powerhouse: Quinoa is a rich source of two flavonoids -quercetin and kaempferol. The intake of flavonoid-rich food has been associated with protection against a number of lifestyle diseases. Quercetin is important for its chemo-protective (cancer prevention) action, anti-bacterial, anti-inflammatory, antiviral and strong anti-viral activity. Kaempferol is also known for its action against cancer cells. Both these flavonoids together, work more efficiently than individually, making quinoa more special.
Good Source Of Protein: Grains are never considered a source of protein because they are usually deficient in two amino acids-isoleucine and lysine. This deficiency makes them poor sources of quality proteins. Quinoa has a higher content of both, especially lysine making it a good complete vegetarian protein source.
Healthy Fats: The fats present in quinoa support health. It is a rich source of oleic acid, a heart healthy monounsaturated fat. It also contains alpha linolenic (ALA) fat, an omega-3 fatty acid known to decrease the risk of inflammatory diseases.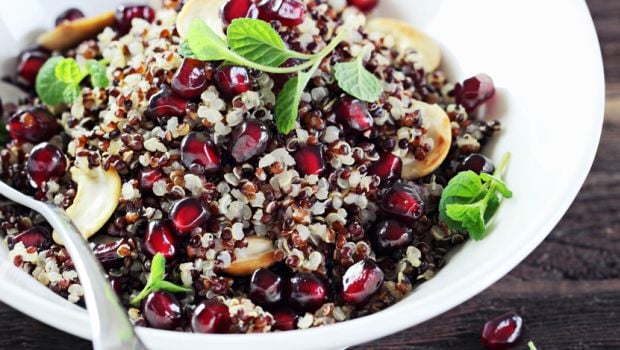 Quinoa Nutrition: The fats present in quinoa support health. It is a rich source of oleic acid
Source Of Fibre: Its fibre content is much higher than other cereal grains like wheat, barley, and ragi. Coupled with a low GI, it makes for a great substitute grain for diabetics and weight management. High fibre intakes are associated with lower risks of cardiac diseases, diabetes and colon cancers. Being high in fibre, quinoa also promotes early satiety and controls the total calorific intake of a meal.
Rich In Minerals And Vitamins: It has high amounts of phosphorus which is good for bone, teeth and energy metabolism. Quinoa also has more riboflavin and folic acid than wheat and rice. Riboflavin deficiency is related to poor iron absorption and anaemia. Folic acid prevents birth defects in babies. Vitamin E is usually not found in cereal grains in significant amounts. Quinoa, however is special; it has 2.4mg/100gm. Vitamin E is closely associated with anti-inflammatory benefits.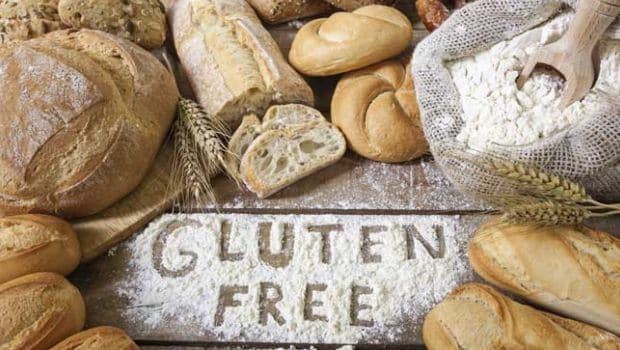 Gluten-Free: Quinoa is naturally gluten-free. Our modern diets are heavily dependent on gluten-rich wheat and wheat products. Replacing these occasionally with gluten-free cereals is a good break for our digestive system. For people with gluten sensitivity or celiac disease, this complete food is a boon to have.
Cook And Buy The Best Way:
When cooked, it has a soft fluffy with a nutty flavour. Quinoa grains must be washed well to remove the bitter flavour. For cooking, you need to add 2 parts of water to one part of quinoa and boil it. The volume after cooking increases to a considerable extent, so cook amounts that you need. Quinoa is also used in the form of flour, pasta and flakes.(Also Read: 5 Best Quinoa Recipes)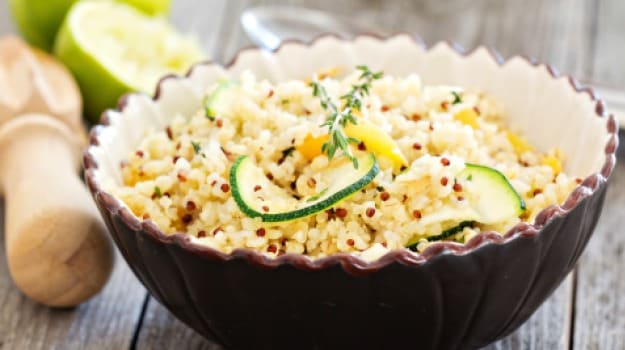 Buy quinoa that is moisture-free and dry. Quinoa is an off white-coloured cereal but now red and black quinoa is also available, sometimes you may even find a tricoloured one. If you need to keep it for a longer time, refrigerate it. It lasts well outside for about a month or two.
Quinoa's nutrition profile means adding that much more health to your meals. Choose this super food for your wellness.