I've had a bit of a flirtation with
quinoa
recently. I can't quite call it a full-fledged affair yet and I doubt I will ever call it the love of my life but there's definitely a spark. And while I am always wary of people using the term '
superfood
' to describe anything, certainly quinoa, if anything, is as close as it gets. An extremely
nutrient-dense food
from South America, it packs a codswallop of protein,
fiber
, iron, manganese and a bunch of other
benefits
. But I must admit, it has been a little hard to work quinoa into my daily diet, and so to the rescue comes quinoa flour.
Using Quinoa Flour
Quinoa itself tastes rather non-invasive to me but its fresh atta smells a bit grassy and tastes ever so slightly sour and bitter, so some people recommend that you toast it lightly in the oven (I think even a frying pan might do, as long as you keep the level of quinoa quite thin, not more than an even quarter of an inch) to rid itself of the bitterness. It's a little hard on the palate but the toasting honestly does make a world of a difference. Also, be sure to wash it thoroughly before cooking. All this effort will be worth it.
Since quinoa is gluten free and full of fiber, it makes for a much healthier eating option. But again, since it's gluten free, you won't be able to fully substitute it for baking purposes without a binding agent of some sort. Ideally, you will need to add xantham gum or corn starch or you should mix it with a medley of other flours. Naturally, each dish is different.(Buy high quality Quinoa Flour from SmartCooky)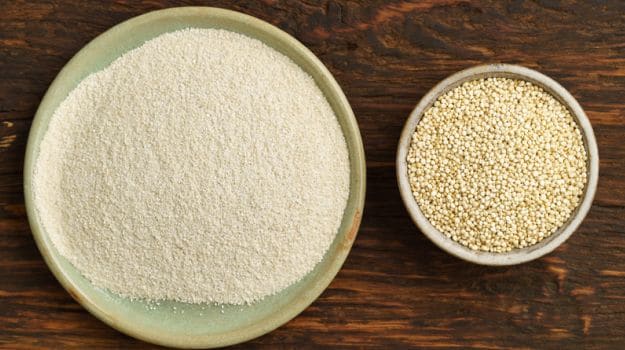 It's pretty easy to make too - all you need is a high-powered food processor to grind your quinoa into a fine flour. However, for the recipes below, I recommend store-bought quinoa flour because at home, it isn't always possible to grind it down to a super-fine consistency.Quinoa Flour as a Substitute
That said, you will be able to use quinoa flour in a lot of dishes - for instance, quinoa dosa, quinoa chapati, quinoa cakes, quinoa bread and quinoa muffins are all possible. If you are frying fish or chicken, you can use the flour as a coating, rather than breadcrumbs. Quinoa flour's natural tang works very well in certain recipes such as muffins and scones. I've found lots of recipes on the Internet that use quinoa flour to make healthy pizza bases, but I struggle enough to get a good crust with regular flour, so I haven't experimented with that yet. I decided instead to try my hand at quinoa pancakes, a far simpler recipe -
here
.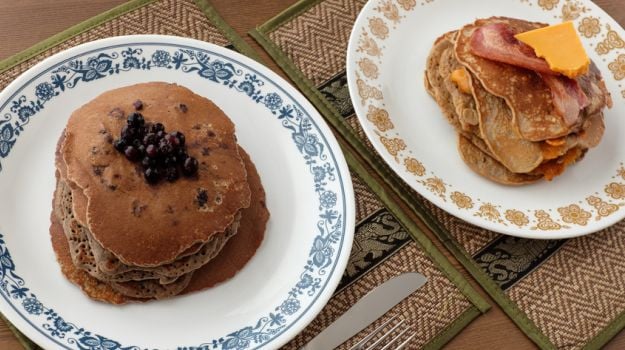 This is one of the easier biscuit recipes that don't require a blending of various flours. As biscuits go, this one is pretty healthy - they are made without butter and still taste pretty good. For the recipe, click here.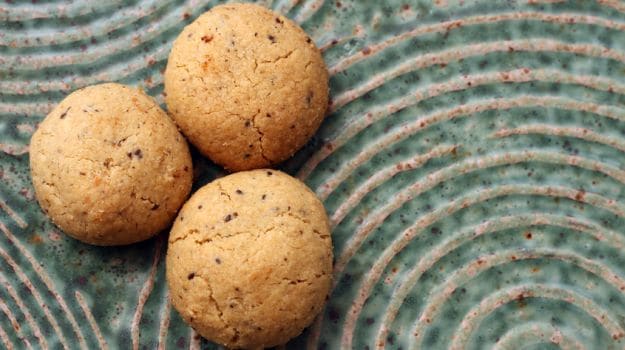 How to Store Quinoa Flour
Quinoa flour is a bit of a wilting violet so it needs to be stored in an airtight container and kept in the freezer. It should last about five to six months.
About the author:
Meher Mirza is an independent writer and editor, with a focus on food and travel. Formerly with BBC Good Food India, she loves anime, animals and artsy things but also comics, technology and death metal.
Disclaimer:
The opinions expressed within this article are the personal opinions of the author. NDTV is not responsible for the accuracy, completeness, suitability, or validity of any information on this article. All information is provided on an as-is basis. The information, facts or opinions appearing in the article do not reflect the views of NDTV and NDTV does not assume any responsibility or liability for the same.