Any festival is incomplete without food, especially Raksha Bandhan! This year, Raksha Bandhan is falling on August 11, 2022. One of the best ways to express love for our siblings is to make delicious food for the Raksha Bandhan feast! If you are yet to decide what you shall be serving on the day of the festival, then we are here to help you. We have shortlisted some delicious food combinations that shall not only make your spread look festive but also offer a lip-smacking meal. These classic combinations include chole bhature, pav bhaji, rajma chawal and more. So, what are you waiting for? Whip up these food combinations and impress your siblings with your culinary skills.


Also Read: Raksha Bandhan 2022: When Is Rakhi - Date, Time, Significance And Cuisine In India
Raksha Bandhan 2022: 7 Delicious Food Combinations You Can Make This Rakhi
1.Pav Bhaji
Soft and fluffy pavs dunked in masaledaar bhaji make for quite the treat among foodies! If you don't have a lot of time to prepare your feast, then this Maharashtrian food combination shall come to your rescue. With vegetables available at home, you can prepare a lip-smacking bhaji and you can buy pav from your local store.


Click here for the full recipe of Pav Bhaji.
2.Chole Bhature
This Punjabi duo is a great option for the Raksha Bandhan feast. Chole have the aromatic flavours of cumin seeds, bay leaf, peppercorns, cloves and cardamom, offering a lip-smacking gravy to dunk the bhature in.


Click here for the full recipe of Chole Bhature.


3.Puri Bhaji
This quintessential combination is often our go-to feast for Raksha Bandhan. The fluffy and crispy puris taste extra delicious when it is paired with masaledaar bhaji. Don't confuse this bhaji with pav bhaji, the bhaji in this recipe is a hot and spicy aloo curry.


Click here for the full recipe of Puri Bhaji.
4.Rajma Chawal
We all can agree that there is nothing more comforting and delicious than a plate full of rajma chawal! The Punjabi spices absorbed by the rajma make for an aromatic and delicious gravy that tastes amazing with steamed rice. If you want, you can serve raita and a salad to make it a complete feast.


Click here for the full recipe of Rajma Chawal.


5.Idli Sambhar
This South Indian delicacy is one of the most popular combinations in India. It doesn't matter where you are from, sambhar idli will always hold a special place in our foodie heart. So why not make it for your Raksha Bandhan feast?! Soft idlis with tangy and masaledaar sambhar will make for quite the treat.


Click here for the full recipe of Idli Sambhar.
6.Matar Kulcha
Delhi's classic street food - chole kulche shall make for an exciting food combination for your Raksha Bandhan feast. White peas are boiled and bathed in chaat masala, amchur powder, red chilli powder, garam masala and more, giving it a tantalising taste. The fluffy kulchas pair well with this masaledaar curry.


Click here for the full recipe of Matar Kulcha.


7.Kadhai Paneer And Naan
Any occasion feels incomplete without a lip-smacking paneer curry, doesn't it?! Soft and tender chunks of paneer are bathed in a lip-smacking tomato onion gravy to give the delicious kadhai paneer. Fresh and soft naans just enhance the flavours of kadhai paneer, making it a winsome food combination.


Click here for the full recipe of Kadhai Paneer And Naan.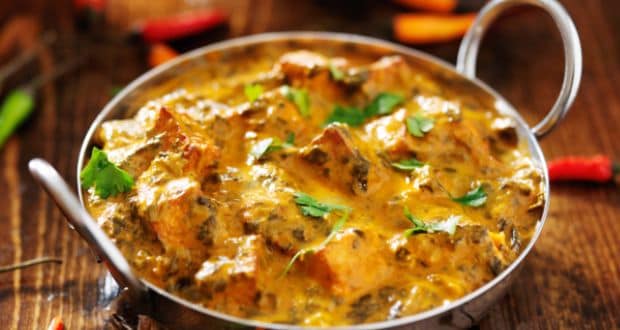 Try out these delicious food combinations this Rakhi and tell us which one is your favourite in the comments section below.


Happy Raksha Bandhan 2022!