Roll out the RED carpet for Burger King Japan's new burger that's creating quite an uproar on social media and will be sold in outlets across the country from July 3rd. Deep-red buns, dark-red cheese, red tomatoes and a blood-red sauce made from doubanjiang spicy chili bean paste, is what gives this burger a 'fiery' edge.(
What makes the perfect burger?
)The Aka (meaning 'red') burger will come in two varieties: the Samurai Beef burger and the Samurai Chicken and will be served with a red sauce mad with miso and hot pepper. What gives the burger its deep red colour is tomato powder that's been added to the buns and cheese. Whether this burger tastes as deadly as it looks is yet to be discovered, but what we can tell you is that this isn't the first time Burger King Japan has introduced a coloured burger. A few months back, they came out with the 'black burger' which was adopted by other food outlets all over the world.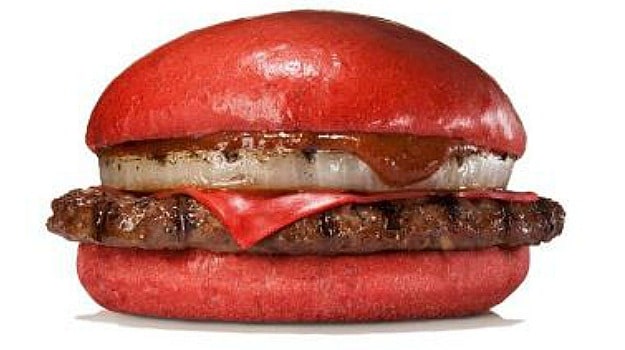 A burger with black buns, black cheese and yes, black sauce. While the black buns and cheese are made using bamboo charcoal, the patties are sprinkled with black pepper and the sauce is made with garlic, onion and squid ink. The 'Kuro' (meaning 'black') burgers are on sale in Japan and come in two varieties: Diamond and Pearl.
(Join the Dark Side: A Black Burger?)
Some call it 'horrifying' and some can't wait to try it, but we're really hoping this is just the beginning of Japan's obsession with coloured food.
India's Tryst with the Black Burger
In India, the black burger made its debut in Delhi at Barcelos which is a South African based chain. This gothic-looking peri peri burger is served with a choice of four sauces: Supa Peri, Veri Peri, Mild Peri and Tangy Lemon. Their vegetarian burger is priced at Rs.155 while the chicken variant costs around Rs.195. A Barcelos spokesperson said that they don't use any ink or artificial colouring but instead have relied on herbs and organic ingredients for its dark colour.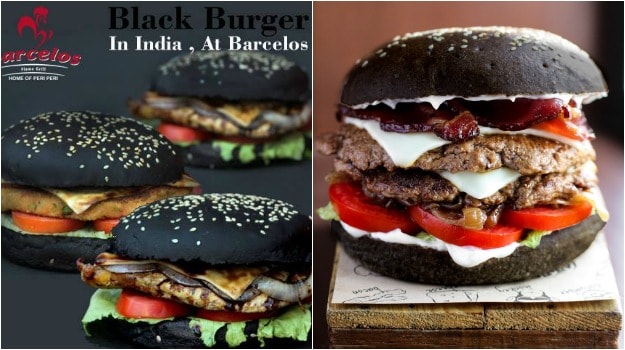 Left: Barcelo's black burger. Right: Monkey Bar's 'MoBar Burger'
Monkey Bar, Mumbai also has its own version of the black burger that's been named the 'MoBar Burger'. Two single buffalo meat patties are covered with American cheese, smokey bacon, onions and tomatoes. The vegetarian option is called 'Veggie' and is a lentil and bean burger with amaranth leaves, walnuts; portobello mushroom, chutney mayo and jalapeno cheese fondue. The black buns are coloured with a powder made from eggplant that is de-hydrated for 24 hours and no artificial colouring is added to the burger bun whatsoever.