Not so long ago the concept of black burgers had taken the food world by storm. In India too, many restaurants and gastro pubs tried their hands at creating their own versions of the black beauty to lure their customers and it worked like magic. There's no doubt that Indians love burgers, so much so that there's no dearth of burger joints, small and big, across the subcontinent to serve cheesy and greasy burgers. But did you know about this little joint in West Delhi was among the first to introduce the concept of burgers way back in 1990? Kala Burger Wala in Subhash Nagar is considered to be a
food institution
, and their number one selling item is the Special Kala Burger.
Going by the name, you wonder in awe how they came up with the concept of black burger 25 years before the trend caught on. But on our recent visit to the eatery we found that the term 'kala' was highly misunderstood. Rather than the burger it actually refers to a person - the owner of the eatery, Joginder Singh, lovingly known as 'kala' by his near and dear ones. Needless to say now that the burger is not a black burger, nevertheless it is not ordinary either.(Also read: 10 Most Popular Burger Recipes)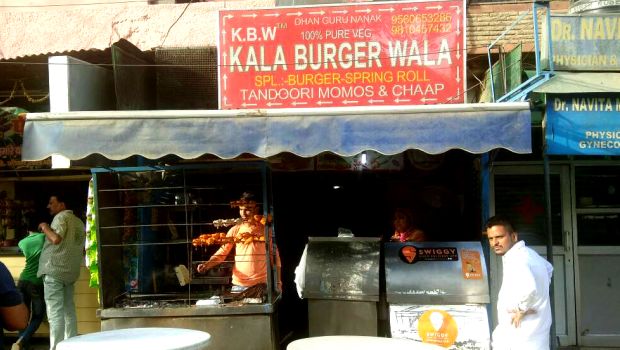 Indrajeet Kaur, the lady who has been running the eatery along with Mr. Singh since the beginning and who personally supervises the operations till today, says, "The burger is named after Joginder Singh who is more popularly known as Kala. Many years back, one of our relatives had gone to Singapore where he discovered the food item - burger. He was very impressed and came back gushing about it. In India no one knew about burgers then, so Joginder decided to open a food stall and start selling a new item to the people rather than continuing with his vegetable stall, which is what we used to do earlier."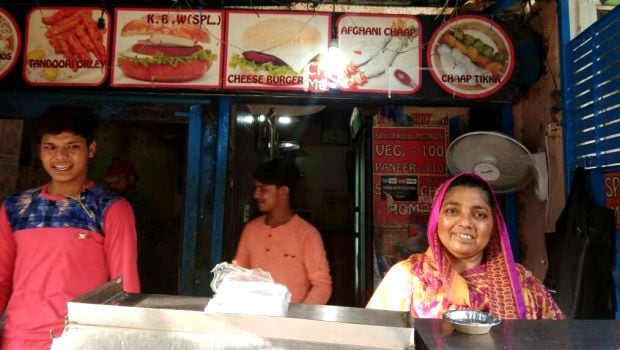 They never expected that in the years to come this alien dish is what would make them famous. They have tweaked the burger a little since the inception. Today when you order a plate, you will find a fat, aloo tikki burger, which is topped with fresh malai paneer slices, cucumbers, onions and a generous sprinkling of their in-house masala. Yes, it is 100% vegetarian. The bun too is different from the usual round bread, resembling an eight-shaped bun. As you take your first bite, there's a nice crunch to it, and you soon realise that the entire burger has been deep-fried in oil before serving it, yet there's no trace of the oil. The burger is served along with two chutneys - coriander and green chilli chutney and saunth chutney.
In comparison to the plethora of gourmet burgers that we have become so fond of today, this Indian-style burger doesn't quite match up. But it is a street-side snack, with its own speciality, and as desi as it can get. Probably the whole concept of aloo tikki burgers started from here, but we can't be certain of that fact. It still makes for a good snack when the hunger pangs kick in.(Also read: Kuremal Mohan Lal Kulfi Wale: An Over 100-Years Old Kulfi Joint in Old Delhi)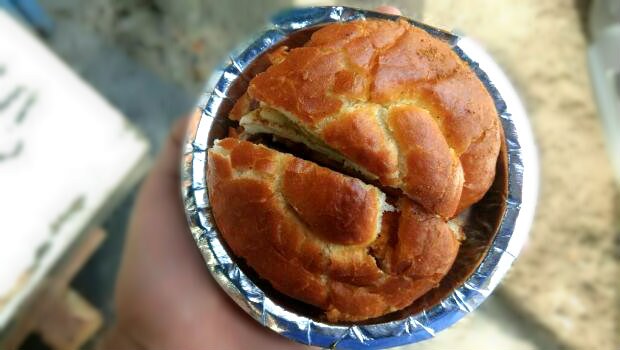 Chef Mohit Balachandran a.k.a Chowder Singh of SodaBottleOpenerWala who also runs a popular food blog bringing to light interesting food stories from nooks and corners of India says, "It is important to remember that this is not some big corporation with millions of dollars of research and top of the line equipment behind their burgers. This is a small, humble, family-run business that has been producing consistent, quality food out of a small place with non-temperature controlled, gas-fired kadhai. They've been serving this outstanding burger for so many years and I think the chutney works wonders to bring the whole burger together, making it delicious."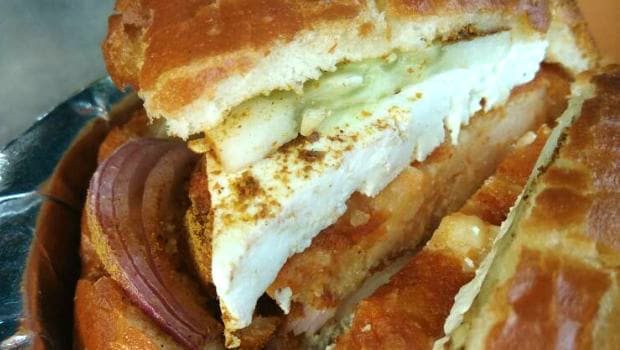 Kala Burger Wala also serves other kinds of burgers like paneer, cheese, gravy paneer and the like. Apart from these, the menu also includes spring rolls, fried momos, tandoori momos, gravy momos, tandoori chaap, rolls and main course gravy items. It sells 100% vegetarian food, but for the meat lovers, right next to it is their other outlet which sells popular non vegetarian items.
Where: 6/28, Subhash Nagar, New Delhi. Or you can just Google map it. It's easy to locate.
Timings: 4pm to 11pm
Pricing: INR 60 for the Special Kala Burger, and a meal for two would be INR 300 approx.