Rich, Out-Of-The-Bird Chestnut And Sausage Stuffing
Thomson Reuters | Updated: November 23, 2016 12:36 IST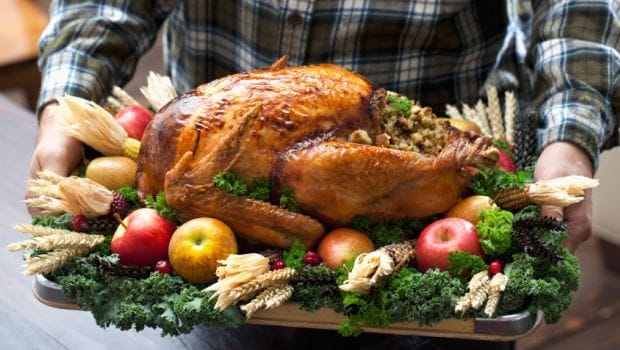 Thanksgiving dinner, including the stuffing, is heavily inflected with New England themes. That's because two of my children were born in Boston and we lived in Massachusetts for 14 years when the children were young. Once we moved to California, we kept those foods for Thanksgiving that are not only delicious but also nostalgic.

The stuffing for our turkey is bread-based and seasoned with herbs, onions, sausage and chestnuts. I am always asked to make a huge amount, and there is enough stuffing to fill a 20-pound bird plus enough left over to bake in a 12-by-9-inch casserole filled to the brim separately. It is often considered the best dish of Thanksgiving. We eat too much, so maybe this year I'll cut the recipe in half.

New England-Style Bread, Sausage, and Chestnut Stuffing for Turkey

Remember that this recipe must be started three to four days before Thanksgiving because the bread must dry. Never use store-bought bread croutons for this preparation. It will be easiest to finish this the Wednesday night before Thanksgiving and keep it refrigerated until needed to stuff the turkey.

The stuffing should look pretty well coated with herbs, chestnuts and sausage and be ever so slightly moist. The best way to keep the bread somewhat moist is by reserving some turkey stock to pour on it. The non stuffed stuffing can be cooked the previous evening or Thanksgiving morning if you don't have two ovens, then reheated at 475 F for 20 to 30 minutes while the turkey is resting and being carved.
The stuffing in a 16-pound-plus turkey should be sufficient for eight to 10 diners, and the non stuffed stuffing is extra that you probably will not need. The recipe can be halved easily and still feed 10 people with a little bit of leftover.

Another tip: You may be tempted to use a food processor for all the chopping, but in order to have the right size of chopped vegetables it's best to do the chopping by hand.

Prep time: 1 hour
Cooking time: 40 minutes
Total time: 1 hour, 40 minutes
Yield: Enough stuffing for one 25-pound turkey plus extra

Ingredients

4 loaves French baguette bread
1/2 cup (1 stick) unsalted butter
2 cups chopped shallots
2 cups chopped celery
2 pounds mild Italian sausage, casing removed, meat crumbled
6 tablespoons finely chopped fresh tarragon leaves
1 tablespoon ground dried sage
1 tablespoon dried thyme
1 tablespoon dried summer savory
1 1/2 tablespoons salt
2 tablespoons freshly ground black pepper
2 cups chopped fresh roasted and shelled chestnuts (see note)
3/4 cup Jack Daniels or Jim Beam bourbon
2 tablespoons unsalted butter or turkey, goose or duck fat
Turkey stock as needed

Directions

1. Three days before Thanksgiving dinner, cut the baguettes into 1/2-inch cubes and leave to dry for 3 days on trays in the open air.

2. In a large stock pot, melt the butter over medium heat, then cook the shallots and celery, stirring, until soft and translucent, about 8 minutes. Add the sausage and cook until it has turned color, breaking up the larger bits with a wooden spoon, about 12 minutes. Add the tarragon, sage, thyme and savory and cook until the fresh herbs wilt, about 1 minute, then season with salt and pepper, stir, and add the chestnuts. Mix in the bread crumbs. Toss and stir so that the bread is well coated.

3. Transfer the bread crumbs to a large mixing bowl and set aside. Correct the seasoning and toss. Sprinkle the bourbon all over and toss again. The stuffing can be made up to this point and refrigerated overnight. The stuffing should be very moist but not wet or soaking. If it is not, pour in some turkey stock, maybe a cup or 2, and toss again.

4. Stuff the turkey with this stuffing. Place the remaining stuffing in a large casserole greased with the butter or turkey, goose or duck fat. Press down and sprinkle the top with some turkey stock. Cover with aluminum foil and bake at 350 F until crispy brown on top, about 1 1/2 hours, moistening every 15 minutes with turkey drippings once the turkey is roasting.

Note: To roast chestnuts, preheat the oven to 425 F. Cut a not-too-deep "X" in the convex side of the chestnut with a paring knife and lay them in a baking pan, "X" side up. Roast for 35 to 40 minutes. Let cool, then remove the shell.

Variation: You can add 2 cups of shucked oysters to the dressing. I made it that way once many years ago, but it's labor-intensive.


(This story has not been edited by NDTV staff and is auto-generated from a syndicated feed.)


Our family's