Remember the robotic maid, Rosie, from the famous 90's cartoon show, The Jetsons? With new technologies coming up every single day, who would have thought that someone would actually come up with something similar to how Rosie was. Moley Robotics, a London based company, recently unveiled their robot gourmet specialist at Germany's Hannover Messe Technology fair. This robot is possibly the answer to every office going person's prayers, neither do they have to pick up that same old take-away from the restaurant nor do they have to go home and make a meal for themselves. All one has to do, is just tell the robot what you want and they will make it for you.
So how does this robot work?
This robot comprises of two hands in a uniquely designed kitchen, which incorporates a stove top, utensils and a sink. The gadget is able to replicate the movements of a human
chef
, keeping in mind the end goal- to make a feast sans preparation. Instead of cooking like a machine, the system works by first recording human actions in 3D and then converting these into highly precise movements. The hands are made of twenty motors, two dozen joints and 129 sensors that are used in order to mimic the movements of human hands. The robotic arms and hands are capable of grasping utensils, pots, dishes and various bottles of
ingredients
.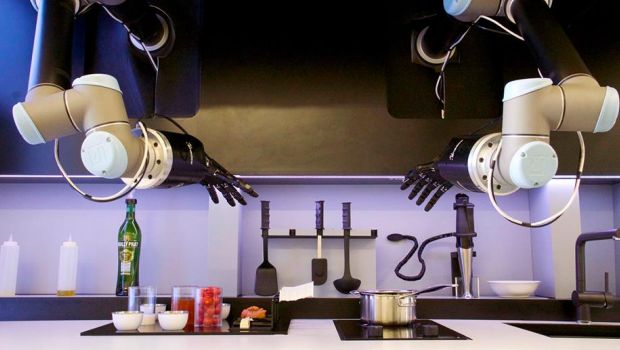 The prototype was trained by Chef Tim Anderson, winner of the 2011
MasterChef
UK, who spent time whipping up original dishes in a motion-capture studio. In a test session, the robot managed to make
crab
bisque, based on Anderson's recipe and technique, in less than half an hour. From selecting the right heat level on the stove-top to adding the pre-arranged ingredients at just the right moment, and even operating a small mixer, the robot arms made the
soup
from scratch. It even plated up the soup, including scraping the bottom of the ladle against the rim of the saucepan in order to prevent drips.
When can I get one?
The company plans to bring a consumer version to market by 2017 that will feature several additions, including a library of thousands of recipes, a dishwasher and a
refrigerator
. They also plan to produce a version complete with cameras so that users can teach it to create their own dishes, which can then be uploaded to a digital recipe library and shared with other people. They want later models to be capable of dealing with tricky things like stop mixing at the appropriate time to prevent splitting or over-beating. And the final thing that they are planning to add that would make this robot easier to work with is a mobile application, so that before you come home, the dish is ready to be served.
Even though all this seems too surreal to be true, there are a lot of things that one needs to take into consideration. One, being the amount the client needs to spend for purchasing this product. With so much going on, the price that the company has come up with currently is $75,000 which, logically speaking, is not a reasonable price for the masses. The main question that arises then is who the intended interest group of the organization is. The other thing that comes to mind is will this robot jeopardize the role of a
chef
in a restaurant? In an interview done by TIME, when Tim Anderson was asked whether he feels threatened that a machine is making his recipe faster and with no sweat, he said, "Some people ask if this is going to put my out of a job. This has already given me a new job."
What can the robot not do?
A lot of work needs to be done on the robot however, before one can come to any conclusion. As the robot doesn't have any way to see, it is unable to locate an ingredient or utensil that might have been moved or knocked out of place. It also can't chop or prepare food yet, so it must use prepared ingredients that are meticulously laid out. The company feels that there's a lot that needs to be done especially when it comes to enhancing the functions and capabilities of the robot. The computer scientist behind the hands of the robot, Mark Olyenik says, "It will have a few constraints since nothing can be compared with human touch."

With 2016 coming to an end, it would be interesting to see the new additions that are being made to the robot and also whether the minute glitches that had been mentioned above can be rectified or not. This could likely be a defining moment in the realm of cooking as well as the world of innovation and science.
Picture Credits : www.moley.com