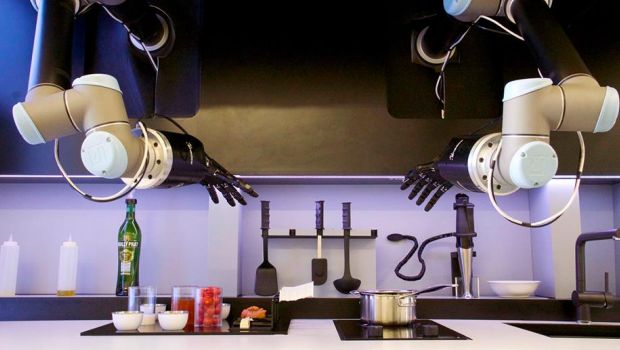 The prototype was trained by Chef Tim Anderson, winner of the 2011
MasterChef
UK, who spent time whipping up original dishes in a motion-capture studio. In a test session, the robot managed to make
crab
bisque, based on Anderson's recipe and technique, in less than half an hour. From selecting the right heat level on the stove-top to adding the pre-arranged ingredients at just the right moment, and even operating a small mixer, the robot arms made the
soup
from scratch. It even plated up the soup, including scraping the bottom of the ladle against the rim of the saucepan in order to prevent drips.
When can I get one?
The company plans to bring a consumer version to market by 2017 that will feature several additions, including a library of thousands of recipes, a dishwasher and a
refrigerator
. They also plan to produce a version complete with cameras so that users can teach it to create their own dishes, which can then be uploaded to a digital recipe library and shared with other people. They want later models to be capable of dealing with tricky things like stop mixing at the appropriate time to prevent splitting or over-beating. And the final thing that they are planning to add that would make this robot easier to work with is a mobile application, so that before you come home, the dish is ready to be served.