Seasonal Veggie: Why You Should Dig Into Parsnips
David Tanis, The New York Times | Updated: July 13, 2017 13:48 IST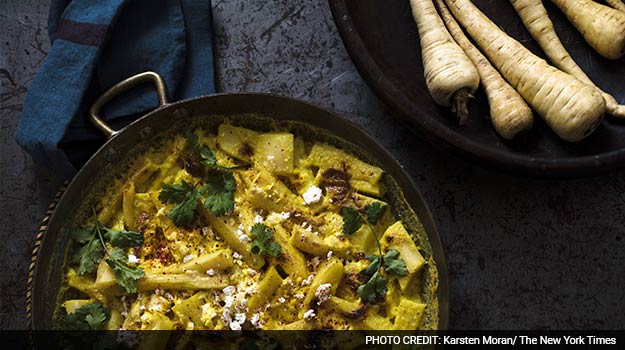 If I had a grocery store, I wouldn't hide the parsnips in a bin with the clip-top turnips and beets. I'd put them front and center, give out parsnip samples — mashed, roasted, fried — and sing their praises.

Parsnips are lamentably underappreciated, but they are by far the tastiest of winter vegetables, so sweet and deep-flavored, and so versatile. And how to describe their flavour? Like a carrot crossed with squash, with chestnut undertones, and with a perfume unique to parsnips. Can a humble root vegetable be seductive? Yes. Yes, indeed.

Since I didn't grow up eating parsnips, to me they are almost exotic. From the first time I tasted them, roasted country-style with a little bacon fat in a cast-iron skillet, I was hooked. A British cook I know makes an elegant parsnip potage with leeks. It's her variation on leek and potato soup, and a fine idea, sprinkled with hothouse herbs like tarragon or dill. A dollop of crème fraîche is a welcome addition, too.

You would think a parsnip could be peeled and cooked like any other edible root, and it can, but with one exception. Larger parsnips have a tough central core. It is best to quarter your peeled parsnips lengthwise and remove the core with a paring knife before proceeding with most preparations. Naysayers will tell you this is nonsense, but for the most tender roasted parsnips and the smoothest parsnip mash, it really is necessary. Here's another helpful step as you journey toward parsnip perfection: Parboil them first. It requires just 5 minutes of simmering in salted water, but it makes a real difference. You'll see that roasted parsnips emerge from the oven crisp and nicely browned instead of nearly burned, dehydrated and chewy. Or you can finish them in a skillet with a bit of butter and chopped parsley. For this savory gratin, the parsnips are parboiled and splashed with cream seasoned with turmeric, cumin and cayenne, then topped with feta and baked. It is an unlikely combination perhaps, but quite delicious, proving once again that parsnips can shine in many guises.

Parsnip Gratin With Turmeric and Cumin
Time: 1 hour
Yield: 4 to 6 servings

Ingredients:
3 pounds parsnips
Salt and pepper
2 tablespoons butter, for greasing dish
2 cups heavy cream
1/2 teaspoon turmeric
1/2 teaspoon toasted and ground cumin
Pinch of cayenne
4 ounces feta cheese, crumbled

Preparation:

1. Bring a large pot of salted water to a boil. Peel parsnips and quarter lengthwise. With a paring knife, remove and discard hard central core. Cut parsnips into 3-inch batons. Parboil for 2 minutes, then drain and spread out on a baking sheet to cool briefly.

2. Butter a 9-by-12-inch shallow earthenware baking dish. Arrange parsnips in dish in one layer. Heat oven to 400 degrees.

3. Whisk together cream, turmeric and cumin. Season with salt and pepper and add a small pinch of cayenne.

4. Pour cream mixture over parsnips and sprinkle with feta. Bake for about 30 minutes, until bubbling and nicely browned.

© 2015 New York Times News Service