This tropical fruit is the perfect accompaniment to succulent snapper, barramundi or even prawns
My favourite papayas grow on the Atherton Tablelands near a small town called Mareeba, and the best mangos too. It's a very long way from Melbourne where I live, but I've spent a great deal of time in far north Queensland.
The rich volcanic soil of the Tablelands is a deep rusty red. Fields of produce sidle up to patches of remnant tropical rainforest and the round hills of ancient volcanoes.
In the summer, roadside stalls sell very cheap avocados, small pip lychees, Bowen mangos and of course papayas.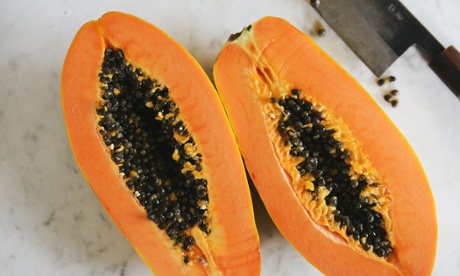 Papaya is a wonderful tropical fruit and if shipped carefully can be enjoyed in cooler climes. The large, single-stemmed herbaceous plant has leaves that grow umbrella-like at its top and fruit that grows along its thick trunk.
When shopping for papaya, look for firm fruit. In Australia, papayas are generally divided into two types, red or yellow fleshed. Interestingly small brown spots on the surface of the skin mean a sweet papaya, they don't indicate any browning of the fruit itself. What you want to avoid is an overripe, soft, bruised papaya.
You can buy the fruit towards the green side of things and it will turn a yellowy orange as it ripens. You know it's ready when the fruit is mostly orange, and gives a little at the stem end. Very green unripe papayas are usually only available from purveyors of Asian produce and make a delicious Thai green papaya salad - som tam.
A ripe papaya will have a fragrant, floral smell. The young leaves are edible, as are the seeds, which can be served dried and ground, like pepper, or fresh and whizzed in a food processor with olive oil and vinegar to make a salad dressing.
This salsa is bright and sweet, taking advantage of the tropical flavours available at the height of summer. The lime and chilli give balance to the mango and papaya. There's a lovely crunch to the cucumber and fresh capsicum. It makes the perfect accompaniment to succulent snapper, barramundi or even prawns.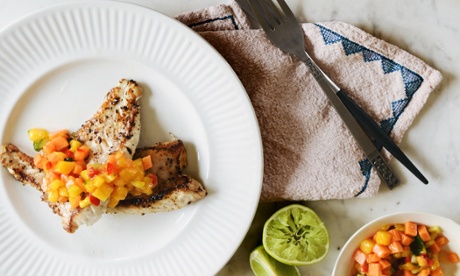 Papaya salsa with red snapper
1/4 of a large, firm red-fleshed papaya, skin and seeds removed, and flesh cubed
One firm Bowen mango, cheeks cut from the pip, cubed
1/2 yellow capsicum, diced
1/2 red capsicum diced
1/2 small Lebanese cucumber, seeds scrapped out, diced
A handful of washed and picked coriander, chopped roughly
One tsp of a large green chilli, deseeded, sliced thinly
Juice of one lime
Pinch of salt
Four pieces of fresh red snapper
Pepper
Butter
To cook
The watery, seeded inside of the cucumber is best removed for a salsa. You don't want the salsa's flavours to become waterlogged, so just scrape that out of your cucumber before chopping. Chop and combine all ingredients just before serving.
This makes quite a lot of salsa, but you should serve it generously with the fish, almost like a salad alongside.
To prepare the fish, sprinkle with salt and pepper and fry in a heavy bottomed frying pan until the fish is golden on both sides and firm to touch. If you have thick pieces of fish, after you've flipped it, finish it - still in the pan - in a moderate oven for five minutes.
Serves four
A bright and sweet tropical salsa takes advantage of the summer flavours. Photograph: Lauren Bamford/The Guardian