Happy Birthday SRK! Every year on this day, Bollywood fans from all across the world get down to wish their favourite 'King Khan' a very happy and prosperous birthday. The king of romance, Shah Rukh Khan, celebrates his 55th birthday today.
Entertaining and touching millions of hearts worldwide for close to three decades now, SRK has given Bollywood some of the most successful and celebrated movies of all time including Darr, Baazigar, Kuch Kuch Hota Hai, Dil to Pagal Hai, and of course Dilwale Dulhaniya le Jaenge which recently completed its twenty years. Apart from his passion for acting and entertaining people, Shah Rukh openly confesses his love for his family, loved ones and his faith in God. We did a little digging on his take on food and what we found is something every Shah Rukh Khan fan MUST know!

Food is God's Blessing: When Harper's Bazaar's Mala Sekhri interviewed 'King Khan', the cine world got many insights into his eating habits and preferences. According to him, food is God's blessing, "I eat anything that is given to me" he said, suggesting that he is non-fussy when it comes to meals.
Home-Cooked Food: In the interview, Shah Rukh also confessed that he doesn't like eating out much. Part of the reason being the fact that his father once owned a restaurant in Delhi. Shah Rukh routinely got to savor delectable preparations in the comfort of his house as his father used to cook Pathani food and his mother specialized in traditional Hyderabadi cuisine. With such gastronomic excellence right in your home, anybody would give restaurant food a skip. "I don't think I find any food as tasty as that... My favourite restaurant will probably be McDonald's because my kids like it or maybe KFC, or one of those places", he confessed.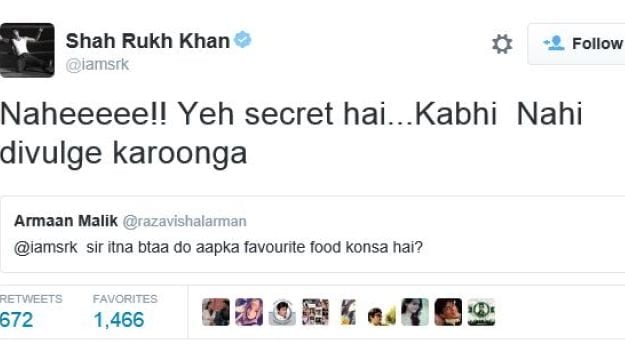 Have we cracked the secret yet?

Coffee Love: It won't be wrong to say that Shah Rukh literally lives on coffee. In another interview he confesses having close to 30 cups of coffee in a day. "I don't drink water. I have about 30 cups of black coffee". Don't believe us? Take a look yourself.
At times its best 2 sleep with the smells you recognise as your own…I sleep surrounded by smokey, musky, caffeiny & my quilt smells of sleep

— Shah Rukh Khan (@iamsrk) October 2, 2015
Shah Rukh simply loves the smell of coffee, even when he sleeps!
Aaah rain outside....Dark coffee in the Car. Song on the Radio...Kya yeh mera pehla pehla pyaar. Close my smokey eyes...and swirl away afar

— Shah Rukh Khan (@iamsrk) July 17, 2013

Dark coffee, always a classic!
& u know it's time to take stock of ur life when absentmindedly u put ur eye drops in the nose! Now I can smell & see the coffee too!!!

— Shah Rukh Khan (@iamsrk) October 10, 2015

Coffee again! On a funny note
Now for some coffee…and a visit to the office just to feel the hustle bustle of production and post prod work happening on #HNY

— Shah Rukh Khan (@iamsrk) January 15, 2014

Coffee on a busy day, coffee while dozing off, SRK loves coffee; it's plain to see, isn't it?
Breakfast, Grilled Chicken & More! SRK loves non-vegetarian food, especially grilled chicken and lean meat.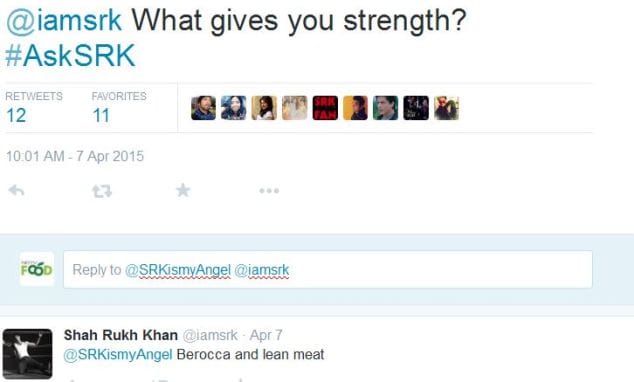 He blatantly confesses that he usually skips breakfast

@its_rupali I don't do breakfast

— Shah Rukh Khan (@iamsrk) April 7, 2015

And desires to learn cooking and cocktail making!
Bucket list 1. Learn the guitar Learn cooking Find a perfect pair of jeans Learn to make five cocktails Tend to plants Read Papillon again

— Shah Rukh Khan (@iamsrk) August 27, 2015
Maybe we at NDTV Food could send him some of our fabulous cocktail recipes to master! Cheers on your 51st Birthday Shah Rukh, here's to many more.