Bollywood actor
Shilpa Shetty Kundra
is well known for her healthy food recipes. The diva has two cookbooks and even a cookery game of her own. Besides this, she also has a YouTube channel where she regularly posts healthy versions of popular Indian and international dishes. Shilpa's recipes are generally low on calories and high in energy, as she uses a lot of so-called nutritious 'superfoods' as substitutes for commonly used ingredients. These are probably inspired from her own life, as she has to keep her energy levels up to keep her going during the hectic workdays.
We have got healthy food inspiration from Shilpa on numerous occasions and she's always schooling her followers in the art of balancing taste with nutrition. Exhibit A is the beautifully-plated breakfast snapshot that she posted on her Instagram stories this morning. Have a look! Also Read: We Spoke to Shilpa Shetty Kundra & Here Are 8 Secrets She Wants You To Know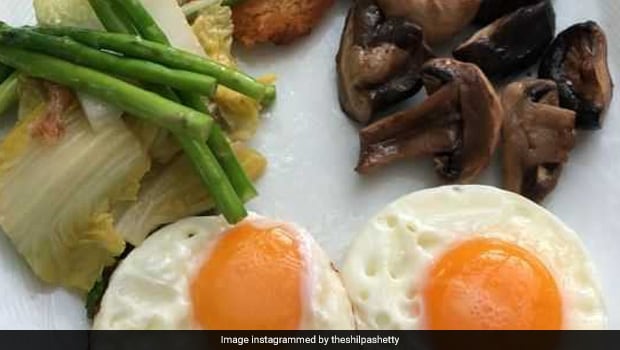 Doesn't that look infinitely appetizing? Seen in the picture is sauteed mushrooms with two perfectly round sunny-side up eggs, along with green beans and veggies. Shilpa called herself a 'breakfast gal' in the picture and we can see why! Breakfast is the most important meal of the day and diet experts always stress on the fact that if you want to lose weight in a healthy way, you must never skip breakfast. This is something that Shilpa Shetty religiously follows and she always ensures that she gets her morning dose of calories to keep her going throughout the day. Also Read: Shilpa Shetty Kundra's High-Power Salad Is Giving Us Major Healthy Food Inspiration
It's pertinent here to mention that unlike what's generally believed, egg yolks must not be thrown out. Eggs yolks give you a dose of healthy fats that are essential to keep your skin healthy and nourished. Eggs yolks are full of Vitamins A, D, E and K, and also omega-3 fatty acids, as well as antioxidants which are essential for heart health. Moreover, mushrooms are dense with nutrients including proteins and are also rich in dietary fibre, to keep you satiated for longer. Mushrooms are also important for keeping the heart healthy and boosting the immunity. So kids, what did we learn today? Never skip breakfast, if you want to look as gorgeous as our very own Shilpa Shetty!