Photo Credit: Instagram/TheShilpaShetty. One of our favourite fitness icons.
Here's a woman who is redefining the idea of fitness in Bollywood where it matters to be the right size. She practices what she preaches: yoga on a daily basis, regular exercise, healthy food, lots of laughter and wants people to know she's doing it for the right reasons. We bring you little inside information from
Shilpa Shetty Kundra
, who spoke to us at the launch of Saffola Multigrain Flakes. She talks candidly about how she eats, exercises and looks the way she does. Get inspired and learn how she does it.
1. AM routine: Start your day right.
"I start my day with a glass and a half of lukewarm water. Then, I have four drops of
Noni juice
that acts as an energy booster. Finally, I gargle my mouth with a tablespoon of
coconut oil
. It is an Ayurvedic practice of
oil pulling
where you swish the oil around your mouth for five and half minutes," she says. Mornings are usually busy when she's trying to pack her son off to school while making sure she reaches her shoot or meeting on time but Shilpa is comfortable being spontaneous. "I don't skip breakfast because I don't have time. If you don't break your fast you are not doing good to your brain and body. I like to keep it simple – and quick. I'm not someone who eats too much bread and so, I get my dose of fibre from fresh fruits. Throw in some
muesli
with few slices apples, mangoes and almond milk – it's my favourite breakfast bowl. I also love eggs for breakfast, they make a complete meal."(Also read:
6 Easy Breakfast Ideas for Busy Mornings
)
2. Fats don't make you fat.
How to stay slim? Shilpa reveals her secret – and it's all about eating
good fats
and smart carbs. "A lot of people face issues with maintaining their weight. I think adding the right kind of fats can really help. For instance, you can switch to coconut milk and other energy-producing foods that are not stored in the body as fats. Coconut milk is wholesome and also works for those who are lactose-intolerant.
Ghee
is a staple with my lunch. Even high carb fruits like bananas are really good for you. They are so easily available but most people stay away from them fearing they'll make them fat!""Add a bit of
brown rice
to your diet. If you can switch to these foods, you will realize that the elasticity in your skin is much better. You have to add foods in your diet that keep you full and at the same time maintain your weight and give you a natural glow."
3. 'I eat all the time.'
Shilpa is mindful and not obsessive about what she eats. "I eat all the time but my food is wholesome and healthy. I am not someone who advocates dieting, I suggest
healthy eating
. So, I may opt for a meal or sometimes in the evening just enjoy a light broth or clear soup. I limit my carb intake in the evenings but have a snack with eggs or dry fruits. We can't look the way we do without a bit of a discipline. What you eat and when you are eat both are equally important. I have a lifestyle modification that I have made for myself and I make sure I follow it to look and feel the way I do. Even if I have a social gathering to attend I'll eat before 7.30 p.m." If you're looking to lose weight, the trick, she says, is to alternate between a low carb and a no-carb diet for a few days.
4. Why yoga? Why not!
​"I joined Yoga to heal myself when I suffered cervical spondylitis, a few years back, and I just got drawn to it. I started practicing Ashtanga Yoga and once I tried that, I wanted to learn more about different forms of yoga. So, I did Vinyasa and now I've started doing Bihar School of Yoga. But the benefits are the same. All kinds of yoga practices help in strengthening and toning your body – both internally and externally," she says. Yoga is the only form of exercise that gives you a strong body and sound mind. So, why not? Shilpa combines yoga with a bit of functional training and animal crawl which is her latest fitness mantra to make her daily routine. (Also read:
Yoga for Beginners
)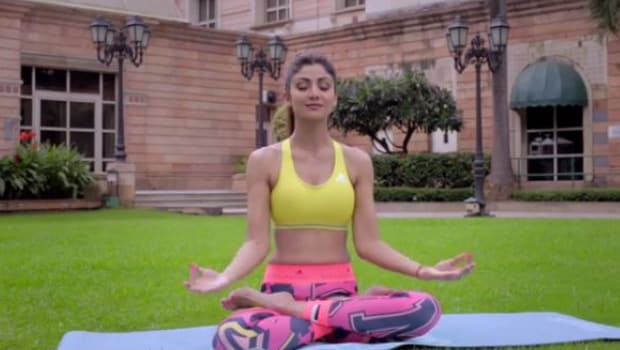 Photo Credit: Instagram/TheShilpaShetty. Shilpa performs a yoga pose.
5. *Breathe*
When it comes to letting go of stress, Shilpa has an easy trick. One word:
meditate
. "Stress has become part and parcel of, perhaps, every activity we undertake. We're pacing at a speed that doesn't allow us to think. We've all become so goal-oriented that nothing else seems to matter. But it does. What really helps me keep the equilibrium is the fact that I'm able to take out time to breathe. So, the last thing I do at night before sleeping is I focus on my breath and give myself those few minutes to enjoy it. I practice Pranayam every day. I think all of us have stopped breathing correctly or giving it enough importance. Take a few deep breaths every now and then. I also do Chakra healing which really helps me maintain balance and stability."
6. Grow your own veggies and cook them too
"I can't trust the so-called organic food you get in the market, so I feel it is best to grow your own vegetables and I encourage people to do that. I've started growing my own salad leaves and herbs like
curry leaves
and
ginger
. There are also all
kinds of milks
available in the market today, but it is important to make sure that milk comes from a good source. You see girls and boys reaching puberty much earlier now because of chemicals that are pumped into cows and bad quality of food they're eating every day. I'm very careful about what everyone eats at home and what I'm feeding my child." Yes, she is one of those people who'd rather give her child lollipops made with beetroot pulp instead of sugar-laden impostor cookies.Shilpa is an avid believer of sustainable living and also shares a love for cooking. "I love cooking and in fact a lot of people I see rely on packaged food because they don't have the time to cook but they are all preservative-laden. I've launched my own YouTube channel to share my recipes and show people that home cooking can be easy and quick. As a family, we try and eat together at home most of the time."(Also read:
10 Veggies You Can Grow At Home
)
7. Listen to your inner cues
Shilpa isn't averse to guilty pleasures - she encourages them. "There are days when I let go. Sunday is my cheat day. I put it on Instagram as proof that I eat and I eat everything on Sundays. I wait for it through the week. I don't do it to show off that I eat and still I'm fit but to tell people that on other days I keep up with my routine and I've given this one day to everything my heart desires. It keeps me motivated and I'm able to keep cravings away. You can do the same. Give yourself a one-day cheat break and enjoy life." Consider us ready and listening.(Also read:
Celebrity Food Guru Pooja Makhija Busts Weight Loss Myths
)
8. Be bold and beautiful – from within
"I'm not scared of ageing because I feel really good from within. For beautiful skin and hair, you have to nourish yourself internally. I follow my grandmother's advice of
soaking and eating almonds
, figs and walnuts for long and strong hair. I love
chia seeds and flax seeds
and drink lots of coconut water. It's my favourite health drink," says Shilpa."I don't work out and eat what I eat to look svelte and sexy. I give importance to fitness because I want to look my best even at 60. Not just the way I look, but I want to be fit at 60 and after that also. This is my goal. When people tell me, I look the same it means that I'm on the right path. My funda is simple drink more, breathe more and chew more. What you eat and how you live is directly proportionate to the way you age. It is important for women to have some kind of regime where you are not in a monotonous routine running between work and family. It is the only way we can live better, stronger and healthier lives as we age."Well, said Shilpa. Fitness shouldn't be something you have to do in order to look a certain way but something you want to do for the sheer joy of it. Eating right is important to enjoy better quality of life. From being an A-list Bollywood actress to a fitness guru and a busy mom, we admire her ability to handle whatever comes her way.