According to World Health Organisation (WHO), diabetes will be the seventh leading cause of death in 2030. The number of people with diabetes has risen from 108 million in 1980 to 422 million in 2014. The numbers are staggering and seem to be getting worse with each passing year. Diabetes is a disorder that is marked by elevated glucose levels in the blood. It is either caused when the pancreas is not producing enough insulin or when the body cannot effectively use the insulin it produces. There are different types of diabetes; type 1, type 2, type 3. Diabetes could be genetic, or the result of a sedentary lifestyle or dietary habits. Gestational diabetes is a form of high blood sugar affecting pregnant women.Diabetes has also been linked to an increased risk of obesity, heart attack and stroke. Late diagnosis and lack of awareness may make diabetes management even tougher. There are several myths and hear-say that do the round when it comes to ensuring proper care for a diabetic. While it is important to do all that that you can to control your blood sugar levels, it is also as important to be able to tell myths from facts. One of the common cautions diabetics are told to observe is to avoid dry fruits. But why so? We have got the answer for you.
(Also Read:
5 Diabetic Friendly Breakfast Ideas
)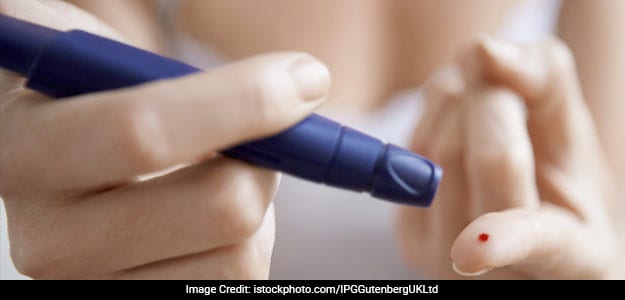 Diabetes could a result of sedentary lifestyle or dietary habits
According to consultant nutritionist Dr. Rupali Datta, "One should ideally avoid dry fruits as they are concentrated versions of fresh fruits. Naturally then, in these concentrated forms, everything goes up. The sugar levels, the glycemic index." Due to the loss of water in dry fruits, there is a higher concentration of all the nutrients and minerals of the original fruit, which may not be the best news for diabetics as the sugar content is concentrated too.
For instance, if one cup of grapes contains 27 grams of carbs by contrast, one cup of raisins contains 115 grams of carbs. The high carbohydrate content (about 3 times more than grapes) of raisins can make it difficult for blood sugar levels to stay stable.
Bangalore-based nutritionist, Dr. Anju Sood says, "If eaten in moderation, dry fruits may not be that bad for your blood sugar levels. But fresh fruits are a safer and a better bet. If you must have dry fruits, go for almonds. They are not so high on sugar and loaded with additional health benefits."

Macrobiotic nutritionist and Health Practitioner Shilpa Arora says, "Insulin response is different to all foods that we eat. Same goes for fruits, owing to their varied phytonutrients , fibre and vitamins. Diabetics should never consume processed fruits like jams or dried apricots. It is preferable to opt for fresh and seasonal fruits any day.
Therefore, opt for fresh fruits for optimal blood sugar levels. Especially, the fruits that are low in GI. The Glycemic Index (GI) is a relative ranking of carbohydrate in foods according to how they affect blood glucose levels. Carbs with low GI value (55 or less) are digested, absorbed and metabolised slowly and cause a gradual rise in blood glucose. Low GI foods are also rich in fibre which takes the longest to digest, make you feel fuller for a longer time and help control appetite. This could further help in weight management. Guavas, tomatoes and pears are few examples.
About Sushmita SenguptaSharing a strong penchant for food, Sushmita loves all things good, cheesy and greasy. Her other favourite pastime activities other than discussing food includes, reading, watching movies and binge-watching TV shows.