Summers are upon us and there is no respite from the sweat, sun burns and several other issues that the season brings along. The scorching heat is getting under our skin every single day. So what do you do to cool yourself down? Proper hydration and consumption of light meals are the most convenient and popular ways to beat the heat. In other words, it is always suggested to add foods and beverages, prepared with seasonal fruits and vegetables, to your diet to protect yourself from various seasonal troubles.


If you explore the regional cuisines of India, you will come across several such summer special dishes that will make an ideal meal in this season. These dishes are either made with seasonal fruits and vegetables or have fewer spices, making them light on the stomach.


Also Read: 5 High Protein Breakfast Recipes For Summer
Here're 5 Summer Special Meal Ideas For You From Across India:
Raw Mango Dal (Tok Dal) With Rice:
Raw mango (or kacchi kairi) is one of the most popular fruits of summer. Its tart-sweet taste makes the fruit ideal for inclusion in various recipes in different parts of the country. It is most enjoyed with dal in West Bengal. Known as tok dal, this dish, along with steam rice, echoes comfort for most of the Bengalis. The recipe of this soup-like dal includes masoor dal, raw mangoes, mustard seeds and red chilli. Proper ratio of salt and sugar with raw mangoes makes this dal taste like 'khatta-meetha' chutney.
Tamarind Rice:
Let's admit it; tart is the taste of summer. Sour-based dishes during summer not only cleanse our palate, but also cool us down. One such dish is South Indian tamarind rice. In this recipe, boiled rice is mixed with tamarind gravy (made with different spices), curry leaves, chana/urad dal and crunchy peanuts. Also known as Pulihora or Puliyodharayi, this dish strikes a perfect balance between sweet, sour, tangy and spicy flavours.


Also Read: How To Make South Indian-Style Tamarind (Imli) Curry For A Light Meal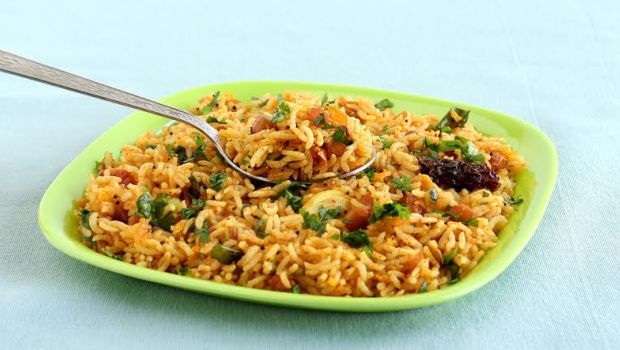 Tomato Saar With Rice And Papad:
This dish can easily be touted as a Maharashtrian version of rasam. Made with tomato puree and some basic spices, this sweet-sour dish is light on stomach during a hot summer day. Tomato saar is best enjoyed with rice and papad.
Lauki Wadi Sabzi With Roti:
When it comes to vegetables, lauki (bottle gourd) and summer goes hand-in-hand. This vegetable is not only widely available in every part of the country during this season, but also is power-packed with several nutrients that help us to beat the heat. Lauki has various recipes across India, but what stands out in the lot is Punjabi lauki wadi ki sabzi. A comfort food for the North Indians, this sabzi gets flavourful with the addition of the sundried lentil dumplings (wadi). The recipe includes onion, tomato, ginger, green chilli, hing and few other spices. It is best enjoyed with roti/chapatti/phulka.
Aamras Kadhi With Puri:
Kadhi needs no separate introduction. But this Gujarati-special kadhi deserves special mention due to its perfect blend of mango puree, buttermilk, besan and a host of spices. The addition of mango puree makes the dish appetising and summer-special. Although this dish is eaten with rice, but if you want to enjoy the burst of flavours to the fullest, then try aamras kadhi with puri.


If you are bored with the regular meal, try these dishes out from across India to please your palate. Happy Summers 2022!


About Somdatta SahaExplorer- this is what Somdatta likes to call herself. Be it in terms of food, people or places, all she craves for is to know the unknown. A simple aglio olio pasta or daal-chawal and a good movie can make her day.