Summer cooking at its best is a streamlined affair. Nothing too complicated. A sliced melon or a chilled tomato soup. Something tasty on the grill, like a steak for slicing, some sausages or some vegetable kebabs. Or a giant colorful salad. The goal is a meal that is light, bright, refreshing and restorative. If you are cooking indoors, keep it simple. Don't use a lot of pots and pans when a single pan will do.The other day I stopped at the fishmonger and picked up a pound of wild-caught North Carolina white shrimp, fresh and glistening. But I had no real plan for dinner. It was time to improvise. Boiled shrimp in the shell with a bottle of cold beer was one possibility.I considered pasta, perhaps linguine and shrimp tossed in olive oil, with garlic and parsley. It seemed a good idea, but as I reached into the pantry cupboard, my eyes drifted toward some Asian staples: rice noodles, coconut milk. I decided to switch gears and make shrimp with curry noodles instead. The dish was improvised, which is to say it was not authentically Thai, Indonesian, Indian or Japanese.
Using what I had on hand, I concocted a spicy coconut milk curry that would be both the cooking medium for the shrimp and the sauce for the noodles. I sweated onions in coconut oil with ginger, garlic and lemon grass.A good pinch of cayenne and turmeric, along with toasted ground cumin, coriander and fennel seeds, was added (though a spoonful of good curry powder also would have worked). Ten minutes later it was ready.Well in advance, I had soaked rice noodles in hot water to soften, then rinsed them in cold water and drained them, to be ready for use. (To reheat, they are briefly dipped in boiling water.)
All that remained to do was to simmer the shrimp in the spicy sauce. I opted to include halved cherry tomatoes, which added sweetness, acidity and color.Just before serving, I gave the curry noodles a shower of chopped scallions, basil, mint and cilantro, along with a good squeeze of lime. Using this recipe as a summer template, try cubed chicken, tofu or vegetables instead of shrimp, if you wish, for an equally satisfying rendition.
Recipe:
Curry Noodles With Shrimp and CoconutTime: 35 minutes
Yield: 4 to 6 servings
Ingredients:
12 ounces rice noodles (vermicelli)
1/2 teaspoon coriander seeds
1/2 teaspoon cumin seeds
1/2 teaspoon fennel seeds
6 allspice berries
2 tablespoons coconut oil
1 medium onion, finely diced, about 2 cups
2 tablespoons finely chopped lemon grass
1/2 teaspoon grated garlic
2 teaspoons grated ginger
Salt and pepper
1 1/2 teaspoons turmeric
1/8 teaspoon cayenne
Zest and juice of 1 lime
1 teaspoon fish sauce
2 cups coconut milk
1 pound shrimp, peeled and deveined
1 pint cherry tomatoes, halved
1/2 cup slivered scallions
Cilantro, basil and mint leaves, for garnish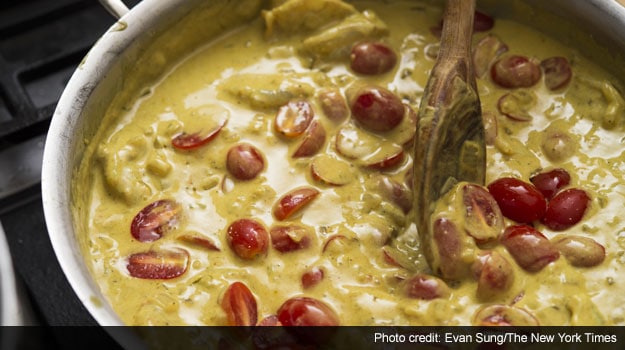 Preparation:
1. Cook rice noodles according to package directions, then drain and rinse well with cool water. Set aside. Keep a pot of boiling water on stove for reheating noodles.2. Toast coriander seeds, cumin seeds, fennel seeds and allspice berries in a dry pan over medium heat until fragrant, then grind in a spice mill or with a mortar and pestle.3. Put coconut oil in a wide skillet over medium heat. Add onions and cook until softened, about 5 to 8 minutes.4. Add lemon grass, garlic and ginger to softened onions and cook for 2 minutes more.5. Season with salt and pepper, then add ground coriander, cumin, fennel and allspice. Add turmeric, cayenne, lime zest and juice, fish sauce and coconut milk. Simmer gently for 5 minutes.6. Season shrimp and cherry tomatoes with salt. Add to pan and cover until shrimp are cooked, 3 to 4 minutes.7. Dip noodles briefly in hot water to reheat, then drain and divide among bowls. Spoon shrimp, tomatoes and sauce over each serving. Sprinkle with scallions and garnish with cilantro, basil and mint leaves.And to Drink...This sweet, sour, spicy bowl of Thai-esque curry requires a bold step into the realm of sweet wines. Not syrupy sweet but moderately so. German spatlese rieslings, with discernible residual sugar, are perfect for this dish. In the wine, sweetness is balanced by lively acidity, making every mouthful refreshing. The acidity will cut through the richness of the coconut milk, while the wine's relatively low alcohol won't amplify any heat from the cayenne. It's a thrilling combination.Other options include demi-sec Vouvrays, which offer the same scintillating balance between sweetness and acidity, though the alcohol level will be higher. Off-dry whites from Alsace may also work, though these wines sometimes lack sufficient acidity to shape the sweetness. Other excellent beverages include wheat beers and cider from Normandy.© 2015 New York Times News Service