As part of Ramzan celebrations, we decided to sample the flavours of one of the oldest street food markets in New Delhi. The bustling lanes of Old Delhi display diversity. We walked through Matia Mahal, the road opposite Jama Masjid Gate No.1 to discover various moods and characteristics unknown. The aroma of fuming kebabs and fried chicken will take you places while your eyes feast on stacks of vermicelli, dates and breads sold in street stalls. The medley of cultural influences is richer than the food served. Till you get here and indulge, you really don't know what you're missing.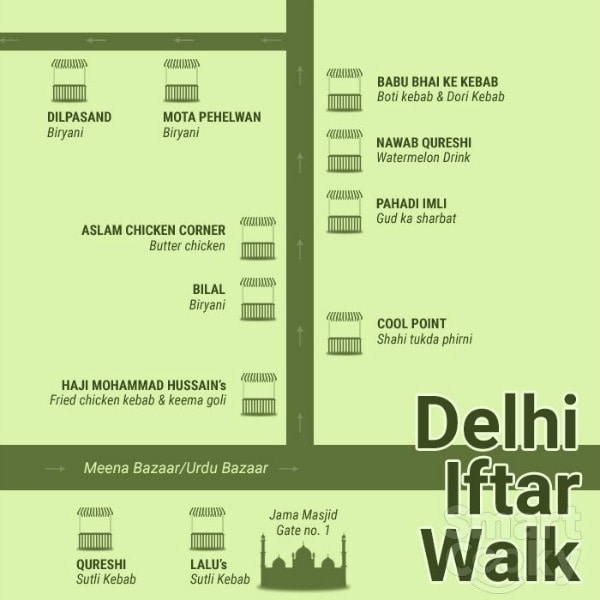 Sutli Kebabs at Lalu's and Qureshi's
Start here. With Jama Masjid in the backdrop, the outer lane (Urdu Bazaar Road) is lit up with kebab shops. You'll find one every 10 meters but we'd say you hit Lalu's and Qureshi's first. The slender and juicy kebabs are served hot off the griddle and put you in the mood. These are the softest kebabs that you'll find and full of flavour.
(What to Eat for Iftar)
Address: Urdu Bazaar Road. Lalu's is one of the first kebab shops that you'll see. For Qureshi's walk further down the same road.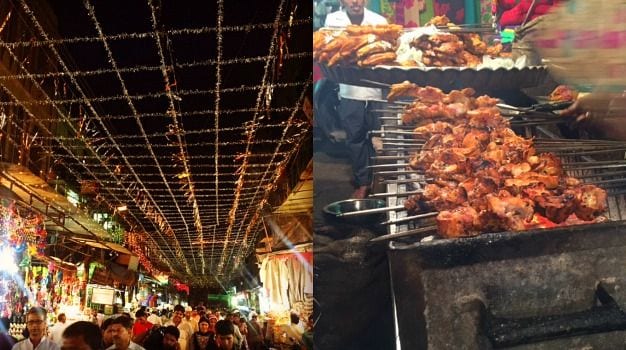 Haji Mohammad Hussain's
Turn left right opposite Gate No. 1 to enter Matia Mahal and head straight to Haji Mohammad Hussain's. At Haji Mohammad, try the Fried Chicken. Juicy bits of chicken are marinated in spices, coated with chickpea flour and fried golden. The crispy texture with moist insides has won many hearts. It is served with a red chutney that can put your mouth on fire. During Ramzan, they also serve Keema Golis (minced meat rounds served with onions). If you reach here around Iftar time, you'll manage to get your hands on them.Address: 113, Bazar Matia Mahal, Jama Masjid.
(5 Energy-Boosting Foods for Suhoor)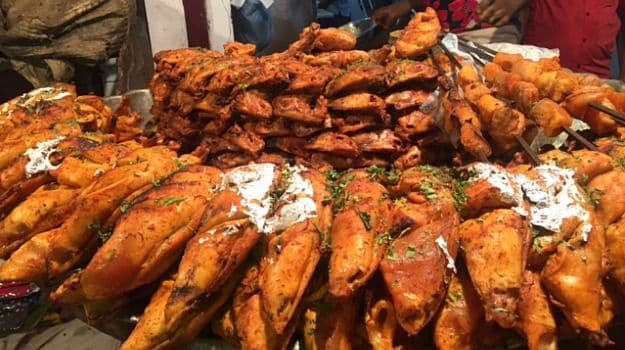 Cool Point
I've always believed in dessert first and when you come across those large platters of beautifully decorated Shahi Tukda or Matka Phirni you know you can't resist. We just couldn't get enough of the Shahi Tukda and were tempted to come back for round two. Golden fried slices of bread simmered in milk and topped with
khoya
and
desi ghee
made our lips curl into a smile every time we tucked in a bite. Words can't do justice.
(Iftar Feasting in Mumbai: 8 Smashing Dishes to Try During Ramzan)
Address: 973, Bazar Matia Mahal, Jama Masjid.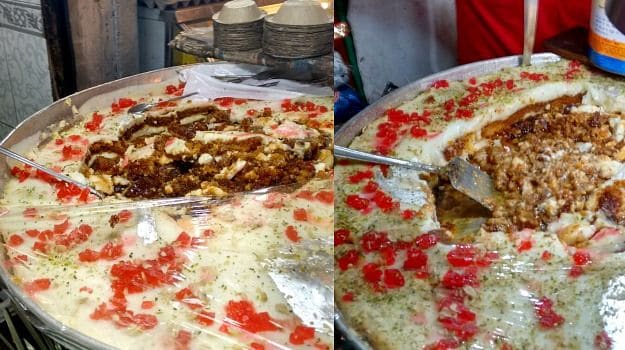 Nihari at Bilal
The Nihari at Bilal is so sublime that it's absolutely worth elbowing your way to get here. Don't even think of wriggling out of the tasting trail without getting yourself a plateful of Nihari with Moti Roti. The meat is slow-cooked for hours which makes it delicate and tender. It is then simmered in gravy with spices and garnished with a squeeze of lime and green chillies. It was polished off in a matter of minutes. We'll say no more, you have to go and experience it yourself.Address: Right Opposite Cool Point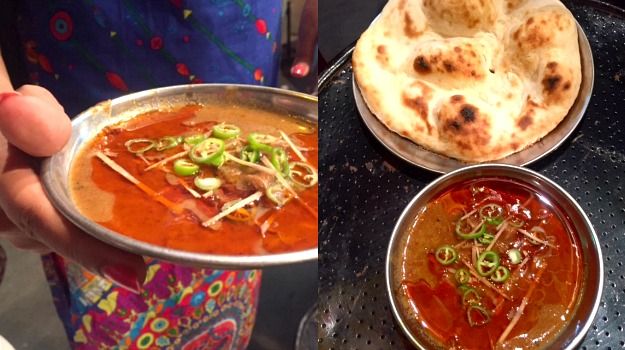 Aslam Chicken Corner
Your next stop should be Aslam Chicken Corner. The Chicken Tikka served here, bathed in butter, is a work of art. Plump pieces of chicken are marinated with Indian spices and yogurt, grilled on long skewers and laced with some simmering hot butter. The result comes close to heaven.
(Bengaluru Iftar Trail: 6 Must-visit Places During Ramzan)
Address: 540, BazaarMatia Mahal, Jama Masjid.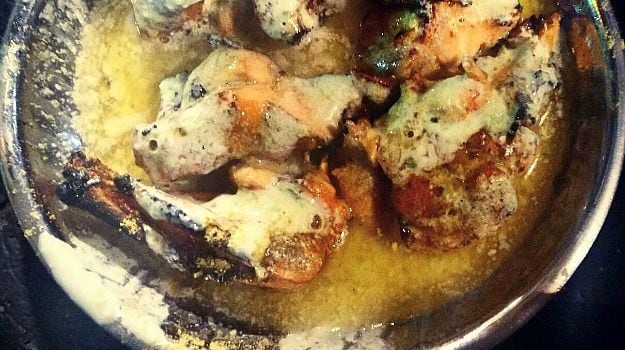 Nawab Qureshi's Pyaar Mohabbat Maza
Originally from Uttar Pradesh, you'll find his food carts dotted across the lane selling a blush pink drink popularly called 'Pyaar Mohabbat Maza'. This refreshing concoction is a mix of watermelon, milk and Rooh Afza. It's fragrant, it's light and it's got these gorgeous chunks of watermelon that make it come alive.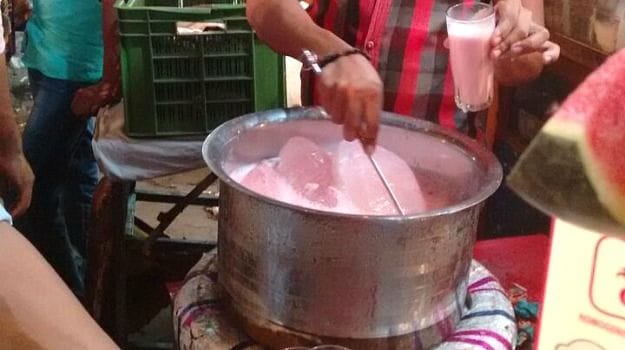 Gud ka Sharbat at Pahadi Imli
We walked around looking for a shop that's famous for its
gur sharbat
but what we found was a humble man named Akhil Ahmed sitting stop a wooden stool with a big copper pot of
sharbat
in front of him. No roof, no board and no shop. This
gur sharbat
has been around since 1947 and at the time was sold at 10 paisa. The
sharbat
is basically jaggery soaked in ice-cold water, strained and served.As we stood there, drinking glass after glass of this gorgeous drink, Akhil Ahmed told us that the big brass spoon he's using to stir the mixture with, is as old as the shop itself!Address: Corner of Pahadi Imli, Chitli Qabar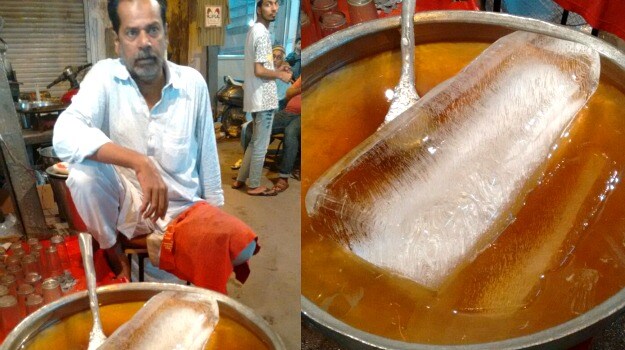 Babu Bhai Ke Kebab
This place is hard to miss but the crowd around it tells the story. It's famous for its Dori Kebab and Boti Kebab, and for all the right reasons. It's run by two brothers who sit there next to the flaming
tandoor
, grab some spiced meat paste with their practiced hands, wrap it around skewers with thread and the let them grill over charcoal, almost effortlessly. The Dori Kebabs melt in your mouth and are seriously addictive, while the Boti Kebabs are crisp and spicy.Address: 1465-B, Near Masjid Sayed Rafai, Bazar Chitli Qaba
Biryani at Mota Pehelwaan and Dilpasand (Mohammad Taufeeq)
Head here for some serious feasting. Pieces of meat are cooked for hours along with saffron flavoured rice to give you a place of delicious biryani, without which your food trail will be incomplete. The Mirchi Masala Biryani is a must try at Mota Pehelwaan but if it still doesn't satisfy your thirst for biryani then head over to Dilpasand which has been long praised for its Achaari Biryanis.Address: Dilpasand Biryani -735, Haveli Azam Khan, Chitli Qabar
Mota Pehelwaan - Shop no. 701, Haveli Azam Khan, Chitli Qabar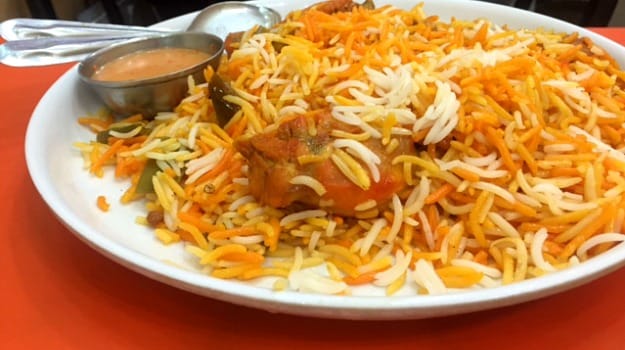 Karim's and Al Jawahar
The last leg of our food trail was at two restaurants which aren't just popular in Delhi, but in fact, are world renowned. Help yourself to some
kebabs
and
biryani
at Al Jawahar or the Mutton Korma made in pure
desighee
at Karim's, we promise that you won't be disappointed. These iconic restaurants are right at the beginning and you can sit here if you don't feel like braving your way into the main market.American Writer, Kurt Vonnegut once said, "You can't just eat good food. You've got to talk about it too." If we've missed any of your favourites, don't forget to share.