The dark, narrow alleys of Nizamuddin emit an old-fashioned sense of belonging. On one side, stands the majestic Humayun's tomb and on the other, is the legendary Dargah of the sufi saint after whom the area is named. The medieval glory of the Sultanate mosque will leave you in awe, but Nizamuddin is not just about heritage. As you walk along the lane across the Dargah, you will find yourself in the midst of tempting aromas, charcoal-grilled meat and sparkling lights with religious chants echoing in the backdrop. The labyrinth of tiny roads transforms into an endless buffet of diverse food offerings during the month of Ramzan. We discovered some great places to go and suggest you head there soon.1. Ghalib Kebab Corner
A short stroll from the Dargah, it is all about the grill here. The Mutton Seekh and the Chicken Shammi Kebab are worth a bite but the real deal is the Buff Kebab. A great kebab is the perfect marriage of succulent meat and subtle spices. Tender and flavourful, with a hint of a tang, this one turns up the heat. Minced meat is skewered and cooked over coal that lends a smoky flavour. The Mutton Seekh, on the other hand, is unusually buttery which we didn't mind.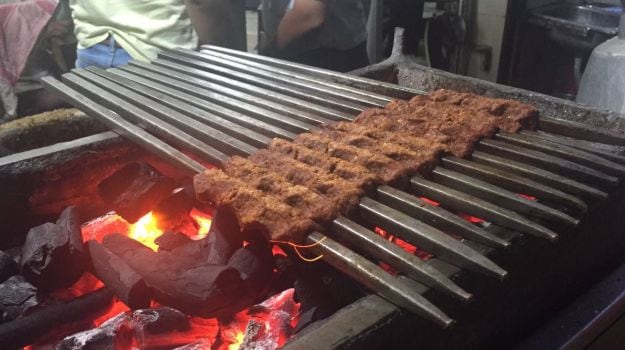 Address: C-57 Mirza Ghalib Road
Cost: Rs.175 for all of the above 2. Hussaini Hotel
The best
Nihari
can be found in the kitchens of Muslim households, but the one at Hussaini Hotel comes close. It had a flavourful depth that comes from being slow-cooked for hours. Served with the sweet Sheermal, this dish is a favourite amongst locals here. Hop over to Manpasand Nahari Roti Wale next door for Nihari that's equally good. You must, of course, also try the
Mutton Keema
, seasoned to perfection, offset by a flaky Moti Roti on the side.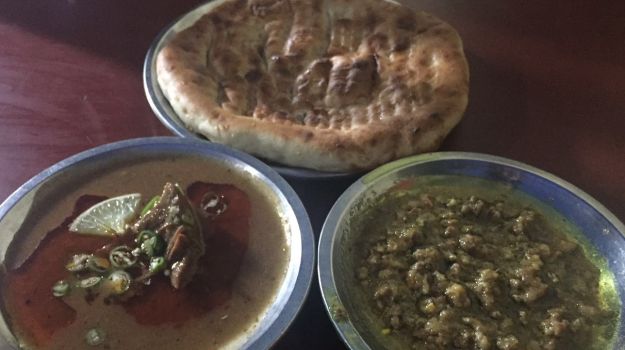 Address: Next to Ghalib Kebab Corner on Mirza Ghalib Road
Cost: Both for Rs.60 per plate
3. Moradabad Ki Mashoor Biryani ki Purani DukaanThis is a place to frequent during the festive season for delicious Chicken Biryani. Made in desi ghee, the rice and chicken are infused with an array of warm masalas like cardamom, cloves, ginger and garlic and wisps of saffron. With preparations made beforehand, the biryani is cooked in batches, every two to three hours. The giant-sized vessel remains over the flame constantly serving about 20 to 30 kilos of biryani every day, enough to feed an excited crowd.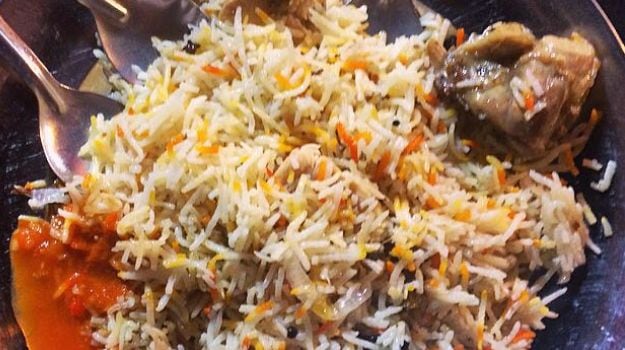 Address: 58 A, Dargah Road
Cost: Rs. 60 for Half a Kilo and Rs. 80 for Full
4. Kit Care Kabab CornerGolden chicken drenched in mix of cream and yogurt and drizzled with melted butter – need we say more? A dish people often queue up for, the Dahi Butter Chicken or the Mast Chicken is nothing like you've ever had before. The owner tells me that the chicken is marinated for 24 hours in ginger-garlic paste, methi powder, lime, jaiphal, peeli mirch, cream and yogurt and grilled before serving. Enjoy with some soft Roomali Rotis. The Seekh Kebab also came bathed in a pool of liquid butter, but it's quite avoidable.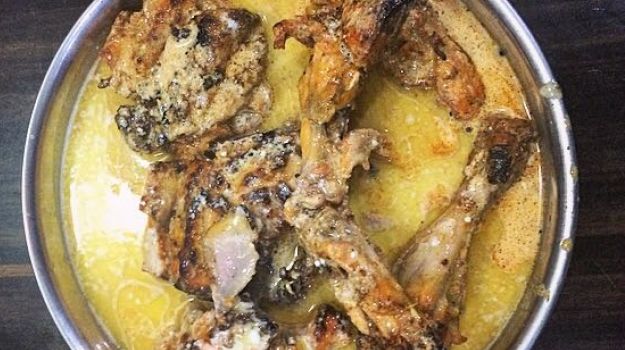 Address: T 21, Phoolwali Gali
Cost: Rs.380 for a full plate of Mast Chicken5. Al Quresh
If you're weary of eating on the street, then this place is for you. Al Quresh replicates the joys of eating Iftar food in a fine-dine setting. The Tangri Kebab, a favourite with foodies, is crisp on the outside and moist on the inside. The Mutton Stew is lightly spiced with a soothing flavour – the kind that gets you hooked on to it.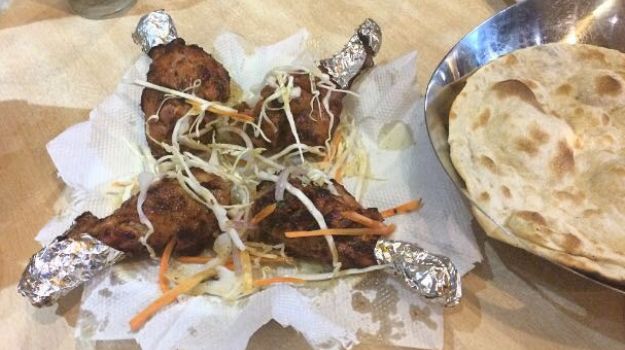 Address: 224 Nizammudin West
Cost: Rs. 180 for Chicken Tangri and Rs. 360 for Mutton Stew (full)Before you end your memorable evening, head to Masood Ahmed's Paan stall. Watch him as he swiftly wraps fennel seeds, whole cardamom, rose jam, candied fruits, coconut, dried currant, saffron syrup, honey, and shredded areca nut in a refreshing betel leaf to make a sweet and traditional treat.