Thomasina Miers' eastern saffron lamb with pitta salad: Butterflied lamb is one of the most impressive things you can put on a barbecue. Photograph: Louise Hagger for the Guardian. Food styling: Emily Kydd.Lunch is served: barbecued lamb with a Moorish twist, plus boozy poached apricots for afters.I love lamb marinated in yoghurt: it gives the meat a velvety quality, and also carries the flavours of the other ingredients in the most evocative way. I imagine the Moors eating this kind of dish in southern Spain, using the local piment"n, saffron and thyme with the spices they'd brought from home. Butterflied leg of lamb is one of the most impressive things you can put on a barbecue, with the outside all crusty and slightly charred and the inside all pink and delicious. It makes wonderful leftovers, and has the added bonus of cooking in half the time of a traditional roast. If it's wet outside, or if you don't have a barbecue, cook it on a char-grill instead: give it five minutes a side over a high heat until thoroughly caramelised, then finish in the oven. Round off with a bowl of chilled apricots in a sharp, ginger syrup and you've got lunch more than sorted.
Eastern saffron lamb with pitta salad
An overnight marinade is usually a good idea, but this saffron yoghurt is so flavoursome that you can just paste it on and pretty much cook straight away. Serves six to eight.
1 tsp cumin seeds
2 pinches saffron threads
3 cloves garlic
1 tsp sweet smoked paprika
½ bunch fresh thyme, leaves picked
Sea salt and freshly ground black pepper
Zest and juice of 1 lemon
2 tbsp extra-virgin olive oil
100g Greek yoghurt
1 medium leg of lamb, boned and butterflied
For the salad
5 tbsp extra-virgin olive oil
2 pitta breads, cut into strips
1 small bunch radishes, quartered
500g cherry tomatoes, roughly chopped
1 red and 1 green pepper, cored and seeds removed
3 baby gem lettuces, leaves separated and roughly shredded
1 small red onion, peeled, halved and very finely sliced
1 small bunch each fresh mint and parsley, picked and roughly chopped
1 tsp sumac
The juice of ½ lemon
Light the barbecue an hour before you want to start cooking. Heat a small frying pan and gently toast the cumin until it smells fragrant. Empty into a mortar, then toast the saffron in the same pan for 30 seconds. Tip the saffron into a bowl, pour over two tablespoons of boiling water and leave to steep.
Grind the cumin, garlic, paprika, thyme, half a teaspoon of flaky sea salt and plenty of black pepper, until you have a paste. Stir in the saffron and its soaking water, the lemon juice and zest, oil and yoghurt, then rub the mix all over the lamb. You can now cook the lamb at once, or leave it to marinate for a few hours, or overnight.
For the salad, heat all the oil in a frying pan, then fry the strips of pitta in batches until golden and transfer to kitchen paper to cool. Put all the vegetables in a bowl and toss with the herbs. Season generously with salt, add the sumac, then pour over the lemon juice and the oil from the pitta pan. Add the pitta to the bowl, toss and taste: it should be fresh, sharp and full of flavour. Add lemon, sumac or salt as needed.
Barbecue the lamb for 15-20 minutes a side, then leave to rest by the barbecue for 10 minutes. To check it's cooked to your liking (I prefer my lamb pink and juicy), cut the leg in half and take a look.
Cut the lamb into slices and serve with the salad and a tomato-chilli jam or mint sauce (or both).
Poached apricots with ginger wine and honey ricotta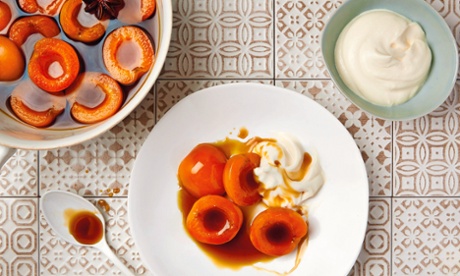 The ginger wine gives these apricots a gentle fiery tickle, and goes beautifully with the anise. I love these straight from the fridge with scoops of the ricotta, but by all means have them warm if you prefer. Poaching apricots like this means even the most stubborn ones soften. They taste even better the next day, incidentally. Serves four.
500ml ginger wine (eg, Crabbie's)
1 star anise
3 tbsp brown sugar
8 ripe apricots, halved and de-stoned
For the whipped ricotta
250g good-quality ricotta
100ml Greek yoghurt
45g floral honey
Pour the wine into a saucepan, add the star anise and sugar, and bring to a boil on a medium heat. Stir to dissolve the sugar, then turn down to a simmer for five to 10 minutes. Add the apricots, making sure they are fully submerged, then simmer for three minutes, until just tender.
Use a slotted spoon to transfer the apricots to a bowl, then return the liquid to a medium heat and simmer until reduced by half, thick and syrupy. Pour this over the apricots, and either continue with the recipe and serve warm or chill until later.
Put the ricotta, yoghurt and honey in a mixing bowl and whip with an electric whisk until thickened and slightly increased in volume. You can do this an hour or two ahead of time and store in the fridge " if you do, just give it a quick whisk before serving.
To serve, spoon the ricotta into bowls and top with some poached apricots and a little of their syrup dribbled over everything.
And for the rest of the week
Don't waste one bit of the lamb " it's that good. I like cold slices with a smoky aubergine puree. Or finely chop it and pair with aubergines and tomatoes to make moussaka, one of the finest dishes ever invented. Or, for a packed lunch, add chopped meat to a rice salad studded with toasted pistachios, raisins and loads of chopped parsley and coriander. Or just put slices in a sandwich with a handful of rocket, some fresh mint leaves and a smear each of tomato-chilli jam and mayo. The ricotta is delicious with granola, muesli or summer berries for breakfast (sprinkle with toasted sunflower and pumpkin seeds to get your omega fix). The apricots are also lovely with natural yoghurt and toasted oats.
Thomasina Miers is co-owner of the Wahaca group of Mexican restaurants.