Grilled Chicken Recipes- A nicely done piece of steaming hot grilled chicken with its tantalizing aroma and mouth-watering flavour is really hard to resist. We can all agree to the fact that grilling is probably one of the best ways to cook meat, especially when it comes to chicken. The smoky flavours make it an ideal canvas for playing around with sauces and you'll be able to do exactly that and a lot more with these exclusive grilled chicken recipes we're about to share with you.

Chicken is also the most versatile of all meats, opening up numerous options to experiment with flavour profiles. The process of grilling may seem like a tedious task at first glance but it is actually quite easy. Most of it depends on the marinade, so take your time while you prepare it and marinate the chicken with it. Another important factor to keep in mind is the temperature. If the heat is too high, the skin will burn before the meat can cook. If too low, the skin ends up flabby. But fret not; cooking grilled chicken at home is not a herculean task. With these kitchen hacks, you've got nothing to fear.


(Grilled Chicken Breast in Three Simple Steps)


Get The Perfect Grilled Chicken | Tips and Tricks For The Perfect Grilled Chicken
1. It's that simple - Choose quality chickens with skin-on and bone-in. It stays moist and flavourful, even over smoky heat.


2. Keep it moist - Poach the chicken on low heat, in a mixture of stock and buttermilk, and refrigerate overnight. Place it over indirect heat (away from the coals) to make it warm and over direct heat (over the coals) to make it crispy.


3. Flame on - Small pieces cook faster so prep your grill for direct heat and get ready to eat. This is the most foolproof way to grill chicken.


4. While cooking meat, avoid piercing it with a fork or prongs as the juices will escape, making the meat drier and less flavourful. Instead, use a spatula or tongs to move and flip your food.


5. Citrus hack - Squeeze lemons and oranges over the chicken as it cooks in order to moisten the skin and get in a zesty kick.
6. Sauce it Up - Experiment with different types of marinade, seasonings and rubs to make your grills stand out. Even add a little wine or beer to your standby sauce.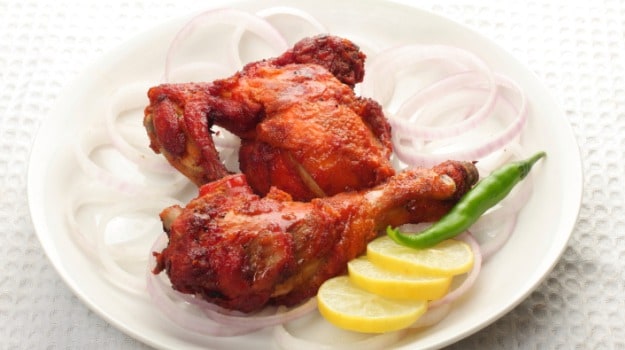 It's time to stoke your grill and know that it is no sin to get sauce on your chin!
We've rounded up our 11 easy and all-star grilled chicken recipes that will be a hit at your next cookout - guaranteed!
Fan of Indian spices? Garlic, green chilli and ginger are all you need for this delicious recipe. A perfect starter to any dinner party, these chicken drumsticks are soft and succulent coated with a host of spices. With this recipe, you'll leave your family craving for more!
This chicken tangri kebab recipe has chicken legs marinated in a flavorsome paste and then grilled on the tandoor
Doused with rich cream, this delectable mustard sauce instantly transforms plain ol' chicken breasts. A flavourful, creamy succulent chicken to savour on special occasions.
Crispy and juicy, this grilled chicken recipe is versatile enough for a weeknight dinner or weekend get-together.
While tenderising the meat, spruce it up with buttermilk to impart a beautiful tangy flavour. Served with chilli and garlic sauce and topped with almond flakes.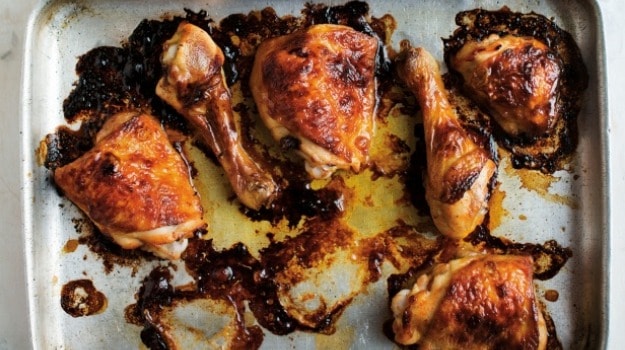 A lip smacking combination of flavors that will leave your guests wanting for more.
Enjoy these grilled chicken escalopes spiced with cinnamon and star anise. The contrasting flavours of the salsa pair perfectly with the chicken.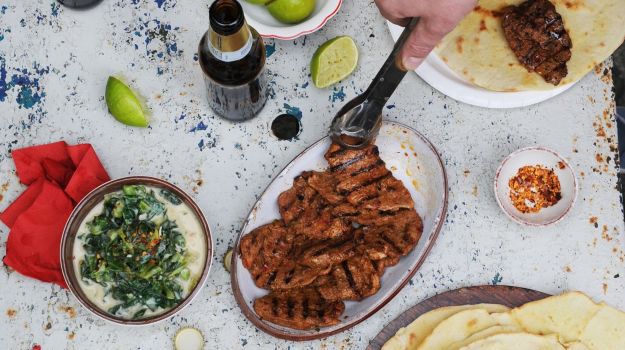 Chicken marinated in home-made spice powder and green paste.
Looking for a low-calorie dinner? You've come to the right place. Marinated with olive oil and mint leaves, just add a splash of lime and you're good to go.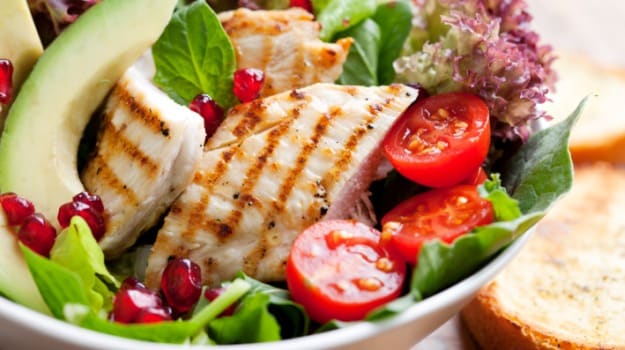 Juicy chicken breasts marinated with olive oil, lime and mint leave and grilled to perfection.
Yes, this fabulous grilled chicken is marinated TWICE in different flavours! High in protein and tender, this recipe is too good to be true.
Scared your chicken will turn out dry or bland? This recipe is so fool-proof and fuss-free, you just can't go wrong! (Thank us later)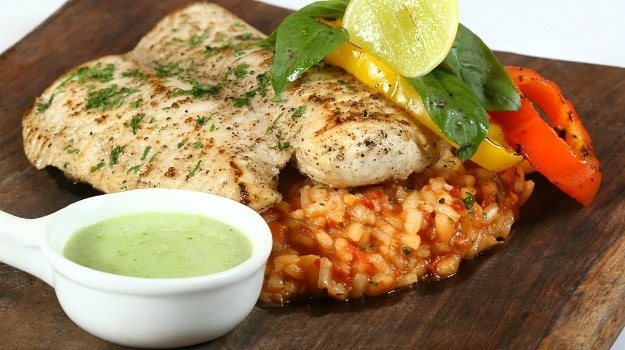 Lime juice, spring onion and chilly enhanced chicken, sauteed with stock, cornflour and herbs is grilled crisp, perfect snack!
Cooked with fennel, fenugreek and a handful of curry leaves - it doesn't get more Indian (or delicious) than this! Experience a burst of flavours with the tadka twist.
Easy to follow and nothing short of divine, finish off with shallot sauce and tweak the gravy with a splash of red wine (and go straight to foodie heaven).


A unique recipe with a twist of cranberry. Boneless chicken breast marinated in delicious paste of spices and cranberry.
Pan fried till cooked and served along cranberry slaw.