This one's for all the
street food
lovers out there. If you happen to be a street food lover, and have a special liking for gol gappas, then this eatery in west Delhi has got lots to offer. It's raining
gol gappas
here, and we're not even kidding. Located in Janakpuri is The SFI Campus, which dishes out quirky variations of our all-time-favourite street food - gol gappas. This place has certainly taken the street food game to the next level. Why, you ask? It serves its customers with an exotic variety of gol gappas. From makhani gol gappa to chocolate gol gappa, this place has it all. Yes, you read that right! If you're tired of having water-filled gol gappas and looking for a change, then this is the place to be.
This cafe has given a modern twist to some classic dishes. Be it
momos
, pasta, burgers or the ever-so-delightful gol gappas, each dish here comes with a special twist. The best part is that such kind of innovation is being appreciated and loved by people across the vicinity. The unique street food items that are offered here speak for themselves; people from across the city come here specially to try their hands on their signature dishes.(Also Read:
This Nutri Kulcha In Shalimar Bagh Is Every Vegetarian's Dream Come True
)So, let's introduce you with their star dish - chocolate gol gappas. This dish is a complete treat for people who have a thing for everything chocolaty. The chocolate gol gappas here are packed with some serious flavours that are enough to give you a sugar rush. Coated with a fine layer of melted chocolate and colourful sprinkles, the gol gappas are served in shot glasses that have a filling of white melted chocolate. There, we see you drooling already!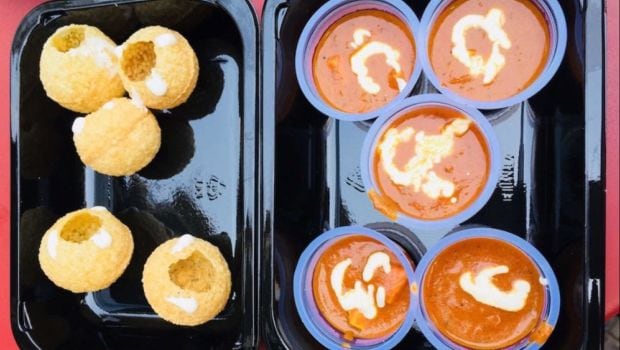 Another exciting variation of gol gappa is the makhani one. It is a welcome variation amidst those regular water-filled gol gappas. Stuffed with generous portions of makhani gravy, these quirky gol gappas are topped with melted cheese. These are not only appealing to the palate but are quite filling as well. If this was not enough, then there are pizza gol gappas for you as well. These gol gappas are stuffed with an exotic blend of hearty veggies like capsicum, onion and tomato that are prepared in tangy pizza sauce. It is then topped with melted cheese.(Also Read:
Street Food of India: The Happy Family of Gol Gappas, Paani Puris and the Phuchkas of India
)So, the next time you happen to be in west Delhi, do give this place a visit and try on their exotic varieties of gol gappas.
What: The SFI CampusWhere: C4C/299 Janakpuri, Near Surajmal CollegeWhen: 10:30am - 11:30pmCost For Two: INR 300Speciality: Chocolate Gol Gappa Shots, Makhani Gol Gappas and Pizza Gol Gappas
About Deeksha SarinAn eccentric foodie and a die-hard falooda lover, Deeksha loves riding scooty in search of good street food! A piping hot cup of adrak wali chai can make her day bright and shiny!