Thomasina Miers' grilled liiks with hazelnut romesco: 'Grilling is much healthier than frying.' Photograph: Johanna Parkin for the Guardian. Food styling: Maud Eden It's not summer quite yet, but you can start barbecue season early by griddling your dinner indoors.All the cool guys and gals are cooking over wood and smoke right now, thanks in no small part to Mark Parr, who has put wood fires into some of London's most innovative restaurants. Wood grilling is appealing, I think, because it is so primal: you get to tend food by hand over intense heat, infusing it with gorgeous charred, smoky flavours; it's also much healthier than frying. Although it's not summer just yet, get into the barbecue groove early by reaching for the chargrill. It brings out the sweetness of vegetables and does wonders for meat.
Grilled leeks with hazelnut romesco
Romesco, a rich, smoky sauce from Catalonia, harnesses the sweet, slightly charred flavours of roast tomatoes, garlic, chillies and nuts. It's lovely with grilled fish or veg such as these leeks (traditionalists would use calçots, a kind of overgrown spring onion with a very short season). The sauce will make about 500ml or so. Serves four.
8 medium-sized leeks
For the sauce
1 ancho chilli, stem and seeds removed, flesh torn into small pieces (optional)
2 red peppers
2 large ripe tomatoes
2 fresh red chillies
6 unpeeled garlic cloves
60g hazelnuts
140ml extra-virgin olive oil
1 small slice sourdough or other peasant-style bread
2 tbsp red-wine vinegar
2 tsp sweet smoked pimentón (paprika)
Heat an old frying pan on a medium heat, then toast the ancho chilli pieces, if using, for a minute or two, until puffed up a little and fragrant. Tip into a bowl, cover with boiling water, leave to soak for 15 minutes, until soft, then drain.
Roast the peppers over a direct flame on the hob until blackened all over. Put in another bowl, cover with clingfilm and leave for 10 minutes. Peel the peppers, discarding the skin, core and seeds. Dry-roast the tomatoes, fresh chillies and garlic in the pan you used for the ancho, until the tomatoes and chillies are blackened all over and the garlic is soft to the touch – about 15 to 20 minutes – and transfer to a third bowl; the garlic will be ready five to 10 minutes before the fruit, so transfer to the bowl once softened. Gently toast the hazelnuts until pale golden all over.
Heat two tablespoons of oil in the same pan (it saves on the washing-up), and gently fry the bread until golden on both sides. Using a large pestle and mortar (or food processor), grind the hazelnuts, garlic, chillies, pimentón, bread and half a teaspoon of salt, until you have a smooth paste. Pummel in the tomatoes and peppers until incorporated, then work in the vinegar and oil. Taste for seasoning, adding salt if needed (if the tomatoes are on the unripe side, you may need a pinch of brown sugar, too). If you feel the sauce is too thick, thin with oil or water.
Top and tail the leeks, and cut into lengths that will sit snugly in a saucepan. Cover with boiling water and simmer for five to 10 minutes, until tender. Drain, brush with oil and season. Heat a chargrill, then griddle the leeks for five minutes a side, to get good char marks.
Serve two leeks per person, with romesco dribbled on top and a bowl of extra sauce on the table: everyone always wants more.
Grilled asparagus and polenta with watercress cream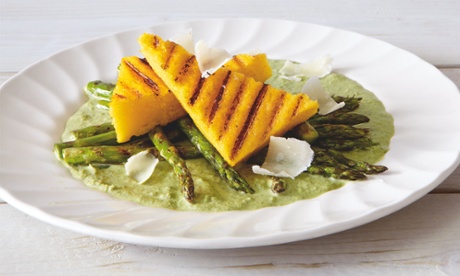 A lovely light lunch or first course. If you can't get hold of sorrel, use wild garlic or spinach – the cream will still be stupendous. Serves four.
200g quick-cook polenta
50g butter
1 white onion, peeled and chopped
2 garlic cloves, peeled and chopped
Salt and freshly ground black pepper
200g watercress, roughly chopped
75g sorrel, stalks removed, roughly chopped
Zest of ½ lemon
225g double cream
Olive oil, for greasing
500g asparagus, tough end snapped off
20g parmesan
Bring 800ml of well-salted water to a boil. Pour in the polenta in a steady stream, stirring continuously for five minutes (it might be an idea to wrap your stirring hand in a kitchen towel, because polenta can bubble volcanically and spit; just keep stirring). Take a small baking tray or dish in which the polenta will sit in a roughly 2cm-deep layer, grease with a little oil, then pour in the polenta, smooth the top and leave to cool.
Meanwhile, melt the butter in a deep saucepan and gently fry the onions and garlic with a pinch of salt for 15 minutes until soft. Fold in the watercress, take the pan off the heat and set aside for five minutes to rest. Tip into a food processor, add the sorrel and lemon zest, and whizz smooth. With the motor running, add the cream bit by bit until incorporated. Return to the pan, check the seasoning, then gently reheat and keep warm.
Put a large griddle pan over a high heat. Once sizzling hot, cut the cold polenta into four squares, then cut each square into two triangles. Rub each triangle with a little oil and grill on both sides until decent char marks appear. Remove from the grill and set aside somewhere warm. Rub the asparagus in oil and griddle until just tender and charred.
To serve, divide the warm watercress cream between the plates and top with wedges of grilled polenta and asparagus. Shave over the parmesan and serve.
And for the rest of the week…
The romesco is glorious with roast chicken bits, roast new potatoes, grilled purple sprouting broccoli and in a toasted sandwich with the best hard cheese you can find; use sourdough for the bread and it's the perfect Sunday night meal, in my book. The watercress cream also goes brilliantly with poached or leftover chicken, a veal chop or pork tenderloin, so make extra for that. Or try it with anything else you can think of – it would be spot on stirred into steamed new potatoes, for instance.
• Thomasina Miers is co-owner of the Wahaca group of Mexican restaurants. Her latest book, Chilli Notes, is published by Hodder & Stoughton at £25. To order a copy for £20, go to bookshop.theguardian.com
Follow Thomasina on Twitter