Thomasina Miers' roast aubergines with Szechuan fragrant pork: 'A pretty spectacular dish.' Photograph: Louise Hagger for the Guardian. Food styling: Emily KyddAn Asian take on stuffed roast aubergine, plus summery free-form pies for eating at home or on a picnic.When I was little, I was often allowed to cook dinner with whatever we had at home. Roast aubergines were a particular summer favourite, stuffed with tomatoes and herbs and topped with a crisp parmesan crumb. This week, I'm making them with Asian flavours, namely Szechuan pepper, garlic and ginger, a trio that is way, way more than the sum of its parts. And also some courgette pastries that are, if anything, even more tasty when cold. Mind you, there's something irresistible about anything wrapped in pastry.
Roast aubergines with Szechuan fragrant pork
Silky roast aubergine with garlic, ginger and boozy minced pork (chicken works, too), all heady with chilli: this is a pretty spectacular dish. Serves four.
2 large aubergines
3 tbsp vegetable oil
Salt and pepper
1 tsp Szechuan peppercorns
1 red chilli, deseeded and finely chopped
2 garlic cloves, peeled and finely chopped
1 small thumb fresh ginger, peeled and finely chopped
400g pork mince
1 small bunch spring onions, trimmed and thinly sliced on the diagonal
3 tbsp Shaoxing wine (or dry sherry)
2 tbsp sherry vinegar
1½ tbsp soy sauce
1 tsp caster sugar
Sesame oil
1 small handful coriander leaves, roughly chopped
50g peanuts, roughly chopped
Heat the oven to 200C/400F/gas mark 6. Cut the aubergines in half lengthways and scoop out the flesh, leaving a 5mm border around the edge. Roughly chop the flesh and put to one side. Lay the aubergine shells skin-side down in a baking tray, season and drizzle with a tablespoon of oil. Roast for 10-15 minutes, until just cooked through.
Meanwhile, grind the Szechuan pepper and shake through a sieve (discard the husks left behind). Put a wok or frying pan on a medium heat and add two tablespoons of oil. When hot, add the Szechuan pepper, chilli, garlic and ginger, and stir-fry for a minute, until soft and fragrant. Turn the heat right up, add the pork, season with a little salt and stir-fry for two to three minutes, until cooked through and just taking on some colour. Add the chopped aubergine flesh and spring onions, and stir-fry until the aubergine begins to turn translucent, after two or three minutes. Add the wine, vinegar, soy and sugar, and cook, stirring, for another minute, then take off the heat. Taste and adjust with a little soy sauce and pepper.
Divide the mince and its juices between the baked aubergine skins, drizzle generously with sesame oil, then roast for 10 minutes, until the pork is golden on top. Scatter over coriander and peanuts, and serve with bowls of steaming-hot rice, whether stir-fried, white, brown or wild.
Courgette, chard and feta free-form pies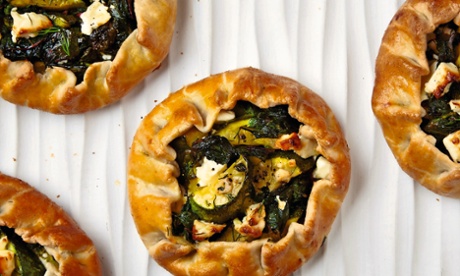 Enriched with feta, this pastry is flaky, savoury and seriously good. It's forgiving and super-quick to make, but it does need resting, so you can use filo or puff instead. Makes six pies.
For the pastry
400g plain flour
½ tsp salt
170g cold unsalted butter, cut into cubes
140g feta, finely chopped
½ tsp baking powder
For the filling
750g courgettes, halved lengthways
3 tbsp olive oil
2 garlic cloves, peeled and finely sliced
350g swiss chard (or spinach)
2 handfuls fresh dill, picked and roughly chopped
1 handful mint leaves, roughly chopped
A squeeze of lemon
150g feta
Sea salt and freshly ground black pepper
1 egg, beaten
Put all the pastry ingredients in a food processor and pulse to the consistency of breadcrumbs. Add six tablespoons of ice-cold water and pulse again until the dough comes together. Turn out on to a lightly-floured surface, push into a ball, then flatten into a disc, wrap in cling-film and refrigerate for at least an hour.
Cut the courgette halves on the bias into 2cm pieces. Heat the oil in a wide saucepan over a medium-low heat and add the garlic. Fry until it just begins to colour, then add the courgette. Season, stir to coat in the oil, then turn the heat to low, add a tablespoon of water, cover and leave to cook, stirring occasionally, for 20-25 minutes, until the courgette is tender but still keeping its shape.
Bring a pan of salted water to a boil and briefly blanch the chard until just tender, then drain and leave to steam dry. Roughly chop the chard and stir into the courgette pan with the herbs, a squeeze of lemon and 100g of feta. Season to taste and leave to cool.
Heat the oven to 200C/400F/gas mark 6. Divide the pastry into six, and roll each into a 3mm-thick round. Transfer to a baking tray lined with buttered baking paper, and spread with the courgette mix, leaving a 2cm border. Pull up the edges, and pleat to create open pies. Top with the extra feta and brush the pastry with egg wash. Bake for 20-25 minutes, until golden, and serve warm with a green salad, or cold in a picnic.
And for the rest of the week"...
The aubergines improve after a day: eat them at room temperature, or heated through; they're also great chopped up and tossed into rice noodles. Stew any leftover aubergine slowly with caramelised onions, garlic, tomatoes, oregano, plumped currants and a handful of toasted pine nuts, to make a delicious meze plate; add brown rice, perhaps studded with lentils, and it's a dinner dish in its own right. The courgette mix also goes brilliantly with jacket potatoes or on bruschetta (dress with pecorino shavings, olive oil and more mint), and is particularly tasty stuffed inside balls of day-old risotto rice and deep-fried until golden .
Thomasina Miers is co-owner of the Wahaca group of Mexican restaurants.