Brinjal Fry, or more popularly known as
Begun Bhaja
in the eastern part of India, is among the most favourite accompaniments across cuisines of the region. While it is more commonly associated with
Bengali cuisine
, the other neighbouring states too have their own versions of the dish. For instance in Assam, it is known as Begena Fry, which is a common feature not just in everyday lunches but in weddings and other special occasions too.What makes this aubergine dish a lip-smacking treat is of course the crisp outer slathered with spices and the delicate inner flesh which just melts in the mouth as you bite into it. While traditionally it is prepared sans the batter, variations to
the recipe
call in for dipping the aubergine slices in a smooth batter made of rice flour or even
besan
(gram flour) along with spices before
deep-frying
them. The dish is a brilliant play on textures and the addition of spices just adds to the whole experience. While Brinjal Fry pairs well with home-made
chutneys
of coriander or mint, traditionally, it is served along with meals where you eat it with rice,
dal, subzis
and
curries
.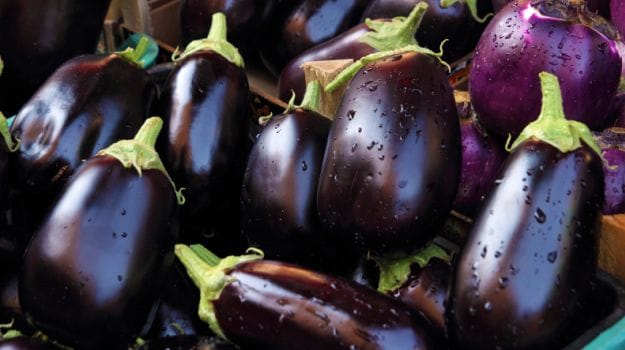 Making Brinjal Fry
For Brinjal Fry, the stout and plump
aubergine
is used, which is commonly referred to as
bharta
-brinjal by the vegetable sellers. After discarding the stalk, the aubergine is cut into neat and even circular discs, sprinkled with salt and turmeric powder, and then either deep or shallow-fried in mustard oil.If you prefer extra crunch, then the batter-fried version is better. Like most other Indian fritters, the batter for Brinjal Fry too can be made using
besan
or gram flour, but preference is always given to rice flour, which functions in the same manner as
rava
or semolina. Rice flour is an ingredient that commonly features in the cuisines of Eastern and
North-Eastern India
. In the olden days, almost every Assamese household had a wooden tool called
dheki
which the womenfolk would use to pound the rice, and therefore rice flour was used extensively in various dishes. While making Begana Fry, a trick I learned from my mother was to make a batter using a mix of both –
besan
and rice flour, which adds to the flavour of the fritters.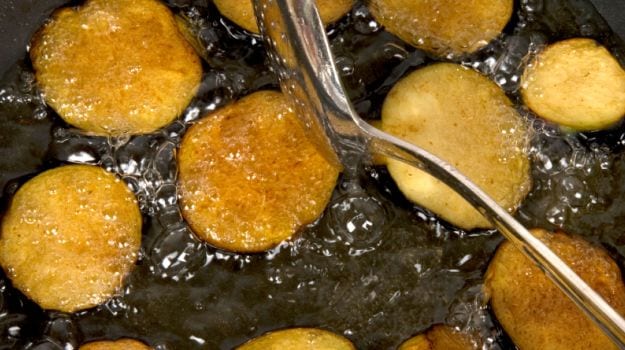 But, the batter needs to be right. It cannot be too runny or too thick because then you wouldn't get the perfect crunch. I usually add only salt and turmeric powder to the batter, but my Bengali friends also like to tip in a little amount of
red chilli powder
,
kalonji
(onion seeds), poppy seeds or even
amchoor
(raw mango powder). Once you whip up a smooth batter, the aubergine slices are dipped in it one by one to evenly coat the surface before sliding them into a hot
kadai
for deep-frying. Here again, you need to tend to the flame strength, as you don't want the fritters to turn brown too quickly leaving the insides uncooked.So in the end, you have crunch from the batter, mild sweetness from the vegetable, pungency from the mustard oil, and the mix of spices bringing it all together.Like most recipes
across cuisines
, nothing is written in stone. You can make your little twists to suit your taste. For example, you can replace the mustard oil with healthier oils like olive oil, and opt to shallow fry the pieces in a non-stick pan using spices of your choice. In terms of the batter too you can use
besan, rava
and others.To help you get started, here's an easy recipe for you to try at home –
Brinjal Fry
Serves 4
Cooking time: 20 minutes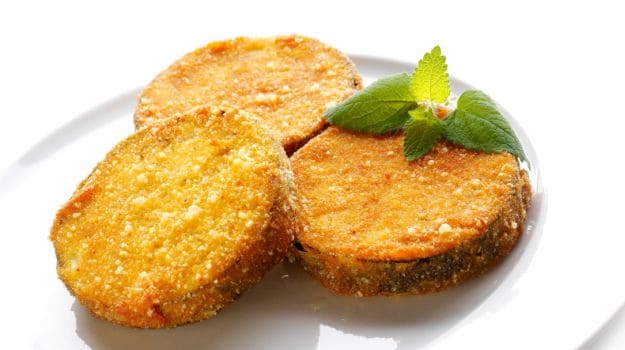 Ingredients:
1 plump brinjal
½ tsp salt
½ tsp turmeric powder
½ cup gram flour
½ cup rice flour
¼ tsp red chilli powder
1 tsp onion seeds
Mustard oil for frying
Method:
1. Clean the brinjal and discard the stalk. Then neatly slice the brinjal into circular discs. Keep aside.2. In a mixing bowl, add the flours along with salt, turmeric powder, red chilli powder and onion seeds. Pour 1 cup of water and whisk well to form a smooth batter. It should be similar to the consistency of cake batter. Adjust water accordingly.3. Heat oil in a kadai. Dip the brinjal pieces in the batter to coat evenly, and then slide them in the kadai. Turn down the flame to medium, and deep-fry the brinjal until crisp and golden on both sides.4. Serve hot.