An aubergine (
brinjal/ baingan
) is not a very popular vegetable. People love to hate the '
baingan
' because of its texture, which many consider 'slimy'. Others find it 'bitter' to taste. But this very fact that it has a woody, nutty flavour means that the eggplant can be adapted or mixed with several flavours.
Also, most people do not cook eggplant properly, with the result that they don't really realise they are destroying its flavour. Recommended ways to cook eggplant include slow roasting, slow baking, frying (in very thin slices), and stewing. Regardless of the method, the ideal texture of an eggplant or aubergine is buttery and creamy. The eggplant should be cooked with something it can absorb, whether that is oil or stew liquid (tomatoes, for example, in a ratatouille), and it should absorb as much of this liquid as possible. An aubergine is cooked well when you pierce it with a fork and aren't sure you actually pierced it because the eggplant offers no resistance whatsoever. Here are some fun recipes which will make you fall in love with eggplants.(Superfoods? Not just a fad. Get the best-quality foods on SmartCooky)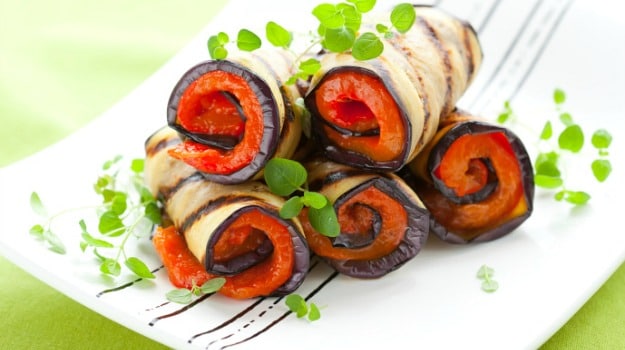 1. Tomato, Courgette & Eggplant Gratin
This Italian dish is comfort food that is quick to put together as well. What's even better is that is goes well with breads as well as pasta. It tastes just as yummy with pita bread as it does with a paratha.
Serves 4
Preparation Time: 15 minutes
Cooking Time: 2 hours
Ingredients:
- Garlic - 2 cloves- White onion - 1/2 large, chopped
- Shallots - 50 gm, chopped
- Tomatoes - 400gms, pureed
- Courgette - 3 small, sliced
- Aubergine - 1 medium to large
- Tomatoes - 5 large
- Fresh white bread crumbs - 2 tbsp
- Parmesan cheese- 50 gm
- Olive Oil - 2tbsp
Method: Add the olive oil to a pan and place over medium heat. Once hot, add the chopped garlic and shallots, cook until soft, then add the pureed tomatoes. Cook gently for 5 minutes to prepare a sauce. Once ready, season to taste. Preheat the oven to 140 degree C. Lay the sliced courgettes across the bottom of an ovenproof dish. Pour a small amount of the sauce over the courgettes in the dish. Add a layer of aubergine, followed by more sauce, then repeat with the tomatoes and more sauce, remembering to season each layer as you build the gratin. Repeat until all of the vegetables and sauce have been used up. Finish the gratin by grating the Parmesan over the top and sprinkling with fresh breadcrumbs. Place the dish in the oven and cook for 1 - 1 1/2 hours, until the vegetables have started to break down and the top of the gratin has a nice golden crust. Allow to cool slightly before serving.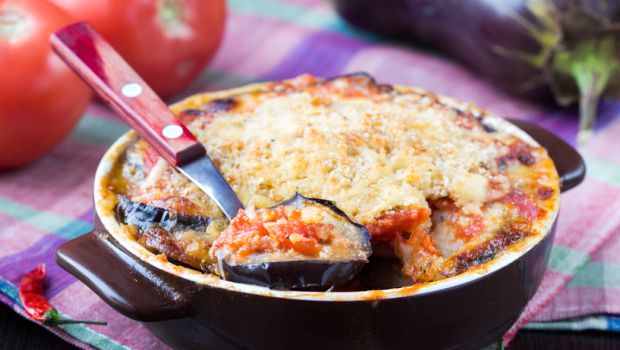 2. Langos with Aubergine Caviar
Before you raise your eyebrows in alarm, let me tell you aubergine caviar has nothing to do with salty sturgeon eggs. Eggplant caviar is very easy to make and less-rich: it's a smoky tasting eggplant purée with a herby twist, and a bit of crunch the bell peppers. I used to eat it a lot in UK.
Serves: 4
Preparation Time: 1 hour
Cooking Time: 40 minutes
Ingredients for Langos
- All-purpose flour - 300gm
- Yeast - 7gm
- Water - 250 ml
- Salt - 1/2tsp
Ingredients for Aubergine Caviar
- Aubergine - 1 medium
- Garlic - 2 cloves
- Thyme - 2 sprigs
- Pomace Oil - 50ml
- Philadelphia cheese - 100 gm
- Red bell pepper - 1 medium
- Yellow bell pepper - 1 medium
- Garlic Puree - 5 gm
Method For Langos: In a mug, dissolve the salt in water. In a bowl, combine the sifted flour with the yeast. Add the salty water to it and stir thoroughly (if it's very sticky, add a little bit more flour). Work the dough with a wooden spoon or with your hands until the dough is smooth and no longer sticks to the bowl. Leave the dough in the bowl, cover with a clean cloth and let it rise for 30-40 minutes or until it has doubled in size. Once it is rested, carefully tip out the dough onto a floured surface, stretch it out into a square and cut out about1 inch round shapes with a big glass (a big cookie cutter also works). Stretch out each piece with your fingers into a round shape with the centre being thinner than the edges. Let the pieces rest for another 30 minutes on the floured surface. In a saucepan, heat sunflower oil. Place the langos into the hot oil, fry it on one side until golden brown then turn. Repeat with the remaining langos dough.
Method For Aubergine Caviar: Cut the aubergine in half, score, season and add the oil chopped garlic and thyme. Cover with a foil and roast in an oven at 180 Celsius for 25 minutes. In the meanwhile, finely brunoise the bell peppers. Brunoising means first julienne and then turn a quarter turn and dice again, producing cubes of about 3 mm or less on each side. Once the aubergine has cooked, remove the flesh and discard the garlic and thyme. Chop the flesh finely and leave to cool. In a bowl add the Philadelphia cheese garlic puree and the bell peppers and mix till well incorporated. Leave to cool in the fridge and serve cold with the crispy langos.
3. Nokedli with Aubergine, Tomato, Pine Nut


Hungarian-style noodle dumplings (nokedli) are very similar to German spaetzle. They make a delicious side for a variety of main dishes. Nokedli are made by passing the dough through a noodle grater into boiling water. I do this vegetarian version as a no-fuss and light comfort food.
Serves: 4
Preparation Time: 20 minutes
Cooking Time: 20minutes
For Nokedli, Ingredients:
- Eggs: 2
- Salt: 1 tsp
- Water: 180 gm
- All-purpose flour: 475gms
Ingredients For Aubergine Tomato Sauce
- Pine Nuts: 60gm
- Olive Oil: 4 tbsp
- Aubergine: 1
- White Onion: 1
- Red Chillies: 2
- Ground coriander: 1 tsp
- Sugar: 1 pinch
- Sultanas: 100 gm
- Pomodoro Tomatoes: 400 gm
- Parmesan: 100 gm
- Flat Leaf Parsley: 5 sprigs
Method For Nokedli: Place a large pot filled with salted water on heat and bring to boil. Combine eggs, salt, and water, beating well with a whisk. Add flour, a little at a time. Add only enough flour to make a soft, sticky dough. Let mixture rest for about 10 minutes. Beat mixture again. Using the side of a teaspoon, spoon small amount of dough into boiling water. Dipping the spoon in the hot water will remove the dough from the spoon (if you have a spaetzel maker, that makes is easier as you want very small noodles). The noodles are done when they float to the top. Remove from water with a large slotted spoon, and place in a colander. Rinse with cold water. You may want to make the noodles in 2 or 3 batches so they don't overcook. You can heat these in a pan with butter to further cook them, if you like.
Method For Tomato, Aubergine Sauce: Heat a frying pan and toast the pine nuts until golden brown. Remove from the pan and set aside. Heat 2 tbsp oil in the same pan and fry the chopped aubergine until golden brown. Add the onion and chillies and fry for 1 minute. Stir in the coriander and season with salt, black pepper and a pinch of sugar. Add the sultanas and tomatoes, roughly breaking up the tomatoes with a wooden spoon. Simmer over medium heat for 10 minutes. Remove from the heat and stir in the pine nuts, parmesan and nokedli. Sprinkle parsley and serve hot.