Valentine's day 2023 is here. Can we say love is in the air? Most of us get too excited as February comes. Right? After all, who doesn't love to celebrate Valentine's Day? This is the time when you not only confess your feelings but also try your best to do things to make your partner feel happy. Well, many people prefer to go on dates to celebrate Valentine's Day. However, if you want to celebrate the day at home, maybe you can cook up a drool-worthy meal for or with your loved one. Tip: Don't stick to the regular recipes, please. Try to create something different. And, we have prepared a list of seven delicious recipes that can be prepared at home. Take help from this one on Valentine's Day.
Here're 7 Recipes You Can Pick For Valentine's Day 2023:
1) Mexican chicken rice
This can be one of the best ways to prepare something delicious with ingredients easily available at home. This one-pot rice dish carries the goodness of chicken which makes it rich in protein as well. If you are bored with the regular jeera rice or pulao, try this one out. Make your loved one feel special. Recipe here.
2) Punjabi-style hariyali chicken
If your partner is a fan of chicken, this yummy hariyali chicken dish is surely going to be a winner. This gravy-rich curry features the goodness of spinach and mint leaves among other homely spices. Alongside, you can prepare naan or roti for an unforgettable experience. Find the recipe here.
3) Nihari mutton
Mutton enthusiasts obsess over this quintessential dish. Not many would disagree that this epic delicacy is heaven for mutton lovers. Make this slow-cooked, lip-smacking mutton curry at home and add in a lot of traditional spices. Top it up with mint leaves and serve hot. Click here for the recipe.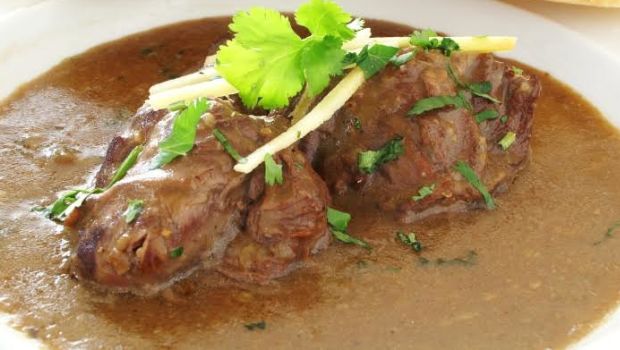 Nihari mutton is a special dish to be cooked on special days. Image Credit: iStock
4) Ravioli with coconut milk and lemongrass
Not in the mood to prepare a full-fledged Indian meal? Fret not. Here's a quick and easy dish that will not only look special but will also taste yummy. For those who don't know, ravioli is basically a type of pasta. This delectable preparation features stuffed pasta cooked in a creamy and luscious milk sauce. Garnish the dish with chilli flakes and you are good to go. Don't forget to team it up with a drink of your partner's choice. Find the recipe here.
5) Healthy paneer pizza
This is for all those whose partner is a health enthusiast. This recipe serves as a great way to cook something tasty, special and healthy at the same time. Here, the pizza base is made with wheat flour. FYI: Paneer is packed with protein. If you want to add to the health quotient, just load it with vegetables and your work is done. Bake this mouth-watering pizza and impress your partner. Recipe here.
6) Chocolate and banana crepes
This popular French delicacy has won the hearts of foodies across the globe. It's like an ultra-thin pancake that can be made sweet or savoury depending on your mood and requirement. Don't forget to garnish the plate with chocolate sauce, sliced chunks of bananas, peeled oranges and a pinch of cinnamon. Find the recipe here.
7) Banh Cuon (Vietnamese dumplings)
If Asian food is something that excites your loved one, why don't you try making something from that cuisine? Maybe, trying your hands on these super yummy Vietnamese dumplings can be a great idea. This, basically, includes minced pork and black fungus stuffed in wonton wrappers and steamed or boiled. Try this out. Recipe here.


What do you think your partner would like to have from all these mentioned recipes?