Story Progress
Back to home
Nihari Mutton Recipe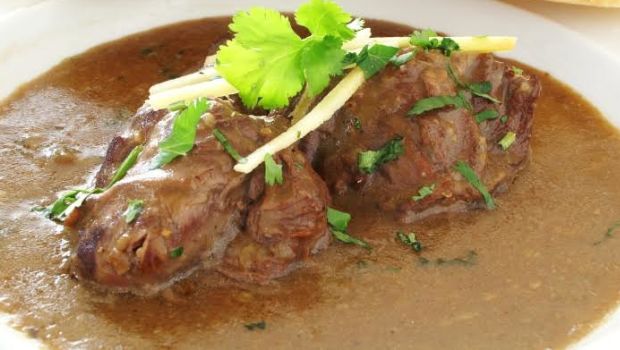 How to make Nihari Mutton
A meat lover's delight! Slowed cooked lamb trotters with crisp brown onions, spices and marrow bones.
Total Cook Time

2 hrs 30 mins

Ingredients of Nihari Mutton
6 trotters - cleaned and ready to cook
1 cup oil
2 cups onions - sliced fine
2 Tbsp ginger - garlic paste
1/4 tsp turmeric
1 Tbsp coriander powder
1 tsp chilli powder
1/4 tsp cinnamon powder
2 tsp salt or to taste
6 cloves
6 black cardamom - slightly crushed
8 marrow bones
1/4 cup lemon juice
1/2 cup coriander leaves - chopped
Mint leaves for garnish
1.
Heat oil and saute onions till brown.
2.
Add ginger-garlic paste, turmeric and coriander powder and saute till fat separates.
3.
Add cinnamon, salt, cloves and cardamoms. Stir fry to mix well and add the trotters and marrow bones and 6 cups of water.
4.
Bring to a boil, then simmer, covered, over low heat for two hours or till bones and trotters are softened.
5.
Add the lime juice and coriander and simmer another 5 minutes or so.
6.
Serve hot garnished with the mint leaves.