Rice is a staple in many households. From brunch to lunch and dinner, this versatile ingredient can be used in a variety of ways. In fact, even leftover steamed rice can be transformed into a plethora of delectable recipes. Because of this, the majority of us find solace in this simple ingredient. If you are looking for a delicious rice-based recipe to pamper your taste buds this weekend, we bring you a list of some of our best rice bowl recipes that are really quick and easy to make. Besides being easy, they are also very delicious to have. These bowls are a delightful amalgamation made with only a few ingredients, including veggies, seasoning, chicken, and more. To learn how to make them at home, take a look below.


Also Read: 5 Special Lunch Recipes For Weekend Indulgence
Weekend Special: Here're 5 Quick Rice Bowl Recipes You Must Try:
1. Chicken Rice Bowl - Our Recommendation
Let's start the list with the recipe we adore the most. Juicy chicken chunks cooked in a flavourful sauce blend and served over boiled rice in a bowl. This recipe is extremely simple and requires only a few ingredients. It's perfect for a filling lunch or dinner. Click here.
2. Bibimbap
Bibimbap is a traditional Korean rice bowl from rural Korea. In order to make this dish, the locals would combine leftover food with rice. Find the complete recipe here.
3. Mexican Rice Bowl
Mexican Chicken Rice is a one-pot meal that is very simple to prepare. Chicken and rice are combined with spices and Mexican sauces. If you enjoy Mexican recipes, this quick and easy recipe will become a family favourite. Click here to learn the recipe.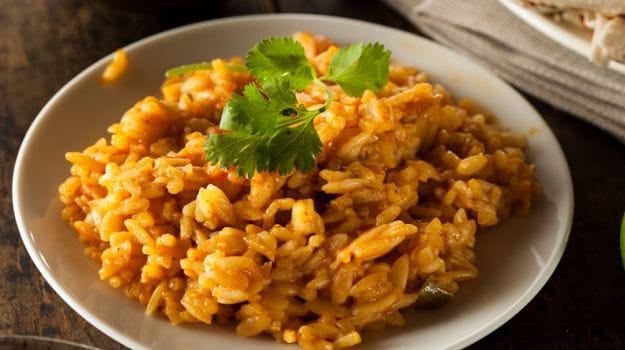 4. Teriyaki Chicken Rice Bowl
This recipe combines garlic, ginger, soy sauce, vinegar, and additional seasoning to create a sweet and sour, semi-dry chicken curry. This delicious chicken teriyaki is served with sticky rice in a bowl. Watch the recipe video here.
5. Chicken Paella
The concept of Paella is similar to that of Indian Pulav or even Khichdi. In this recipe, leftovers are used to quickly prepare a meal that is delicious and wholesome - all thanks to its balance of ingredients and nutrients. Find the recipe here.


So, the next time you're stuck for ideas for a delicious weekend meal, try these rice bowls and let us know how you all liked them in the comments below.