After a long and tiring week full of work, we finally get to enjoy the sweet bliss of the weekend! Foodies consider the weekend as the right opportunity to satisfy all their 'naughty' cravings. We choose to suppress our foodie desires over the week, just so we can let go and binge over the weekend. As Indians, we have a soft spot for almost anything spicy. It is why we love to indulge in Indo-Chinese! The tantalising flavours of garlic, ginger, green chillies, soy sauce and vinegar come together to give some of the most delicious delicacies within the cuisine. If you have been hankering for some Indo-Chinese lately, why not spend the weekend indulging in a mouth-watering curry? We have shortlisted the recipes for some delicious Indo-Chinese curries that are vegetarian.


Also Read: Weekend Special: Non-Veg Noodles You Won't Mind Having On Repeat; 5 Recipes Inside
5 Indo-Chinese Gravy Recipes Every Vegetarian Will Enjoy:
1. Chilli Paneer - Our Recommendation
This quintessential paneer gravy has a massive fan following! Almost every Chinese menu has chilli paneer at its top. This hot and spicy gravy has fried cubes bathed in all kinds of Chinese sauces like soy and vinegar.


Click here for the full recipe for Chilli Paneer.


2. Gobi Manchurian
Another classic Chinese gravy, crispy and masaledar manchurian is prepared from cauliflower and cooked in a flavourful sauce. The sauce is made of soya sauce, vinegar, tomato puree and a hint of ajinomoto.


Click here for the full recipe of Gobi Manchurian.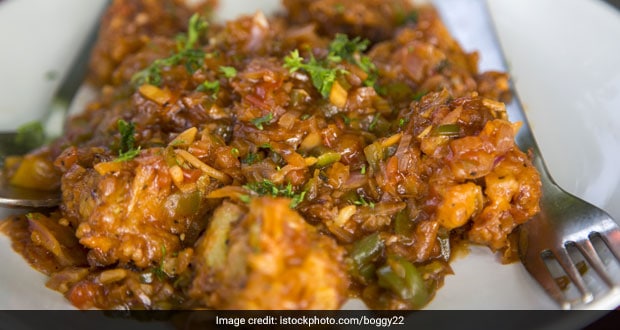 3. Paneer Schezwan
Doused in schezwan peppers, this spicy paneer gravy is not for the faint-hearted! Paneer is tossed in a mixture of chillies, schezwan peppers and capsicum to get this hot paneer gravy. The fiery flavours will get you sweating.


Click here for the full recipe of Paneer Schezwan.


4. Stir-Fried Vegetables In Garlic Sauce
A choice of fresh vegetables is cooked in butter and then bathed in garlicky sauces to make this lip-smacking curry! The heavy use of garlic gives an earthy aroma to the vegetables and the butter gives them a nice crunch.


Click here for the full recipe of Stir Fried Vegetables In Garlic Sauce.


5. Kung Pao Potatoes
If you are someone who loves sweet and sour flavours, then this kung pao potatoes are the right choice for you! Baby potatoes are cooked in an aromatic sauce that has a spicy zing along with a hint of sweetness and sourness.


Click here for the full recipe for Kung Pao Potatoes.
Try out these hot and spicy curries and let us know in the comments section which one is your favourite!