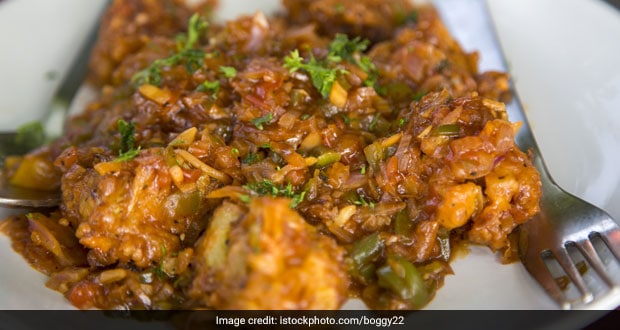 About Gobhi Manchurian Recipe | Dry Gobi (Cauliflower) Manchurian: If you're craving a dish that's crunchy, fried and packs a punch then you've come to the right place. Medium sized cauliflower florets are nicely coated with a simple batter and then fried for a few minutes till crispy. Now to make sure you don't miss out on something spicy, there's also the perfect sauce that you can use to dress the manchurian in. This Gobi Manchurian is a sure shot winner and one you'll thank us for.
Ingredients of Gobhi Manchurian (Dry Gobi (Cauliflower) Manchurian) recipe: The amazing combination of veggies and spices used here accentuates the mouth watering dish. The spicy and tangy sauce is made of vinegar, soya sauce along with tomato puree and a dash of salt while ajinomoto is an optional ingredient. The dish is a whole lot of healthy in terms of veggies used without compromising on the delicious taste and so the kids gonna love it.
Best Way to Enjoy Gobhi Manchurian | How to Serve Dry Gobi (Cauliflower) Manchurian: This recipe of Gobhi manchurian is usually served best alone but you may serve it along with fried rice or noodles to have a full meal.
Ingredients of Gobhi Manchurian
Cauliflower
Eggs (slightly beaten)
Refined flour
Garlic paste
Ginger paste
Ajinomoto (optional)
Water
Oil
Oil
Garlic
Onions
Capsicum
For sauce:
Corn flour (blended with 1/2 cup water)
Vinegar
Salt
Soya sauce
Tomato puree
Celery
Salt
Ajinomoto (optional)
Water
How to Make Gobhi Manchurian
1.

Gather all your ingredients and make sure the cucumber florets are medium in size.

2.

Mix all the ingredients - egg, flour, garlic, ginger paste and ajino moto to make a thick batter and then coat the cauliflower in it.

3.

Let the coated cauliflower rest for 5 to 10 minutes.

4.

Heat the oil and fry the cauliflower till its golden brown and crisp. Make sure you fry the cauliflower on high heat.

5.

Let the cauliflower rest on a tissue or any kind of paper which can soak the oil.

6.

Heat the 2 tbsp oil, and stir-fry the garlic and onion over high heat. Let them cook till the onion seems translucent.

7.

Add the capsicum and turn around a few times.

Prepare the sauce:
1.

Mix all the ingredients for the sauce together.

Prepare the dish:
1.

Slowly pour in the sauce and let it simmer. Over time, you'll see the mix losing water and becoming thicker with time. Keep it cooking till the sauce seems a bit translucent.

2.

Add the cauliflower florets to the sauce.

3.

Stir them around till they're completely doused in sauce.

4.

Serve hot.
Key Ingredients: Cauliflower, Eggs (slightly beaten), Refined flour, Garlic paste, Ginger paste, Water, Oil, Oil, Garlic, Onions, Capsicum , Corn flour (blended with 1/2 cup water), Vinegar, Salt, Soya sauce, Tomato puree, Celery, Salt, Water