Potatoes have earned themselves a bad reputation in the world of health and nutrition. While it is true that they are dense in carbs and most desi preparations make eating potatoes a rather fatty affair, one also cannot deny that potatoes are a treasure trove of nutrients. "They are a good source of vitamin C, potassium, fibre, B vitamins, copper, tryptophan, manganese and lutein," notes the book 'Healing Foods' by DK Publishing House. They are also good for hypertension, blood circulation and helpful in calming your nerves. The tuber is also packed with high anti-inflammatory properties.


The way you prepare your potatoes can make a whole lot of difference to your diet. If you go for deep-fried wedges, fries, wafers, tikkis and cutlets, you may be sending an invitation to cholesterol and weight gain. On the other hand, if you prepare them well and have them in moderation, there is no harm in including them in your diet.


Baking your potatoes is one of the healthiest ways in which you can yield maximum nutrition out of a potato. It is a good idea for weight loss too. The logic here is simple. Deep-frying anything adds to the final calorie load of the dish. Since baking requires very little oil, you save as many calories. These yummy wedges are easy to prepare and are an immensely healthy alternative to fries.


(Also Read: Diabetes Management: Experts Reveal How Diabetics Can Include Potatoes In Their Diet)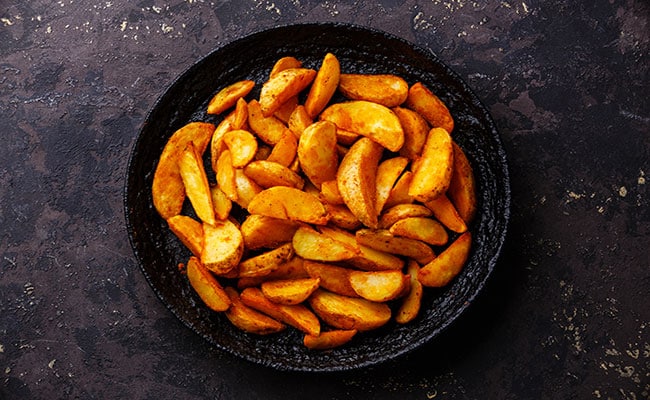 Weight loss diet: Baking your potatoes is one of the healthiest ways to have potatoes
Roasting your potatoes also help you save many calories as compared to frying. Baby potatoes are significantly lower in carb content too. The recipe is teeming with a delicious spice mix made of weight loss boosting spices like coriander seeds, cumin seeds, black peppercorns, and fennel seeds.


Potatoes tossed with honey, herbs and garlic! Packed with antioxidants and minerals that can aid fat loss, this baked snack is something you can consider in your low-carb diet.


(Also Read: Benefits Of Potatoes: 14 Incredible Benefits Of This Super Vegetable That You May Not Have Known)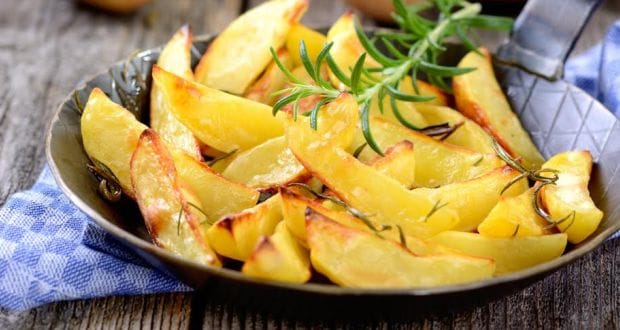 Weight loss diet: Potatoes tossed with honey, herbs and garlic!
4. Aloo Jeera


It is one of the lightest desi aloo preparations. And it is so easy to make too, which is why your mother would often pack them for tiffin. Cumin has volatile substances that can help rev up metabolism naturally and also increase the digestibility of food. Make sure you monitor your oil quotient here; too much oil can increase chances of weight gain.


Raita is a cooling summer staple that is prepared in various ways in several North Indian households. Made with the goodness of curd, this raita is a filling and delicious pro-biotic. A good gut is key for healthy digestion. Since it uses boiled potatoes, you get to enjoy all healthy qualities of potatoes here too.


(Also Read: How Yogurt (Curd) Can Help You Keep Cool this Summer)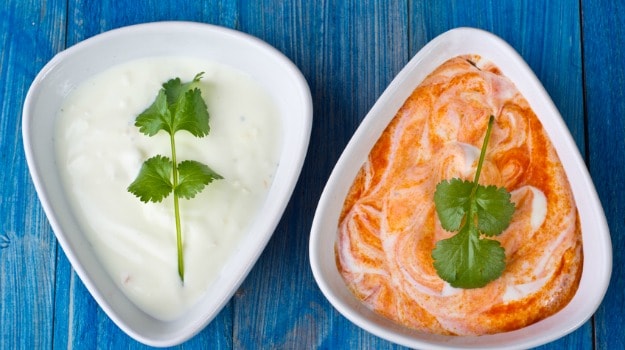 Weight loss diet: Raita is a cooling summer staple that is prepared in various way
Try these recipes and let us know which ones you liked the best in the comments section below.
About Sushmita SenguptaSharing a strong penchant for food, Sushmita loves all things good, cheesy and greasy. Her other favourite pastime activities other than discussing food includes, reading, watching movies and binge-watching TV shows.