Indian summers are incomplete without mangoes. Mangoes, both raw and ripe, are an intrinsic part of a lot of our summer preparations. From chutneys, smoothies, shakes and ice-creams, mangoes are everywhere, and we love it. As we mentioned earlier, it is perhaps one of the few fruits that is loved both in its raw and ripe avatar. Raw mangoes or kaccha aam/kacchi kairi are a treasure of health benefits. Plump with essential antioxidants, minerals and vitamins, raw mangoes can be enjoyed as an evening snack. Slice them in thin pieces, sprinkle some masala on top, and you would have one of Maharashtra's most-loved street food - 'kacchi kairi' - at home. Blend them in a food processor with ice, lemon and mint leaves and you have delish kacche aam ki chutney for your parathas. Looking to quench your thirst with something refreshing and chilled, treat yourself with a glass of aam panna!


If you are on a weight loss diet, the delish summer fruit could also be a great help. Yes, you heard us! One may not associate ripe, pulpy mangoes with weight loss, since they tend to have a high sugar content. But with raw mangoes, you don't have to worry about the sugar content at all. When combined with other flavourful foods, raw mango develops a distinct tangy taste that you'll love.


(Also Read: 10 Amazing Summer Foods for Kids to Keep Them Energetic)
Here's what makes raw mangoes a safe bet for weight loss:
• Raw mangoes are rich in dietary fibres. Fibres take a while to digest. Since they stay in your system for a longer spell, they give you the feeling of fullness. Now, if you are feeling full, you would naturally eat in moderation and not go on a bingeing spree soon after you are done with your lunch/dinner.


• Raw mangoes have negligible fat content. If you are on a low-fat diet, raw mango is one of the best fruits you can add to your plate this season.


• They are good for digestion, which is significant for healthy weight loss. Poor digestion is linked to slow metabolism. A slow metabolism may make your weight loss journey slower.


(Also Read: Benefits Of Raw Mango: 6 Reasons To Add Kairi To Your Summer Diet)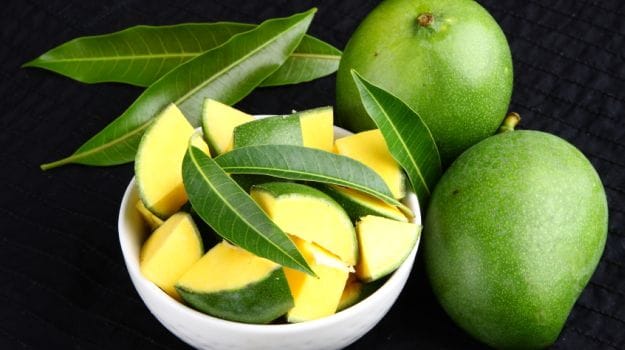 Raw mangoes for weight loss: Raw mangoes are rich in dietary fibres
If you are thinking, how you could include make most of the summer staple, we are here to help. If you are looking to lose weight quickly, make sure you do not add any refined sugar or mix them with anything fattening or processed. This raw mango salad packs the goodness of raw mango, onions, red chilli, mint and lettuce. It is quick and easy to make too. Try it at home and let us know how you liked it.


Comments