Are you an aspiring chef? Or do you love
baking
? Then, this common query may have hit you too sometime or the other. What is baking soda and how is it different from baking powder? Wise men who say that baking is scientific aren't fooling us. For all the budding chefs and enthusiast bakers - the basics make the difference. Let us help you clear your confusion and make you understand the difference between the two ingredients that are often used in baking.It's true that both baking soda and baking powder look identical and you can mistake on for the other but they are actually quite different in terms of their composition and also usage. For those of you who do not know, baking soda and baking powder are leaveners which basically means that they help your dough or your batter to rise and makes it fluffy."Both of these products act as leaveners that give our cakes the structure and strength and more importantly, the rise which we call the height. Baking powder is made with
baking soda
and an acid, usually cream of tartar. This reacts when exposed to any liquid hence the liquid content must always be mixed in the end of the batter in order to give us a light and fluffy cake. Baking soda, on the other hand, requires an acidic ingredient such as buttermilk and
yogurt
in order to work," says Suhani Mahajan Behl, a trained patisserie chef from Le Cordon Blue who also runs her own venture SUgar.Dust.
How does each work?
Baking Soda: It is alkaline in nature which means that in order to activate this leavener one needs to add a liquid that is acidic in nature say vinegar and as soon as it activates it leaves out carbon-di-oxide which helps in raising the batter. The activation creates bubbles. This mixture can then be added to your batter to give it that perfect rise and a fluffy texture. Remember, excess baking soda can add a very soapy taste. So, add the right amount of the soda taking in account the amount of batter.(Also read: 8 Ways to Use Baking Soda For Your Skin Problems)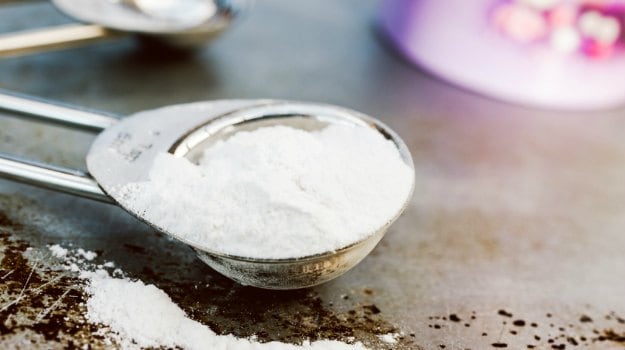 Baking Powder: Baking powder already has a small quantity of acid present in it in the form of cream of tartar or corn starch. This powder does not need an acidic ingredient to activate it. Instead, it only needs to be made wet by using little water which activates it to some extent and the rest of the work is done when heat is applied to it. Always remember that excess baking powder can create a bitter taste so add the right amount of powder to avoid that. Some recipes may call for the use of both baking soda and baking powder, so make sure you know the correct quantities.
Can they go bad?
Yes! Follow these simple steps to check if they've gone bad"
1. For baking soda, mix about 2 tablespoons of the soda and vinegar. If the mixture bubbles up, it is still good to use otherwise it's time to hit the grocery store for a new bottle.
2. For baking powder, take 2 tablespoons of the powder and add water to it. If you notice a good amount of fizz, then the powder is fine and can still be used, otherwise, you should toss it.
Use these simple tips and you'll soon be creating wonders in the kitchen. So, armed with your newfound knowledge, put your gloves on and get the oven ready because it's baking time!Disclaimer:The opinions expressed within this article are the personal opinions of the author. NDTV is not responsible for the accuracy, completeness, suitability, or validity of any information on this article. All information is provided on an as-is basis. The information, facts or opinions appearing in the article do not reflect the views of NDTV and NDTV does not assume any responsibility or liability for the same.