Story Progress
Back to home
Baking Powder Biscuits Recipe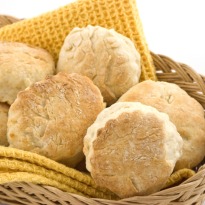 Baking powder biscuits -golden and light crusty exteriors and moist and fine textured inside.

Ingredients of Baking Powder Biscuits
2 cups flour
1/2 teaspoon salt
4 teaspoons baking powder
1 tablespoon sugar
1/2 cup vegetable shortening
2/3 cup milk
1.
Preheat your over to 180 degrees Celsius. Grease two 8" cake tins/ or a rectangular cake tin will suffice.
2.
Put the flour, salt, baking powder and sugar in a bowl.
3.
Cut the shortening into the flour with two knives or use your hands to rub the mix to resemble bread crumbs.
4.
Make a well in the center and all the milk at once stir with a fork till a soft dough forms. Don't worry at this point we are not looking for a perfectly smooth texture.
5.
Turn your dough out of the bowl onto your kitchen slab slightly dusted with flour and knead till a count of 14. Over kneading can make your biscuits hard.
6.
Pat the dough till about 1/2 inch thick you don't need to use a rolling pin hand patting is perfect!
7.
Cut 2 inch rounds with either a cookie cutter or even the open end of your glass.
8.
Place these biscuits in your tins touching each other and bake for about 15-20 minutes till golden.
9.
Notes: Sprinkle cumin for an Indian twist and spread butter straight hot out of the oven, absolutely sinful.
10.
Add 1/2 cup of sharp grated cheddar cheese in the dry ingredients for a slightly more sharper taste enjoy this with some freshly roasted cherry tomatoes and fresh basil.
11.
Chef: Suhani Mahajan Bhel