The cauliflower seems to have a new identity. The once humble ingredient that adorned our tables as a simple but delicious winter
sabji
or as the famous cheesy bake has redefined itself today and is going places. Yes, there is no looking back for this ancient cruciferous veggie. Currently, it is most sought after and this is why: it is mega nutritious, versatile and delicious. Moreover, it is a vegetable that is easily available and easy to work with as well.
10 Best Cauliflower Recipes
The Nutritional Powerhouse
Cauliflower boasts of numerous health benefits ranging from its integral role in detoxification and antioxidant properties to its anti-inflammatory benefits. Many believe it to be good for cardiovascular health as well as for the digestive system. It supports the liver, is good for high blood pressure and constipation. What more could one ask for?
From a nutritional standpoint, the cauliflower has a very strong profile and is therefore very well respected and sought after. It is an excellent source of vitamin C, K, B6, B2 folate, fibre, omega-3 fatty acids, and biotin to name just a few of the many properties.
Cauliflower Salad
The Super Veggie
As an ingredient, cauliflower has the unique ability to balance flavours. It has the tendency to absorb flavours from the other contents of the dish and recreate itself according to your preference of taste. However, it is important to remember the golden rule with all vegetables, make sure you do not overcook it. Healthy sautéing is the best to prepare cauliflower when using it in a salad as the more traditional method of boiling can make them mushy and waterlogged - something that could ruin an otherwise perfect dish. When buying a cauliflower, look for the one that seems fresh and firm. Avoid a sad looking flower with wilted dry leaves and brown edges.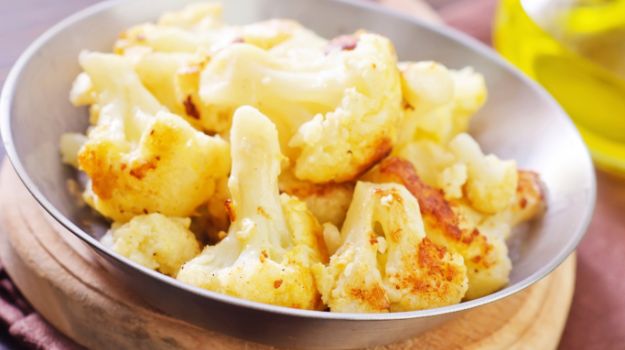 New Twists
I never thought I'd see the day when there would actually be a cauliflower steak with a red wine sauce on a menu as an option for vegetarians! Apart from it speaking volumes of the growing popularity of this vegetable, this was actually delicious.If the thought of it has caught your fancy and you want to try it at home, so basically, this is what you have to do: slice the head of the cauliflower about an inch thick instead of chopping it as we normally do. Brush it well with oil, season with salt and pepper, sprinkle any two herbs you like and a few spices and grill on high heat until it is cooked through. Keep in mind that the veggie should be crisp and good looking.While it is on the grill, make your sauce by sautéing finely chopped onion and garlic with butter, pour in some cream to bring in the irreplaceable richness it imparts to everything it is added to. Personally, I enjoy a creamy sauce more than a wine sauce as I am not a great fan of the combination of wine and cauliflower. So cream cheese and cauliflower – oh yes, way to go!
Since summer is on full swing, here's presenting a refreshing cauliflower soup so that you can load up on all its goodness. It is easy to prepare and a perfect option for a quick meal.
How to Cook the Perfect Cauliflower Cheese
Cauliflower Soup
2 Tbsp olive oil½ onion, chopped2 garlic cloves, finely chopped1 medium-sized cauliflower, chopped1 pint vegetable stockSalt and pepper to taste
To Garnish
3-4 cauliflower florets, sautéed in olive oil2 tsp roasted pine nuts
Method:
1. Heat oil in a pan, add the onion and the garlic and cook on low heat until they start sweating.
2. Add the chopped cauliflower and cook for a further 10 minutes.
3. Pour in enough stock to cover the cauliflower over two inches above and simmer until the pieces are cooked through. Set it aside to cool completely.
4. Purée the cauliflower. Adjust the consistency by adding some more stock if desired and check seasoning.
5. Refrigerate it for a few hours and just before serving, garnish with cauliflower florets and pine nuts along with a drizzle of olive oil.
Cauliflower Bake
Disclaimer:
The opinions expressed within this article are the personal opinions of the author. NDTV is not responsible for the accuracy, completeness, suitability, or validity of any information on this article. All information is provided on an as-is basis. The information, facts or opinions appearing in the article do not reflect the views of NDTV and NDTV does not assume any responsibility or liability for the same.