Indore has gained a wonderful reputation among tourists and visitors, and the reasons are multifarious. Whether it's the stunning Maratha architecture, the colourful graffiti-filled street facades or simply all the greenery around - there's more than one reason to add this city to your bucket list. And of course, foodies will vouch for the city's amazing street food. The moment you land at Devi Ahilyabai Holkar airport, you will realise that food is deeply ingrained in the city's ethos. There is an entire night market dedicated to street food called Sarafa Bazaar. But before you head there, Indore's Chappan market or 56 Dukan is a great place to start exploring the delicious food being served.


Also read: Madhya Pradesh Food: 11 Best Recipes | Popular Madhya Pradesh Recipes


The street food of Indore has an identity of its own which is a mixture of influences from the Northern and Western parts of the country. You'll find everything possible here - right from pizzas and sandwiches to Indori poha and the famous jalebi. In September 2021, both Sarafa Bazaar and 56 Dukan received awards from FSSAI for being 'Clean Street Food' hubs in Indore. So what should you eat upon visiting the famous Chappan market in Indore? Here's what you need to know.
What Is 56 Dukan Or Chappan Market? All About Indore's Famous Street Food Hub


56 Dukan or Chappan Market is one of the most famous street food hubs of Indore. It is located in the New Palasia area of the city. It was awarded the 'Clean Street Food Hub' tag in 2021. The name of Chappan market comes from the 'Chappan bhog' that is traditionally prepared on the occasion of Janamashtami to celebrate the birth of Lord Krishna. Thus, true to its name, the market has exactly 56 shops as part of the street food hub. Chhapan market stays open on all seven days from 7:30am to 11:30pm. So, you can plan to visit accordingly.


A Complete Guide To Chappan Market | Famous Street Food From Indore's 56 Dukan


You will find plenty of street food options in Chappan market, from cheese-filled sandwiches to thick and fruity shakes. We have shortlisted some of the best places in this street food hub that you simply have to visit. So, empty your stomach, bring a good appetite and enjoy a feast!


Also read: 15 Best Street Food Recipes | Delicious Street Food Recipes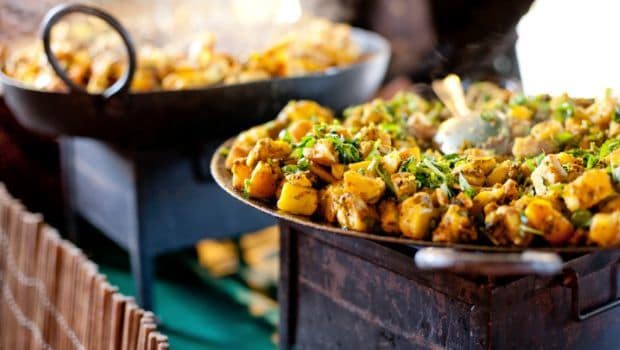 Here Are 6 Places To Visit In Indore's Chappan Market Aka 56 Dukan:
1. Young Tarang
Quick service, excellent street food at affordable prices is what makes Young Tarang one of the most famous choices of Chhapan market in Indore. You can choose from their delicious chaat items, or the wonderful sabudana khichdi or even some interesting varieties of dosas.
2. Johny Hot Dogs
Yes, you read that right! Hot dogs are extremely popular among Indore residents. The vegetarian hot dog is an excellent choice, and they also have chicken and mutton options for non-vegetarians. You can also try Indore's famous dish Egg benjo here.
3. Vijay Chaat House
A limited menu with focussed attention on Indore's favourite treats is what Vijay Chaat House is famous for. Whether you try the classic poha jalebi, kachoris or khopra patties - trust us, you will not be disappointed.
4. Ramesh Masala Dosa
Indore's street food vendors have taken the dosa and transformed it to the next level! You can choose from a wide variety of dosas with toppings like cheese, masala, schezwan sauce or even corn. Trust us, you will not regret it.
5. Sam's Momos
In the mood for something different? Sam's Momos is the place to be. From delicious paneer momos to rolls, shawarma and more - there is so much variety that you'll be spoilt for choice.
6. Om Namkeen
Indore is best known for its delicious namkeens, and Om Namkeen is the place to be for this. Although it is not exclusive to 56 Dukan, this outlet is a must-visit for the wide array of namkeens it has to offer.


So, try out these amazing places in Indore's Chappan Dukan and tell us what you liked in the comments!
About Aditi AhujaAditi loves talking to and meeting like-minded foodies (especially the kind who like veg momos). Plus points if you get her bad jokes and sitcom references, or if you recommend a new place to eat at.