Don't you just love aam papad? This layered snack is one of the best ways to enjoy mangoes, especially during summer when the fruit is widely available. Aam papad comes in many versions and each varies slightly. Although mangoes remain the key ingredient, the taste may range from sweet to tangy to spicy to anything in between! What many of us may not know is that aam papad can easily be made at home. It does not require any complex processing or unusual ingredients. If you are used to buying prepackaged versions, you should try out our quick recipe. You will realise that nothing can beat the delight of homemade aam papad.


Traditionally, aam papad is made by keeping the mixture dry under direct sunlight (Recipe here). While there is nothing wrong with this method, it is not convenient for everyone. Furthermore, it takes many hours, depending on the sun's intensity. Hence, we have come up with a recipe for making aam papad in a microwave. Using this technique, your mango papad will be ready in less than 4 hours. Check out our step-by-step recipe below.


Also Read: Move Over Aam Papad, Try Sweet And Tangy Jamun Papad Ready In 30 Minutes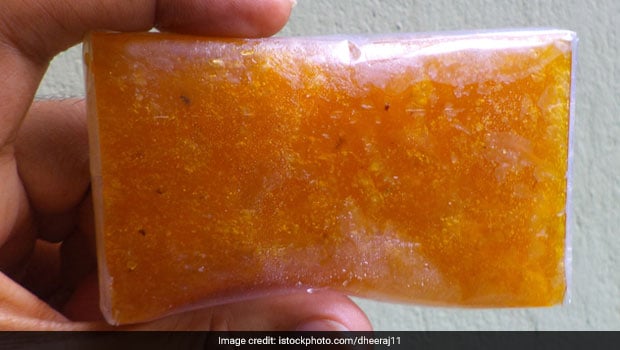 How To Make Aam Papad At Home Using Microwave | Quick Mango Papad Recipe
Cut 3-4 mangoes and remove the pulp. Add it to a blender along with sugar to taste.
Add extra seasonings of choice: cardamom powder, chilli powder, chaat masala (any one or all). Add a pinch of salt.
Blend the pulp to make a smooth, lump-free paste. If it is too thick, add a little water and blend again.
Line a baking tray with parchment paper. Pour the pulp mixture and spread it evenly across the tray. Ensure that you flatten it carefully with a spatula or other tools.
Bake it at 80-100 degrees celsius for 3 to 3.5 hours. It should be completely dried.
Once done, allow it to cool for some time. Then cut and roll the papad in whichever shapes you desire.
You can stack the pieces on top of one another for that special texture.
Also Read: Are Your Berries Getting Spoilt? Make Viral 'Fruit Leather' Recipe With It
Tips For Making Perfect Aam Papad:
After blending the pulp and seasonings, transfer the mixture into a bowl and use a whisk to combine the ingredients some more and introduce some air into the mixture.
Always taste the mixture before you spread it out on the baking tray. Mangoes may taste sweet when eaten but may seem rather sour once blended.
Some recipes suggest cooking the pulp on a medium flame for a few minutes, if it is too thin. The heat thickens the mixture and may also help enhance the flavour. However, this would depend on the consistency of your mango pulp.
How To Make Aam Papad Without Sugar?
There is no rule that says Aam papad has to contain sugar. It is recommended to use sweet mangoes whether or not you add sugar. You can use sieved jaggery powder in place of sugar if you want a sweet papad. However, you can also choose to add nothing at all and enjoy a tangy-spicy papad. The rest of the preparation method remains the same.


Try making this aam papad as soon as you get your hands on some mangoes! Let us know how it turns out.