The kitchen is the holy space where all the treats for our tongue originate. Kitchens are designed in a way that the experience of cooking, mixing, and blending becomes efficient. However, many cooks and chefs face problems in obtaining herbs and spices which are frequently used in various recipes. Locating and procuring them often proves to be a tedious task, and since the requirement is minimal, fresh herbs and spices often end up going to waste. This simply adds to the ever-increasing list of kitchen scraps and wastes.Now imagine if some of the exotic herbs and spices that we use in our cooking were easily available within our kitchen! How incredible it would be if we could actually grow a few ingredients required for our tasteful dishes within the kitchen itself.We share with our readers some herbs, ingredients and spices that can be easily grown within the space of the kitchen -
1. Bean Sprouts
Sprouts are easiest to grow, and the healthiest in this list. Little beans germinate into sprouts, and provide innumerable benefits for the human body. They aid the digestion process, act as metabolic boosters, and are a great source of antioxidants.
Time to prepare
: A bowl of sprouts takes approximately a day or two to prepare.
How to grow:
Just soak a tablespoon or more of the beans you want to grow in a bowl half-full with water. Leave this container overnight, and in the morning drain the water off and put the beans back. Again, cover the container with a towel for another night and rinse them the next morning. Repeat this process until the beans start to germinate.
How to use:
The sprouts can be boiled to make a salad; or tossed into soups, stews and stir fries to add a crunchy green element to the dish.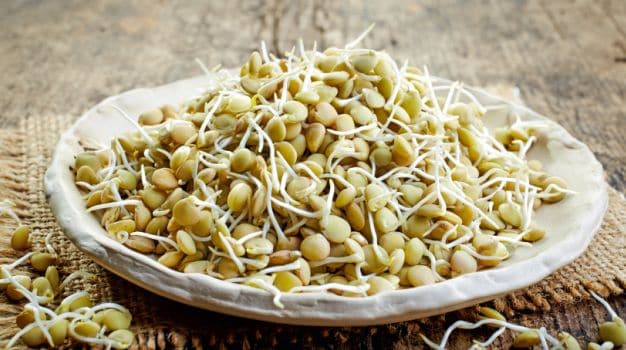 Photo: Istock
2. Ginger
Ginger is also known as a superfood; it cures nausea, motion sickness, soothes sore muscles, even alleviates symptoms of arthritis, and is probably the best-known cure for throat pain. It is often used in Indian cooking, especially in case of making the classic Indian Tea. The ginger plant has inbuilt buds, which help in sprouting new plants. It is a root vegetable.
Time to prepare:
Sprouting a new ginger head can take around 2-3 weeks.
How to grow:
Cut a chunk of ginger and cover it up with soil in a pot. The buds in the ginger piece should face up. Ginger needs sunshine to grow, so make sure your kitchen window is in a nice sunny area. In about a week, you will notice new shoots sprouting up. Keep the soil moist and make sure it is never dry. The roots will also start growing into the soil; which is good news since you can pull the entire plant out of the soil, cut off as much as you need and then replant it using the process already described.
How to use:
Use ginger to cook curries, spicy chicken, and of course the classic Indian tea.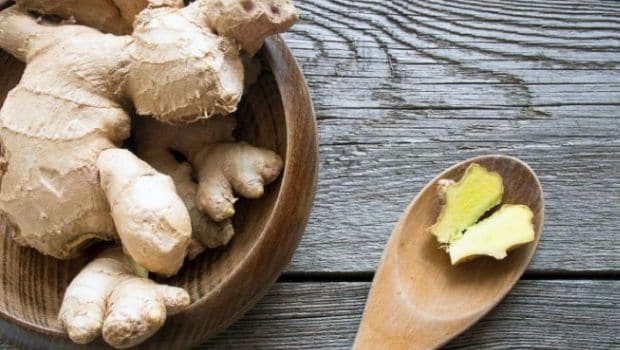 Photo: Istock
3. Garlic
Garlic cloves, just like ginger are very strong and pungent in taste. It has various health benefits, including the ability to combat sickness and boost the immunity system, relieve blood pressure and lower cholesterol. Garlic is a stem vegetable, so a single garlic clove can grow back the entire garlic head.
Time to prepare:
Garlic takes several months to cultivate.
How to grow:
Separate a single garlic clove from the head and plant it in some soil, making sure the root faces downward. Place the pot in direct sunlight, and keep it outdoors during spring, summer and fall. Here's the important bit - new shoots may sprout in some time, but you need to trim those back to ensure that the whole bulb forms and the plant doesn't start growing bigger. This bulb can now be used to grow back a whole new crop of garlic bulbs!
How to use:
It can be used as a paste along with ginger to make curries, sprinkled on meat, used in chutneys and dips. It can also be chopped, and used to flavour Tandoori naans, and of course, garlic bread!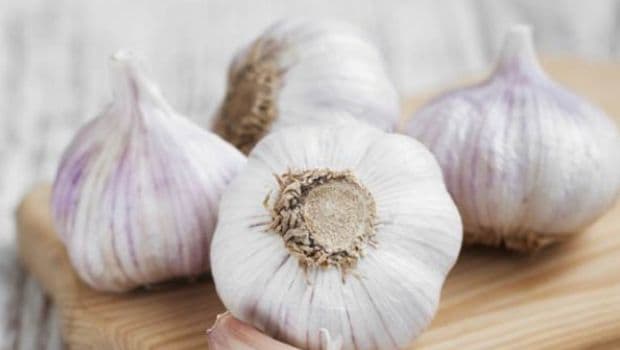 Photo: IStock
4. Lemongrass
Most famous because of its usage in Oriental cooking and cuisine, lemongrass's aromatic oils and distinct flavour make it a class apart from other herbs. India also sees the usage of lemongrass as a medicinal herb, thereby increasing its importance for chefs here. The only problem is that lemongrass is not-so-easily available in the local grocery store. But why fear, when the kitchen garden is here?
Time to prepare
: Lemongrass grows over several months.
How to grow
: Lemongrass grows just like any other regular grass. You just place the root of the grass in a glass bowl or jar with enough water to cover it and leave it in the sunlight. After about a week, you will notice new growths coming from the root. Post this, the lemon grass can be transported and grown like a regular crop in soil. Watering lemongrass is hardly a task, since the soil is not required to be moist all the time.
How to use:
Puree it and add it to your stir fries, salads and sauces. Thai cuisine uses a lot of lemon grass, so make sure you add it while making Thai curry or Thai soup!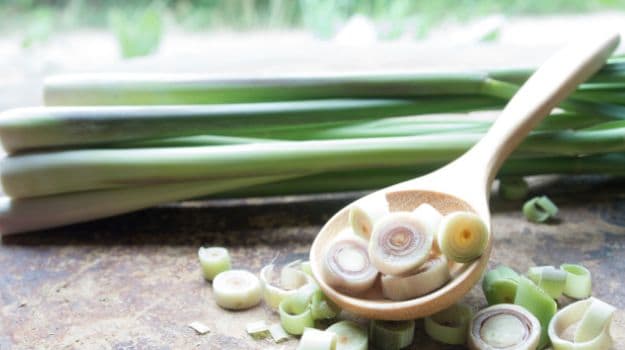 Photo: IStock
5. Chives
These herbs have a similar flavour like onion since they belong to the same biological family. The entire plant is edible, and is used to add a herby zest to various dishes. They are one of the easiest herbs to grow, and generally thrive on a sunny windowsill. They are also excellent pest repellents, thereby keeping your kitchen neat and tidy. They are full of phytochemicals, Vitamins A and C.
Time to prepare:
Chives generally take 2-3 weeks to germinate.
How to grow:
You can grow chives from garlic or shallots. Take a garlic pod that has a bit of a shoot sticking out, and plant it in the soil. It will sprout within 4-6 weeks, but you must ensure at least six hours of sunshine for the plant. If you're using seeds to plant the chives, make sure you plant the seeds and cover them with a light layer of soil. Watering regularly is a must, as the soil must never dry out.
How to use:
Chives can be put in soups, salads, vegetable stock, omelettes, and sandwiches. Baked potato with chives is a great combination!
6. Basil
Basil is a herb which originated from India, or somewhere even farther east than that. It later moved to Greece and Italy. It has predominantly featured in Italian cuisine. However, there are various evolved varieties of basil that are used in and around the South East Asian subcontinent. Basil is used as an anti-inflammatory and is very high in antioxidants.
Time to prepare:
Basil seeds take between eight to fourteen days to emerge from the soil.
How to grow:
Take the stem from which you originally plucked the basil leaves. Set the stem upright in a glass of water, making sure that the water level does not rise above the leaf line. Make sure that the glass does not receive any direct sunlight, but is still not in complete darkness. Once the roots have grown to a couple of inches, your plant is ready to transplant. Basil grows very well in a container, but may tend to shoot up in height very fast. You must also keep the soil dry and ensure abundant sunshine for your basil container.
How to use:
Liven up pasta dishes, sauces, and pizzas, all for the price of one basil plant. Pesto, a very well-known Italian sauce uses Basil as its primary ingredient. It is commonly used fresh in all cuisines, else it loses its flavour.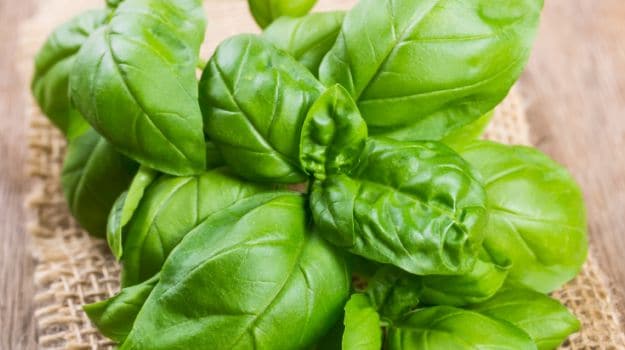 Photo: Istock
7. Cilantro
Cilantro has delicate leaves and a fresh taste. The seed of the cilantro leaf is commonly used in Indian cooking. Just like basil, cilantro can regrow roots and grow new plants when replanted. Cilantro contains heavy amounts of carotenoids and is a good source of Vitamin A. While chopping cilantro leaves, care must be taken not to use all the leaves from a single plant so that growing leaves back is easier.
Time to prepare:
It takes around 3-4 weeks to harvest a single crop of Cilantro.
How to grow:
The process of growing cilantro is like that of basil, wherein you can keep the bottom of the cilantro stem in a glass of water in a bright sunny area. The water is required to be changed every day, to ensure freshness. Once the roots grow back, your plant is ready to transplant and your cilantro springs will be ready in a few weeks. If you're using coriander seeds to germinate the plant, it might take some more time.
How to use:
Fresh cilantro leaves are chopped and used in many South Asian foods (particularly chutneys), especially in salsa and guacamole and as a garnish.
8. Mint
Mint is also known as spearmint. A number of toothpastes, mouthwashes, chewing gums and inhalers use mint as their basal ingredient. Apart from being refreshing, this bright green herb can aid digestion and soothe hangovers.
Time to prepare:
It is possible to harvest mint several times, since it takes about 90 days or three months to mature.How to Grow: The process begins by purchasing seeds or starter plants and a large, deep pot (about 10 inches in diameter). Plant the starter after filling the container with potting soil. Make sure that the container is in an area that gets plenty of sunlight and water regularly, so that the soil doesn't dry out. Although mint will grow in a variety of soil types, it does not do well in arid environments.
How to use:
Use freshly plucked mint in salads, tea, curries and to flavor curd and make dips. The Mojito, a popular cocktail, also needs this herb as a flavourant.
9. Oregano
This is the one herb popularised by Italian cuisine; whose dried, ground version almost everyone is familiar with as a seasoning. Oregano provides excellent flavouring and has several health benefits as well. It is an important antioxidant and contains several minerals. Its beautiful earthen fragrance and the fact that it is so easy to grow, make it a must have in everyone's kitchen.
Time to prepare:
It usually germinates within a week or so.
How to grow:
Oregano can be grown from seeds, cuttings, or even plants. The seeds must be started indoors, without the need for covering them with soil. Lightly moistened seeds covered with a plastic sheet, would easily germinate within a week. Established plants do not require much attention, just abundant sunshine. The more sun the plant gets, the more flavor its leaves will have. There are also various types of oregano which can be grown indoors, so experiment with the types!
How to use:
Oregano is used as a seasoning in salads, slipped in tomato sauces, added to poultry, game or seafood dishes.
10. Rosemary
Rosemary is the perfect herb to have in your kitchen garden. This is for the simple reason that it doesn't just have culinary and medicinal purposes, but is also utilised as a natural incense. Rosemary leaves have a high level of phytochemicals that promote good health and prevent diseases. The herb is also an excellent source of iron in our daily diet.
Time to prepare:
Rosemary plants are slow to grow, since it generally requires around eight weeks to germinate.
How to grow:
Rosemary needs to be regrown by cutting a few inches from the stalks' tops and then placing them upright in water. The new roots come out within three to four weeks, post which they can be transferred into soil filled containers. Sunlight is a must for this herb, as it requires at least six to eight hours of sunlight. Watering it regularly is not an issue, as the soil need not be overly moist.
How to use:
Fresh or dried rosemary leaves are used in Mediterranean as well as Asian cooking. It is used to flavor salads, soups, baked vegetables, and meat dishes. Rosemary tea is also a popular drink in the Mediterranean region.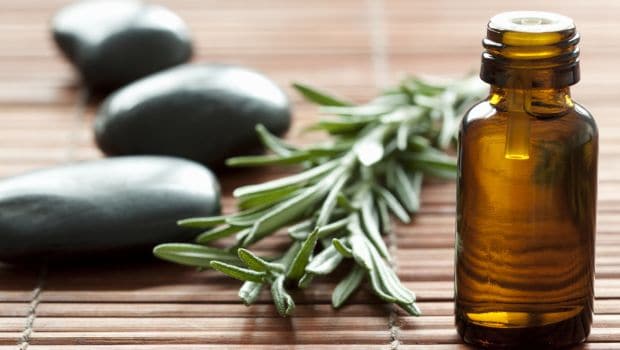 Photo: Istock
One of the best reasons to grow things in your kitchen garden is that there is hardly any pre-requisite of time, space, or money. These herbs and spices keep growing with minimal maintenance and do not require as much tending to as vegetables or leafy greens.So, do your bit for World Environment Day and start your kitchen garden today!Happy Gardening!