Coffee snob. It's probably a term I first heard in Melbourne, as I hopped around some of the city's hipster cafes like Brother Baba Budan that pays homage to the Sufi who is believed to have brought coffee to India. Melbournians love their coffee; the city probably has more coffee snobs than anywhere in the world. A trait it shares with coffee snobs in Chennai and Bengaluru where traditional South Indian-style filter coffee coexists with trendy International-style coffees like a refreshing cold brew. Large coffee chains, cosy cafes and a growing interest in home brewing have seen an explosion in the types of coffees that Indian consumers have access to.
You will find most of these in our coffee cheat sheet:
This concentrated version of coffee may not be for everyone but is the foundation of most coffee drinks. It's also the ultimate coffee for coffee aficionados who obsess over the crema or the foam that rests on top of a shot of espresso. An espresso is brewed by forcing a small amount of boiling water under pressure through ground coffee beans. The pressurised brewing process ensures that Espressos are strong and concentrated. The crema lends a full flavour to the espresso and also reveals the skills of the barista. If you've ever been to Greece, you would have encountered a Freddo Espresso. This refreshing cold version involves shaking a double espresso shot (60-70 ml) with a few cubes of ice and straining it into a glass full of ice cubes.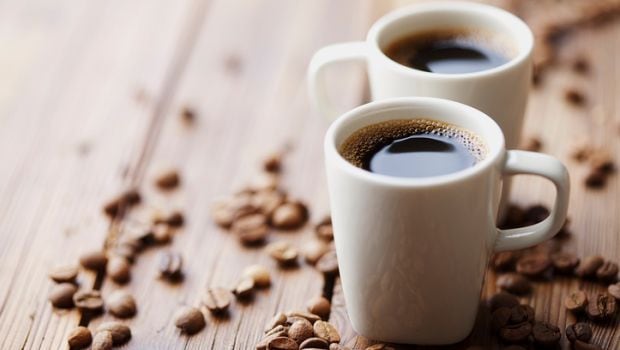 Cafe Americano
There's an interesting legend around the evolution of this coffee that suggests that American soldiers serving in Italy during WWII used to dilute their espresso to create a beverage that they were more familiar with. The Americano is an espresso diluted with hot water, the strength that is similar to American Black coffee varies according to individual preferences but the flavour is different from the quintessential American black coffee.


(Also Read: Broccoli Latte: This 'Vegetable Coffee' Promises To Be A Major Food Trend This Year)
Affogato
Where dessert meets coffee! That's the long and short of it. Pour an espresso over a scoop of vanilla ice cream and enjoy a refreshing summer dessert.
Macchiato
Macchiato means stained or spotted in Italian. This strong coffee is essentially an espresso with a 'spot' of milk foam. Makes the perfect night cap (if you can sleep after a strong shot of coffee) after a heavy dinner and dessert.
When in doubt, order a Cappuccino. That's the advice you're most likely to get and explains the popularity of this three-layered coffee. An espresso is at the base which is topped with steamed milk and then finished with milk foam. It's common for baristas to leave their stamp or art on top of the foam or finish it with cinnamon or chocolate shavings.
Flat White
My 'go to' coffee at Coffee chains - both Costa and Starbuck's - have added this to their menu in India. The origins of this coffee are contentious with both Australia and New Zealand staking claims to its invention in the 1980s. This coffee with a smooth texture combines a double shot espresso with a textured milk or milk foam that's not too hot. It's stronger than a latte and smoother than a cappuccino. You could ask the barista to blend the sugar for the perfect flat white.
Cafe Latte
This frothy coffee is crafted with a single shot of espresso and steamed milk. It's probably the most popular coffee at coffee bars and chains after the cappuccino and is different from a flat white in its strength and texture.


(Also Read: 8 Best Coffee Recipes)

Cold Brew
It's probably the coffee equivalent of a Stout beer. The Nitro brews at cafes come with the same foam at the top and textures as a Stout. You can make this at home by adding 8 parts of water to coarsely ground coffee and keeping the sealed jar/container away in the fridge for about 24 hours. Strain the coffee into a large bowl and repeat a couple of times to remove the coffee residue. Pour it over ice and serve and you could also add condensed milk or milk.
Frappe
A constant at many coffee chains, the Frappe was first invented in Greece in the 1950s. The original recipe combined a popular brand of instant coffee with water and ice in a shaker. Now frappes are the modern coffee bar's equivalent of a slush drink with a multitude of flavours and add-ons.
Drip-Style Coffee
Both the classic South Indian style coffee and Vietnamese coffee are examples of drip coffee where coffee percolates down a coffee filter or percolator. While the South Indian filter coffee combines this decoction with thick milk and sugar, the Vietnamese version is combined with condensed milk and can be served hot or cold with ice cubes added.


French Press Coffee
An outstanding example of Italian design (it's called caffettiera a stanuffo in Italian). This plunge style coffee maker is great for coarse coffee powder. Brewing time is usually four minutes. The French Press has become popular with coffee and is perfect if you like medium bodied coffees.
Pour Over/Chemex
This patented hourglass design (along with its unique brand of paper) brings out the citrus/acidic notes making the coffee easily palatable, smooth, can be made in larger portion.


Whether you're a coffee connoisseur or one of those types who are intimidated by the plethora of coffee varieties, you will find our coffee cheat sheet quite handy.


Disclaimer:


The opinions expressed within this article are the personal opinions of the author. NDTV is not responsible for the accuracy, completeness, suitability, or validity of any information on this article. All information is provided on an as-is basis. The information, facts or opinions appearing in the article do not reflect the views of NDTV and NDTV does not assume any responsibility or liability for the same.

About Ashwin RajagopalanI am the proverbial slashie - a content architect, writer, speaker and cultural intelligence coach. School lunch boxes are usually the beginning of our culinary discoveries.That curiosity hasn't waned. It's only got stronger as I've explored culinary cultures, street food and fine dining restaurants across the world. I've discovered cultures and destinations through culinary motifs. I am equally passionate about writing on consumer tech and travel.