Eat to lose weight - sound contradictory but it works; only if you enrich your diet with foods that help lose weight instead of adding to it. We all know protein is one of the best nutrients to propel weight loss, and we have various foods like eggs, meat, lentils and chickpeas to do the job just fine. But when you need energy in the form of healthy fats, along with protein, nuts and seeds are the best options. They also make for the perfect on-the-go snacks that you can have to curb anytime hunger. No prepping, no cooking, just pick a handful of these crunchy delights and snack on them as soon as hunger strikes in.


Also read: Why Walnuts Should Be A Part Of Your Daily Diet: Expert Shares Health Benefits


Our home is filled with a variety of nuts and seeds, and it may be difficult to choose from them for your weight loss diet. Here we are suggesting five of the best nuts and seeds that are that don't lead to weight gain, despite being high in fats.
Here're 5 High-Protein Nuts And Seeds For Your Weight Loss Diet:
1. Walnuts
Walnuts are a great source of protein and provide lots of fibre to ease digestion. The nuts are also rich in Omega-3 fatty acids, vitamin E and vitamin 6, and folate - making this food a great snack for good health and fit body. Have it as is or soak them in water overnight; better still, try these recipes with the nutty flavour of walnuts.
2. Flaxseeds
According to the data provided by the United States Department of Agriculture (USDA), 100 gms of flaxseeds contain 18 grams of proteins. The seeds are also rich in different amino acids, and are considered an excellent source of plant-based protein. Here are some yummy ways to eat flaxseeds every day.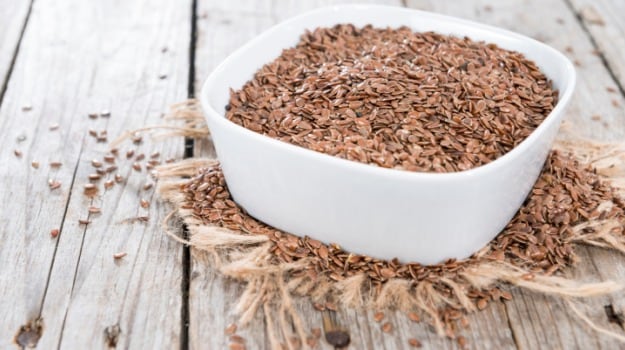 3. Almonds
Almonds are one of the most consumed nuts in Indian households. Almonds are prized for their ability to improve overall health, including brain health, heart health and skin health. But we hardly associate almonds with weight loss. Here we are highlighting this benefit of almonds. Almonds are rich in protein and fibre, and they induce satiety to keep hunger pangs at bay.


Also read: Why Soaked Almonds are Better Than Raw Almonds
4. Sunflower Seeds
Sunflower seeds are a great food for weight loss diet as they are rich in muscle-building proteins. A 100-gm serving of sunflower seeds offer a whopping 21 grams of protein! (as per USDA). Here are other health benefits of sunflower seeds you should know about.
5. Hemp Seeds
According to 'Healing Foods', a book by DK Publishing House, "hemp seeds provide healthy fats omega -3, 6 and 9 fatty acids, which are great for brain and heart health. And because of their high content of protein and fibre, hemp seeds are also great for weight loss diet.


You must have heard health experts advising to have a handful of nuts and seeds every day. Imbibe this habit for your weight loss diet, and move closer towards a fitter you.
About Neha GroverLove for reading roused her writing instincts. Neha is guilty of having a deep-set fixation with anything caffeinated. When she is not pouring out her nest of thoughts onto the screen, you can see her reading while sipping on coffee.