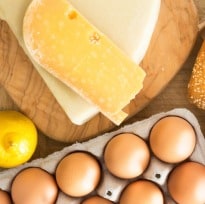 As many experts have said before, good nutrition is of utmost importance for a healthy body. Health experts have for long stressed on the need to maintain healthy body weight. With the increasing obsession for a perfectly toned and chiseled body, many youngsters are hitting the gym like never before. However, a perfect balance of physical activity and nutritious intake is very important to achieve satisfactory results. When working toward better muscle tone, it's very important to get the right nutrients into your diet.

According to nutritionists, many people fall prey to excessive workouts with poor intake resulting in fatigue and lethargy. Some of the basic yet most essential components are neglected in our everyday life. Not only are these nutrients essential for toning of muscles but are also significant in maintaining overall fitness.

If you haven't given your body the nutrients it needs, no matter how much you work them, your muscles won't benefit from your exercises as much as they would do if they were nourished, reports femalefirst.co.uk.

Taking a cue from that, we bring your four foods that are extremely vital for your health, especially when you are sweating it out for hours in the gym.

Protein: Lack of protein has often resulted in poor physical development and stunted growth in humans. While working out, one should ensure proper intake of protein for higher efficiency and maximized results. Protein is key in building muscle, it's ideal to consume protein in the desired form post workout to help recover the lost energy.
Foods high in protein include lentils, legumes, pulses, grains, oily fish and lean meat such as turkey or beef, tofu, cheese and eggs. (More: Add Protein to Every Meal to Strengthen Muscles)

Calcium: Calcium is vital for maintaining strong and healthy healthy bones and muscles. When exercising, your muscles need to contract. This helps them to grow. However, without calcium, your body wouldn't send your muscles the signal to contract. This means that they wouldn't be able to performproperly and your body would struggle to achieve good muscle tone. Women should be more cautious about their calcium levels.

Foods high in calcium include cheese, milk, broccoli and almonds.

Vitamin C: This is responsible for the health of the blood vessels that support your muscles' needs for oxygen and nutrients. The more vitamin C your body has, the more effective your muscles will work and the quicker they will recover during exercise. This will help them to grow stronger and help to increase muscle tone. Vitamin C also strengthens and fortifies your body's immune system and helps combat virus and diseases.

Foods high in Vitamin C include bell peppers, kiwi fruit, dark leafy greens, oranges and strawberries.

Vitamin D: This is essential for muscle contraction, function, strength and growth. If you desire to get the most from your workout, make sure that you include Vitamin D rich foods in your diet.

Foods high in Vitamin D include mushrooms, eggs, soya, cheese and

oily fish such as mackerel, salmon and sardines.



Inputs from IANS