"Yoga is the art work of awareness on the canvas of body, mind, and soul."- Amit Ray, Yoga and Vipassana: An Integrated Life Style
Yoga is no longer an age-old science confined only to yogis. Today, it has slowly crept into the lives of millions to become a way of living. Yoga is a holistic practice to attaining harmony between the mind, body and soul. It is a path to explore the unexplored. You push your body, slowly and gradually, reaching out to limits which it has never seen before. You become more flexible and stronger, and aware of your body and its functions, which we don't pay heed to during our busy lives. Such as our breathing and its rhythm, and our heartbeat.
Breathing is integral to yoga. Yoga focuses on basic breathing exercises, which cleanses the body from within. So join us, as we present a series of informative pieces on dedicated yoga poses. We set out to learn about various yoga asanas and their efficacy in achieving harmony in our lives. Today, we shall learn in detail about matsyasana, popularly known as the fish pose.
Matsyasana - and its Benefits
Delhi-based yoga instructor and practitioner Seema Sondhi believes Matsyasana to be a complete pose in itself. According to her, it opens up the chest and relieves tension from the worked up shoulders. "Our body can bend back only to an extent. The diaphragm is not designed to go backwards. This pose opens up and stretches the chest, the diaphragm and is beneficial for the back," said Seema.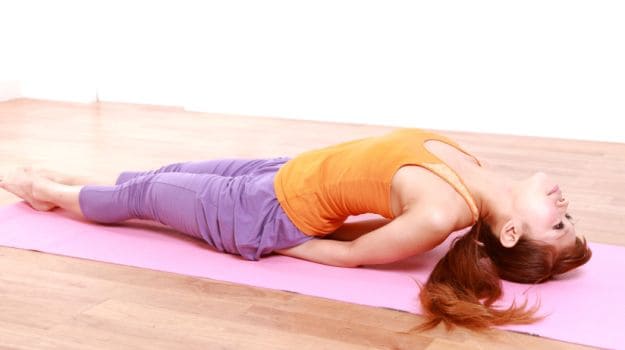 1. Matsyasnana facilitates deep breathing.2. It is excellent for respiratory issues and for the cervical area.3. It opens up the lungs and helps in increasing the lung capacity.
4.
The pose activates the thyroid glands
5.
It helps in keeping healthy all the major glands of the endocrine glands - the pineal and pituitary glands."It balances hormones and stimulates your heart. This pose also has a great effect on your mind. It works on the crown of your head and has great
psychological
benefits. With a regular practice of Matsyasana, you will begin to feel that you can express yourself better and feel deeper. When done in the padmasana position, it works on your thighs and legs as well. Over all, the pose activates the entire spine and benefits the nervous system," noted Seema.
How to Get into the Pose?
Getting into the pose is not that difficult if you are not doing it on padmasana. Anju Kalhan, yoga expert with Vivafit fitness centre, shares in details steps to practice the fish pose:

- Lie down on your back with legs wide apart.
- Now, bring together your legs and your hands - palms out, over your head, point your toes out and go into a full body stretch.
- Repeat twice, focusing on your breathing, inhaling and exhaling.
- Now, keep your hands under your torso nearing the glutes. Bring in the hands as much as possible.
- Lift up your body with your weight resting on your elbows.
- Drop your head back and arch your back with your feet together but relaxed.
- Relax your body, focus on your breathing, relax your eyes, head and mind.
- Keep inhaling and exhaling.
- Bring your head back up, look at your toes and slowly drop your body down.
- Move your palms out, keep your hands and legs apart, relax.
- Roll your wrists to release the pressure off them.
- Move you neck left to right.
- Bring your toes together, interlock you fingers and put your hands at the back of your neck.
- Now, counter the neck position. Go in the front, left and right, diagonally with your back intact on the floor.
Always remember, the fish pose is known as the counter pose for the sarvangasana (shoulder stand) and the headstand. "Ideally it is the opposite of any or all poses that bring together your head/chin with the chest. Fish pose takes your head away from the body and opens up the chest and the lungs. Your shoulder blades come together and it automatically aligns your spine," concluded Anju Kalhan.
Matsyasana is a great way to beat stress. It works wonder for your tired back and neck muscles. All day long we sit at our desks with our shoulders drooping and the shoulder blades going far apart. This often leads to back pain and other spine issues. Give yourself a break by going into the fish pose at the end of the day - it will energise your mind and relax your back, spine and neck. It will leave you feeling fresh and relieved, guaranteed!