We all can agree that tummy fat is the most difficult to lose. And there are many reasons why people struggle with belly fat, including poor diet, lack of exercise, lack of sleep, genetics, and stress. While all these factors contribute towards weight gain, the most common cause of belly fat is poor nutrition. In order to lose weight, it is essential to develop a lifestyle that combines both regular exercise and a healthy diet. "It requires a disciplined regimen that includes diet but, more importantly, a targeted exercise programme. There are no shortcuts, but it has been discovered that some common drinks may help with belly fat loss," says consultant nutritionist Rupali Datta. Considering this, here we have curated a list of 5 green juices that may help in reducing your belly fat. Take a look.


Also read: 5 Winter Foods That May Help Cut Belly Fat On Weight Loss Diet
Here're 5 Green Juices That May Help Burn Belly Fat:
1. Spinach And Kale Juice (Our Recommendation)
This juice is made with the goodness of spinach and kale. Spinach aids in weight loss as it is low in calories and high in fibre. It is also considered to be one of the best veggies to eat during the winter season. Kale also contains fibre and has a high water content, making it ideal for weight loss. Click here for the recipe of Spinach And Kale Juice.
2. Cucumber And Kiwi Juice
Cucumber and kiwi both are loaded with nutritive goodness. Cucumber comprises about 95% water and is rich in vitamin K. It is light and may help you shed those extra kilos. Kiwi is rich in vitamin C and is of the best fruits for building immunity and keeping the body healthy. When combined together, this juice makes for a healthy detox drink to burn belly fat. Click here for the recipe of Cucumber And Kiwi Juice.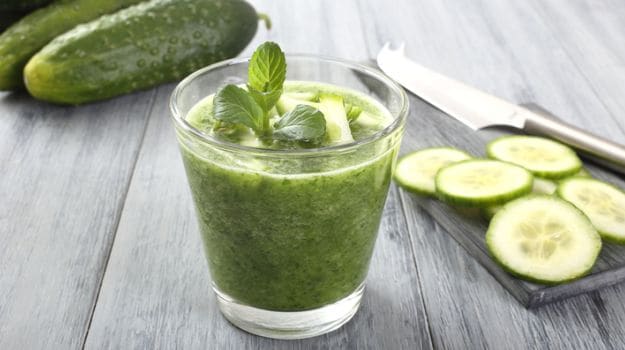 3. Bottle Gourd (Lauki) Juice
Another green juice that may help you tackle that bulge is bottle gourd juice. Bottle gourd is low in calories and high in fibre, making it ideal for weight loss. It also helps you keep full for a longer period of time. Addition of pineapple and orange in this recipe makes it even healthier as both the fruits are great sources of vitamin C. Click here for the recipe of Bottle Gourd Juice.
4. Amla Juice
Amla, also known as Indian gooseberry, has long been used as a natural ingredient in home remedies and is prized for its medicinal properties. But did you know that amla juice can also help you lose weight? Amla juice is alkaline in nature and helps in strengthening the digestive system, thus improving our metabolism. It also helps in flushing out toxins from our body. Click here for the recipe of Amla Juice.
5. Cabbage Juice
Cabbage is a powerhouse of essential vitamins and minerals. And if you're someone who is on a weight loss journey, then this cabbage juice could be your health fix. It will not only help you feel refreshed but will also keep a tab on problems related to obesity. Dr. Komal says, "Cabbage juice can be very effective in helping you reduce kilos if you drink it on a daily basis. It helps in purifying the upper section of the intestines, which makes the elimination of waste material from the body easy, thus helping with digestion." Click here for the recipe of Cabbage Juice.



Now that you know all of these green juices for weight loss, add them to your daily diet and let us know your experience in the comments below.

About Vaishali KapilaVaishali finds comfort in eating parathas and rajma chawal but is equally enthusiastic about exploring different cuisines. When she's not eating or baking, you can often find her curled up on the couch watching her favourite TV show - FRIENDS.