Food allergies and intolerances are a reality that many people face, making it tough to enjoy a nutritionally balanced meal. It's not just about physical limitations; there's often a mental block and fear of setting off a reaction. But don't worry, there's hope! By arming yourself with knowledge about triggers and foods, and by asking the right questions when eating out, you can conquer these challenges. Moreover, governments worldwide have strict regulations to help you stay safe. They require food manufacturers to clearly identify allergens and list ingredients, empowering you to make informed choices and protect yourself. But first, let's understand the difference between food allergies and intolerance.
Difference Between Allergies And Intolerances
It is important to differentiate between food allergies and intolerances. Allergic reactions occur when the immune system reacts to specific proteins in food, ranging from mild symptoms like lip swelling and hives to severe and life-threatening reactions like anaphylaxis, which can lead to respiratory problems and shock. The nine major food allergens include milk, tree nuts, peanuts, eggs, shellfish, fish, wheat (gluten), soybeans, and sesame.


Also Read: Identifying Food Allergy: Know the Triggers and How to Prevent a Reaction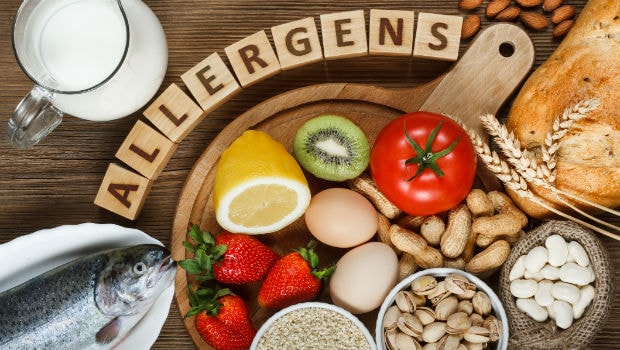 Food intolerances, on the other hand, are more common and typically manifest as symptoms such as bloating, constipation, distention, wind, pain, and discomfort. While intolerances can be uncomfortable, they do not pose significant health risks or involve the immune system. Symptoms often develop over 10-12 hours, with immediate reactions being rare. Intolerance may result from factors such as the absence of specific digestive enzymes, irritable bowel syndrome, sensitivity to food additives, or stress. In this case, the irritant is usually sugars rather than proteins.
How To Manage Allergies And Intolerances
For allergies, it is crucial to identify and eliminate specific food allergens. In the case of intolerances, it may be possible to consume the food in an alternate form or cooked in a specific way or at a certain time of day, eliminating the need for complete avoidance. However, careful meal planning is essential to ensure adequate nutrient intake in both cases.
1. Create a list:
Make a list of foods you are allergic or intolerant to. If you have allergies, remove these foods from your diet and consider supplementing any essential nutrients you may miss out on. For example, if you are allergic to tree nuts, you might want to supplement omega-3 fats. If you have intolerances, find suitable replacements. For instance, opt for yogurt or lactose-free milk instead of regular milk.


Also Read: Lactose Intolerance Versus Milk Allergy: The Difference Worth Knowing
2. Check labels:
Pay close attention to labels on pre-packaged foods. Allergens must be highlighted, and the label should specify if a product contains soy, peanuts, or if it is gluten-free. Additionally, look for labels indicating that the food was processed in a facility free from gluten contamination.
3. Scrutinise ingredients:
When consuming pre-packaged ready-to-eat or cook meals, thoroughly read the ingredient list. Ensure that "made with" information is provided. If the label is missing, refrain from purchasing the product.


Also Read: Try These 5 Non-Dairy Substitutes If You Are A Vegan Or Lactose Intolerant
4. Communicate your needs:
Whether dining in a restaurant, buying from a home cook, or visiting a bakery, inform the staff about your dietary requirements and restrictions. Clearly convey what you cannot have to ensure a safe dining experience.
5. Cook and bake at home:
Consider preparing meals and snacks at home. Numerous easy-to-use recipes are available online. By cooking in batches, you can conveniently store and consume your homemade food. When travelling, bring along your own snacks to avoid purchasing potentially problematic foods on the roadside.
The Bottom Line:
While allergies require heightened attention due to their potential severity, intolerances can also significantly impact one's quality of life. It is important to educate yourself about both conditions and maintain a readily accessible guide for reference. Consult with a nutritionist to gain a better understanding of foods that may harm you and to explore suitable alternatives. By adopting these strategies, you can live a healthy life while effectively managing your food allergies and intolerances.
About Rupali DattaRupali Datta is a Clinical Nutritionist and has worked in leading corporate hospitals. She has created and lead teams of professionals to deliver clinical solutions for patients across all medical specialties including critical care. She is a member of the Indian Dietetic Association and Indian Association of Parenteral and Enteral Nutrition.