Winter is in full swing. The nip in the air makes us want to snuggle up in a blanket and indulge in all things warm and comforting. Don't you agree? And if you're a non-vegetarian, it's just the perfect weather to enjoy warm and flavourful meaty delicacies. Whether it's a rich meat curry, succulent kebabs or a whole Sunday roast - they all taste incredibly divine! So, if you're on a hunt for non-vegetarian dishes to try during the winter season, we've got you covered. In this article, we have curated a list of 5 lip-smacking non-vegetarian winter dishes that are not only delicious but are packed with wholesome ingredients that will keep you warm and cosy. Take a look.


Also read: Winter Immunity: 5 Foods To Stay Warm And Healthy By Celeb Nutritionist Rujuta Diwekar
Here're 5 Delicious Non-Vegetarian Recipes For Winter:
1.Ginger Chicken (Our Recommendation)
If you want to give the classic chicken curry a slightly new twist, then this recipe is definitely worth a try! As the name suggests, this chicken curry is made with heaps of ginger and flavourful masalas. It makes for a light and delicious meal. Click here for the recipe of Ginger Chicken.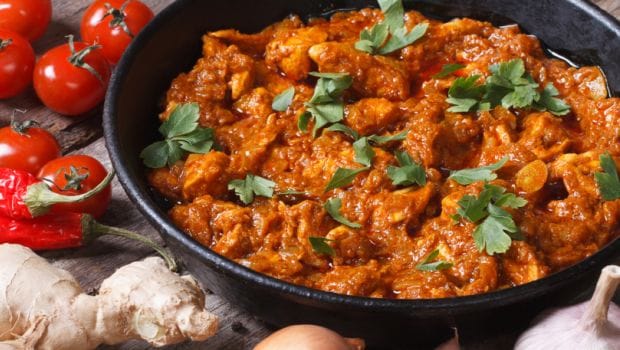 2.Paya Curry
In this recipe, paya (sheep trotters) are cooked in a rich and luscious tomato-onion gravy. This hearty meat curry is ideal to serve at a dinner party. It tastes best when paired with roti, naan or any other Indian bread of your choice. Click here for the recipe of Paya Curry.
3.Mooli Wala Meat
This finger-licking curry is straight from the local kitchens of Kashmir. This mutton curry has bursts of wintery flavours of warm spices, mustard oil and pungent radish. Serve it with steamed rice and you have one of the best dishes for winter. Click here for the recipe of Mooli Wala Meat.
4.Peshawari Chapli Kebab
Peshawari chapli kebabs, native to Peshawar, are made with minced mutton, gram flour, ginger, pomegranate seeds and a host of flavourful spices. These yummy kebabs are served with a freshly made jaggery and raisin sauce. Click here for the recipe of Peshawari Chapli Kebab.
5.Honey Roast Chicken
Chicken pieces are marinated in rich flavours, stuffed with masalas and roasted to perfection. It is then glazed with honey and roasted again. This wholesome roast chicken is perfect for a winter brunch. Click here for the recipe of Honey Roast Chicken.
Try these delicious non-vegetarian recipes this winter season. Do let us know which one was your favourite in the comments below.

About Vaishali KapilaVaishali finds comfort in eating parathas and rajma chawal but is equally enthusiastic about exploring different cuisines. When she's not eating or baking, you can often find her curled up on the couch watching her favourite TV show - FRIENDS.