Kitty Party Recipes: Hosting a kitty party at home might sound like a fun idea at first, but when you get down to the business, it is a whole lot of chaos. From planning the theme, thinking of interesting games, choosing gifts and most importantly, preparing the food, all of it together seems to be one huge task, which requires a lot of time and energy. Kitty parties, since a long time, have been a popular way for women to socialise and mingle with each other during their free time. It involves fun games and contests for the members with the actual purpose of saving some money along the way.


Most kitty parties happen once or twice a month with each member taking turns to host it at her home. While in some groups, the kitty party members decide to have a potluck, some just take turns for hosting the entire party. The food is, of course, the most important part of any party and kitty parties are no different. It is not only a mere addition to the event to satiate hunger, but also a conversation starter for the ladies to bond with each other while eating. Since, kitty parties usually take place during the late afternoon post-lunch; it generally consists of just mouth-watering snacks along with beverages.


So, if you are hosting a kitty at home and have no idea what kitty party snacks to prepare, fret not. We've got a list of delectable starters' recipes that you can easily prepare at home and please the appetite of all the ladies in your kitty group.
9 Best Kitty Party Recipes To Make At Home:
This is a healthy yet delicious take on the good old Indian snack - tikki. Packed with the goodness of quinoa, beetroot, spinach and couscous, along with oats, this kitty party snack recipe is an easy and quick one to prepare at home and can be served with a dip of your choice. With the flavours of ginger and garlic and a deep pink beetroot colour, this veg starter is going to be a delight on the table.


(Also Read: 11 Most Cooked Beetroot Recipes | Popular Beetroot Recipes)
Kitty Party Ideas For Food With Recipes: These healthy tikkis are made with the most healthy ingredients like quinoa, beetroot, couscous and spinach along with oats.
The ever-so-popular snack - paneer tikka - is made with soft and tender paneer chunks, coated in a host of spices and cooked on a pan till perfection. It is an ideal kitty party snack recipe since it is light, delicious, easy and simply melts in the mouth!
Kitty Party Ideas For Food With Recipes: Your favourite snack flavoured with tangy spices.
Perfect finger snack to serve at the kitty party! Cheese straws are coated with oats and baked with a mix of chilli powder, mustard powder, kasoori methi, butter, flour and oodles of cheese, which makes it a delectable snack to savour at a kitty party.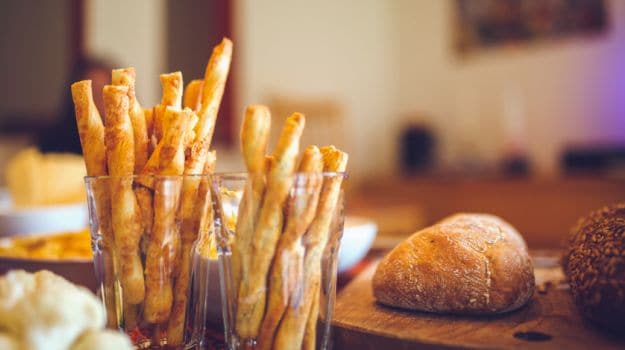 Kitty Party Food: Cheesy, crispy and utterly delicious bites to relish at your next kitty party.
A chicken starter is always a treat for non-vegetarian food lovers! A true blue chicken delight - chicken satay - is an appetising Indonesian snack wherein the chicken is slathered with spices and sauces, and grilled to perfection. This one here has a fiery addition of peri peri sauce that is sure to tantalise your taste buds.
Kitty Party Recipes: This chicken satay recipe has a spicy twist with the addition of fiery peri peri sauce.
Who doesn't love crunchy, little popcorns? And when it is made of chicken, it's all the more better! Tiny, bite-sized chicken pieces are mixed with a spicy seasoning of black pepper, ginger-garlic paste and paprika, and fried to get piping hot, crispy and crunchy chicken popcorns! Serve it with a tangy dip.
Kitty Party Snacks: Full of spices, chillies and fried to perfection, these bite-sized chicken popcorn is just perfect for snacks.
India's favourite street food, made absolutely healthy, so you can binge on it all through your kitty party. Low-calorie bhel puri has the goodness of bean sprouts mixed with the flavourful tamarind pulp, mint chutney, chaat masala and chillies along with a generous garnishing of sev and coriander leaves.
Kitty Party Snacks: Perfect light munchies packed with the goodness of bean sprouts.
One snack that can stimulate anyone's taste buds just by its mere mention is - chaat. Be it a fruit chaat, potato chaat or corn chaat, an addition of flavourful spices and tangy lemon can give a boost to all of them. Here is a healthy, guilt-free chaat recipe full with the goodness of sprouts, corn and tomatoes along with mouth-watering coriander chutney, cumin powder and handful of pomegranates scattered on top.


(Also Read: Indian Fast Food: Top 11 Chaat Recipes | Easy Chaat Recipes)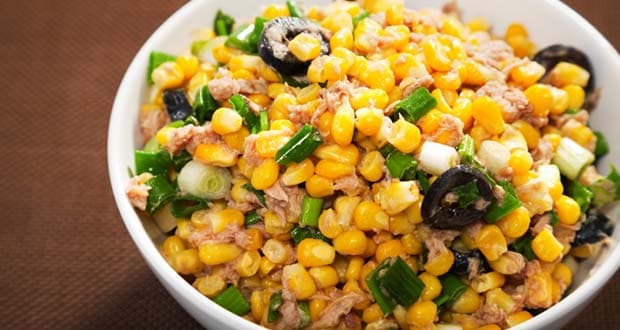 Kitty Party Recipes: Loaded with proteins, Vitamin K, dietary fiber, Vitamin C, and Folate, this recipe is a powerhouse of nutrients.
This is a comparatively long recipe that involves many ingredients and requires relatively more time, but the final result is worth all of that! These sushi rolls are a unique snack item and are sure to stand out on the table. With an avocado and fish stuffing along with sesame seeds, spicy Japanese mayo and teriyaki sauce, valentine sushi rolls are simply perfect for an incredible starter dish.
Kitty Party Recipes: Let's celebrate love in Japanese way with these cute heart shaped sushi rolls.
A classic Italian treat, bruschetta has long been one of the most favourite snacks to pair with tea or serve as an appetiser. It is decorated with a host of toppings and tastes absolutely delicious; no wonder it is loved across age groups. Here is a bruschetta recipe topped with wonderful veggies such as artichoke, lettuce, zucchini, tomato and basil along with a heap of cheese.
Kitty Party Recipes: A perfect snack recipe, vegetable bruschetta is loaded with delicious olive paste, and a mouth watering amount of parmesan and mozzarella cheese.
With a plethora of some of the best kitty party snack recipes here, we are sure to have eased you in a bit. So, prepare these kitty party snacks recipes at home and let us know your favourite one in the comments section below.
About Aanchal MathurAanchal doesn't share food. A cake in her vicinity is sure to disappear in a record time of 10 seconds. Besides loading up on sugar, she loves bingeing on FRIENDS with a plate of momos. Most likely to find her soulmate on a food app.