A hot pot of cultures, Puducherry or Pondicherry, however you may like to call it, is one place where a quick weekend will never seem enough – especially when it comes to food. From local to European, and even Asian flavours, this little town has quite a bit to offer. Here are some of the best restaurants you must try when in the city.


Also Read: 6 Best Restaurants For Kerala Cuisine In Chennai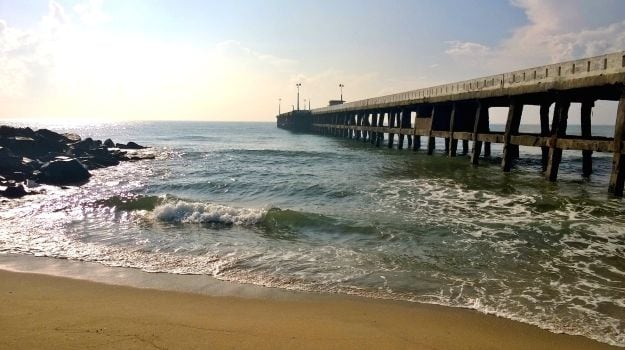 Photo courtesy: Dishant Bhasin
Here's our current list of places that you might want to check out if Puducherry is on your list of places to visit this month -


1. Auroville Bakery



For a taste of fresh baked goods, the Auroville Bakery is a good place to ride up to one of the mornings of your visit to Puducherry. They make croissants, baguettes, pizzas, quiches, tarts, pies and rolls. They also bake breads and cakes, but that's in the afternoon. Also remember, the bakery is closed on Sundays, we'd recommend a mid-week trip because Saturdays might be a little too busy for your comfort. The place is open from about 6.30am to 5.30pm.

Address : Douceur, Kuilapalayam Main Road, Auroville

2. Café des Arts


Photo courtesy: Dishant Bhasin

A cute café for sure; go here to try their crepes. They come in a wide range of savoury and sweet options. So you could either pick one with ham, cheese and tomato, tuna, tomato and onion, or one of our favourites, the banana and nutella crepe, or even one with banana and cinnamon. The café also does quick breakfast combos – coffee and baguette, or the coffee, croissant, served with jam and butter, and fresh fruit juice – if you want to grab a quick bite on the move.

Address: 10, Suffren Street, White Town



3. Café Xtasi



Their pizzas are some of the best you'll find at Puducherry. They do a range of pastas and salads as well, but it is kind of hard to turn down a good wood-fired pizza. And here, they have more than 25 different types of them! From the Iron Pie (chicken, spinach, olives, garlic, onions) to the closed pizza Algae, to the Tanizza (tandoori chicken, onion, olives, capsicum, garlic) – they've seriously gone the whole hog when it comes to thinking up toppings. Their house special pizza, also called Xtasi, is a must-try for meat lovers. It comes with chicken, ham, salami, feta, garlic, olives, and lots of vegetables. One of our favourites however is Peppy that is made with pork pepperoni and salami, and onions. Even vegetarians will find more than a few options to choose from – The Tangazane (tomatoes, aubergines, and basil), and Vegetate, (zucchini, onion, lemon rind, peppercorn, mushrooms, feta, and lots of other vegetables) are two you can check out.

Address: Opp.VOC School, Shop No.245, Mission Street



4. Le Dupleix



Located inside the beautiful and quaint hotel of the same name, the Le Dupleix Restaurant might be slightly expensive, but it's definitely worth a shot. Their French Onion Soup comes to mind first. But if you are up for some fusion food – they've got some dishes that do an interesting play of Indian and European recipes. For instance, the Rasam au Crevettes, an old-school South Indian spiced soup with coconut milk and shrimps is one you might want to try out. Their fish and shellfish section includes dishes from different parts of the country. So while you get a Goan Prawn Curry, you also get the Bengali Doi Maach (fish cooked in yoghurt gravy). Our vote goes to the Rock Lobster cooked with chilli butter and served with baby potatoes, and veggies on the side. The menu includes a lot of North Indian food as well.

Address: 5, Caserne Street



5. Tanto Pizzeria



Visitors to Auroville either have already eaten here or put it down on their list. Their menu is mostly Italian, including a large selection of pizzas. From the Med Pizza to the Romana, and the Funghi – you are sort of spoilt for choice here. And if you like your meat, try the Roast Beef, or simply ask for the day's special. They've also got a seafood platter for fish eaters, or you could pick a fish from their board and have it prepared the way you like – grilled, or oven roasted. And by the way, they also do a couple of vegan pizzas as well. Not bad at all!

Address: Auroville Main Rd, Auroville



6. La Marée



Located inside Hotel Du Parc, La Marée offers you a fairly predictable menu but the food isn't disappointing. The French onion soup, a common feature in most of the Puducherry restaurants appears here too, alongside the usual lemon and coriander soup etc. The Tuna ala Nicoise, one of the classic seafood salads, is worth a shot here. From the main course section, you can choose between the grilled fish, the grilled scampi with lemon butter, coq au vin (chicken cooked in red wine sauce), or even a filet mignon, or a lamb goulash. Their Vegetable and Cheese Quesadillas are quite popular too, as are the pastas, where each pasta is divided into type, your choice of sauce, and served with vegetables or chicken.

Address: Hotel Du Parc, 5, Jawaharlal Nehru Street, White Town



7. Surguru



A traditional South Indian meal awaits you at Suruguru. A popular haunt for those who like a traditional South Indian breakfast, the pongal, vada-sambar, the onion uttapams, and their dosas, are some of the highlights here. You can also try out the different kinds of idlis, and wash it all down with coffee. Keep an eye open for the day's special. If you're planning on going for lunch, try their thali. Suruguru gets fairly crowded, so don't let impatience get the better of you.

Address: Sardar Vallabhai Patel Salai, Heritage Town


8. Bay of Buddha



A place to find some decent Asian food, Bay of Buddha has a smattering of Thai, Vietnamese, Japanese, and even some Korean. There's a set menu you could choose from, or go straight for a la carte. There's yakitori, satay, spring rolls, laksa, dumpling soup, dim sums, and even sushi. Some of the popular dishes are the sushi from the set menu, Vietnamese Spring Rolls, Khmer Roasted Chicken, among others. Try their sorbets as a palate cleanser between courses.

Address: 23, Goubert Avenue, White Town


9. Satsanga



It doesn't have the best ambience in town, or even the best reviews, but Satsanga is a must-stop-by-at for most Puducherry regulars. Their steaks are quite popular, and with good reason, and if you like yours medium rare, this is the place to eat. Try their Ratatouille too, it's pretty decent. From the cold appetiser section the Rillettes, which is French potted meat is one option. Apart from that you could try Pate de Poission. From the grilled fish, or the fish in capers and prawn sauce, or the fish in orange and lemon sauce – the dishes are heavily inspired by French food, but it does have a little bit of that quintessential touch of India.

Address: La Bourdonnais Street, Near PWD New Head Office


10. Café Ole



For a fun, easy going quick meal, Café Ole is a good choice. You get a range of coffees (cold and hot), and just sandwiches of different kinds. Try the Spicy Cream Mushroom Sandwich, or the Ole Fried Chicken Sandwich – two of their popular creations. But whatever you do, try one of their coffees – it has people raving a fair bit.

Address: 319, Mission Road




Disclaimer:

The opinions expressed within this article are the personal opinions of the author. NDTV is not responsible for the accuracy, completeness, suitability, or validity of any information on this article. All information is provided on an as-is basis. The information, facts or opinions appearing in the article do not reflect the views of NDTV and NDTV does not assume any responsibility or liability for the same.